Tempting style lovers out of the mall and into museums for a low-impact fashion experience, fashion-focused  museum exhibits are increasingly entertainment-driven.
Beyond last week's red carpet fashion frenzy–the Costume Institute Gala at the Metropolitan Museum of Art, known as the "Met Ball"–the event marked the opening of the Costume Institute's latest exhibit: "Punk: Chaos to Couture."
Since the MET's landmark Alexander McQueen: Savage Beauty show attracted huge crowds in 2011, museum programming committees have got the message and planned more fashion-themed exhibits. Capturing the imaginations of fashion's growing audience, the new amped-up shows explore the industry as a mirror of cultural values and highlights our common histories as entertainingly as possible.
Here are four must-see fashion exhibitions of 2013 to check out:
Image: RISD
1. "Artist/Rebel/Dandy: Men of Fashion." RISD Museum, Providence, Rhode Island. From April 28 – August 18, 2013
As menswear increasingly shares the spotlight with women's fashion, this timely exhibit "celebrates the dandy, tracing the variety of ways in which this personality has blazed through two centuries and investigating where he resides today." Focusing on the tailored, bespoke garments and the figures that wore them, expect to see pieces once owned by George "Beau" Brummell, Oscar Wilde and modern-day dandies like Thom Browne and Waris Ahluwalia.
Image: MET
2. "Punk: Chaos to Couture." Costume Institute at the Metropolitan Museum of Art, New York. From May 9 – August 11, 2013
Like grunge, punk was a revolution in music that heavily influenced the fashion scene. This year's Costume Institute exhibition takes a look at punk's style influence from mohawks and studded leather jackets to safety pin jewelry. With work from Givenchy, Rodarte and Vivienne Westwood, the show examines the "relationship between the punk concept of 'do-it-yourself' and the couture concept of 'made-to-measure.'"
Image: Phaidon
3. "Future Beauty: Thirty Years of Japanese Fashion." Seattle Art Museum, Washington. From June 27 – September 8, 2013.
Take a peek at some of fashion's most avant-garde silhouettes and innovative creations at this exhibit, which promises to show how three decades of designs by Japanese designers revolutionized the way we think of fashion and "reshaped our Western aesthetics of dress." Designs by Rei Kawakubo, Yohji Yamamoto, Issey Miyake, Kenzo Takada and Junya Watanabe will be part of the exhibit.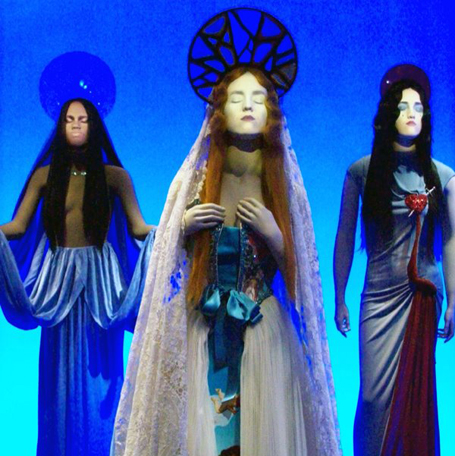 Image: De Young
4. "The Fashion World of Jean Paul Gaultier: From the Sidewalk to the Catwalk." Brooklyn Museum, New York. From October 25, 2013 – February 23, 2014
After stops in Dallas and San Francisco, this engaging multimedia installation will open for its only East Coast venue at New York's Brooklyn Museum. Tracing the extraordinary output of one of France's most iconic designers, the show explores themes of equality, diversity and creative virtuosity. Highlights include the notorious conical bra and corsets Madonna wore during her 1990 Blonde Ambition World Tour and 2006 Confessions Tour plus costumes from film The Fifth Element.
Top Image: MET