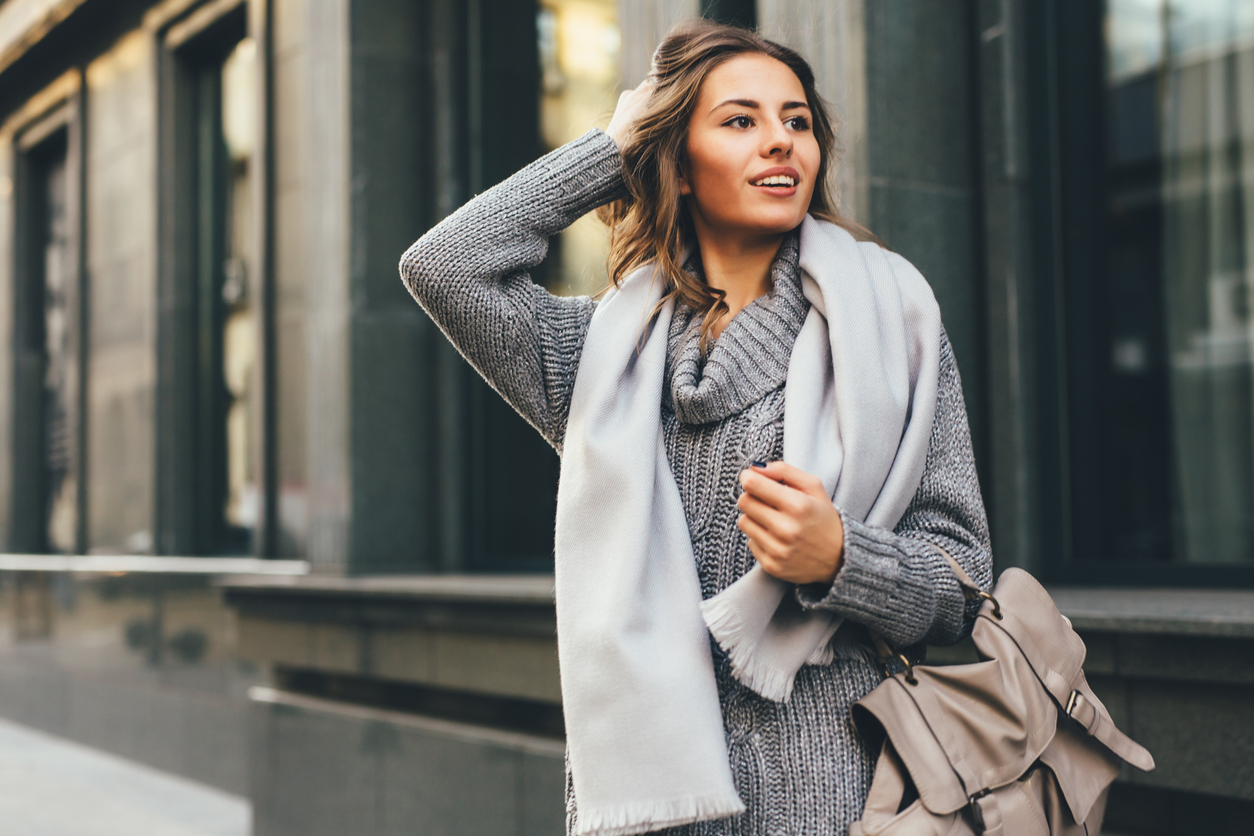 Sweater dresses are a great summer-to-fall wardrobe staple that you'll get many miles out of. With that in mind, we've rounded up five special picks that we think are perfect for the upcoming fall season. Break out the booties and the tights, because autumn will be here before you know it!
1. Hot Little Hybrid
Sweater dresses are getting a makeover this year, in that they're not just your typical, fitted neck-to-hem knit. More recently, this dress style is seeing the inclusion of shirting, creating the welcome illusion of layering without the need to find a knee-length button down. This particular dress, for instance, shows a bit more of the shirting than some, but the hybrid style is a nice departure from the usual sweater dress selection. This is long enough to be worn alone with over-the-knee boots, but would also look great with skinny jeans and ankle booties. Priced at $148.
2. Stripe Midi Dress
In some parts of the country, the weather is still warm, so choosing a sleeveless sweater dress is a great way to get more mileage out of your purchase. You can easily wear this piece now, with heels, sandals, or sneakers, and then layer it up when the weather turns cool. We'd love to see this with ankle booties and a faux leather jacket during fall months. Or, go the casual sneaker route and pair it with a hooded sweatshirt, creating an outfit perfect for a day by the ocean or on the boat. Priced at $111.
3. Floral Mini Knit
Sweet and sexy, this mini sweater dress had a beautiful, feminine floral print that just pops against the black background. Another awesome summer-to-fall frock, feel free to layer this according to the weather. Great now with heels or sandals and basic accessories, like a clutch and earrings, you'll be ready for date night in a snap. Other styling options include knee-high or over-the-knee boots and a tailored blazer. To lend this look a bit of edge, try a chic pair of stiletto ankle boots and a faux leather jacket. Priced at $78.99.
4. Vertical Visionary
Definitely one for the cooler months, (but who can wait that long, am I right?) you'll want to jump on this chunky knit before it's sold out. Striking, modern, and a little artsy, this dress is perfect for when you feel like standing out in a crowd. The length is sexy, especially if you decide to leave your legs bare in early fall, but would look just as sexy with a pair of tights and over-the-knee boots come winter weather. The saffron stripe does well at drawing attention to the face. Coupled with the up swept hairstyle, and mock neck, all eyes will be on your beautiful smile. Priced at $148.
5. Cut It Out Dress
The perfect casual sweater dress, this look combines style and comfort. The sleeve cut-outs are super cool and add just the right amount of detail to this hooded piece. Great for laid-back outings, like thrifting, studying, a quick lunch, or chilling with friends at the coffee shop, you'll reach for this dress again and again. We'd love to see it paired with sneakers, a backpack or cross-body bag, and a pioneer hat. Priced at $49.
*Disclaimer: Help support EcoSalon! Our site is dedicated to helping people live a conscious lifestyle. We've provided some affiliate links above in case you wish to purchase any of these products.
Related on EcoSalon
7 Surprising Ways Clothing Affects Your Life (Not Just Your Look)
5 French-Girl Looks for Summer's End: Friday Finds
5 Looks Inspired by Sea Glass: Friday Finds