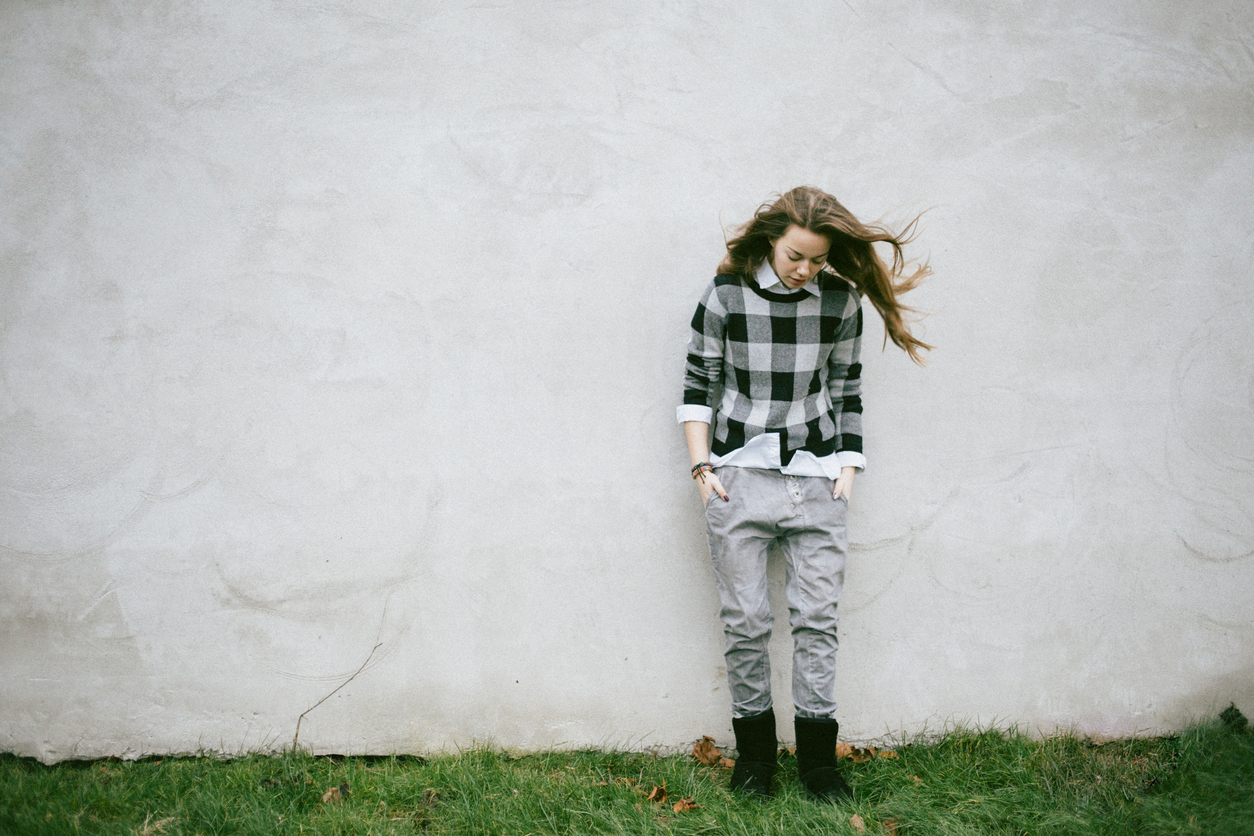 The power pantsuit made a major media and fashion comeback thanks to Hillary Clinton. And for several decades now, women have been ignoring gender norms by wearing clothes inspired by (or actually made for) men. Why the impeccable tailoring, clean lines, and hallmark patterns have been relegated to being "for men," is still a mystery. However, it's a fashion arena in which every woman should feel free to participate. With that in mind, we've rounded up several menswear-inspired pieces that you can wear any damn where you please in whatever way you feel fit.     
1. Not Your Average Flannel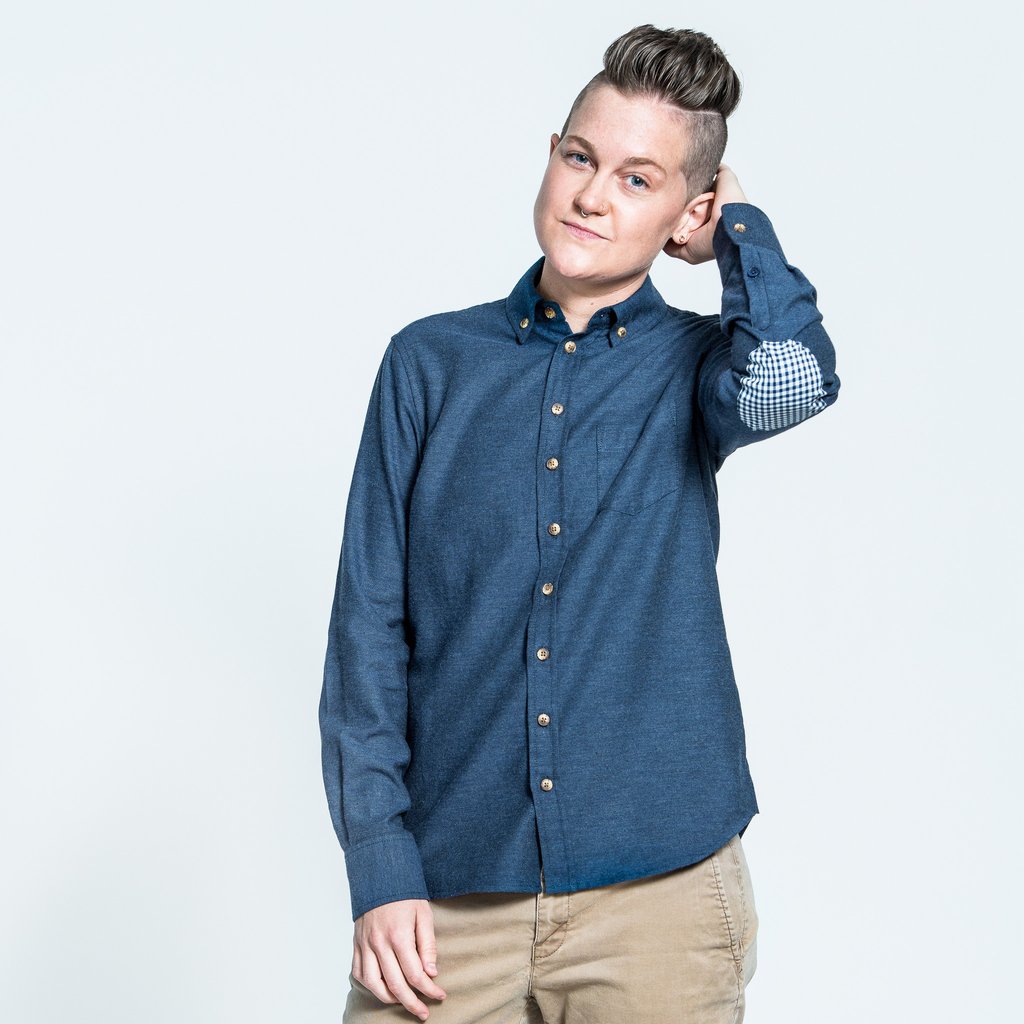 Ah, the favorite flannel. Practically lived in all season long, flannel shirts are soft, comfy, familiar, and perfect for chilly weather. Infuse a sweet menswear vibe, and you've got this brushed navy flannel button down that Kirrin Finch describes as being the softest fabric ever felt, outside of a baby seal! There's a cool gingham elbow patch, lending extra detail, and a nine button front that reduces boob gape. Feel free to layer this top any way you please; pair it with jeans, khakis, skinny jeans, or leggings, and throw on your favorite boots for the perfect fall look. Priced at $145.
2. Gray Day Herringbone Vest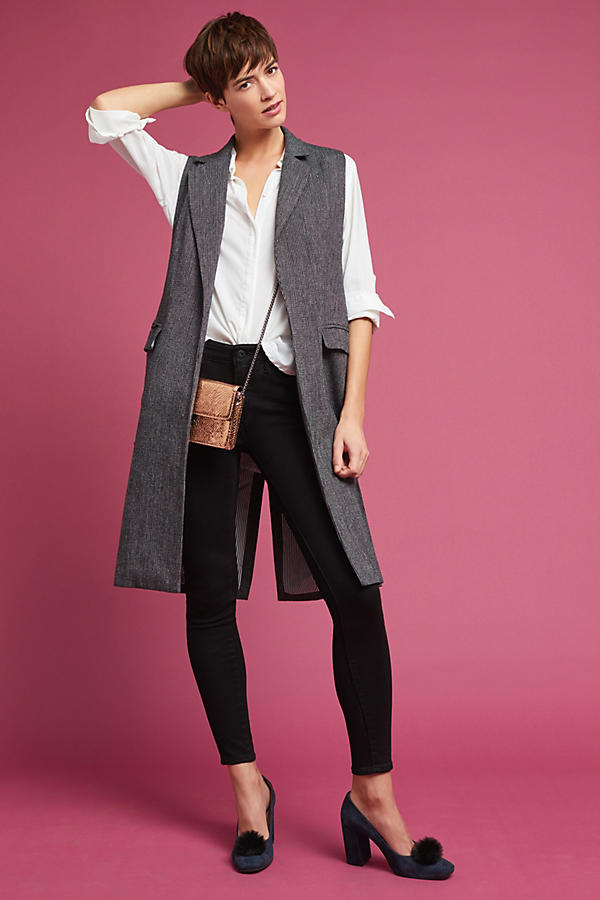 Vests are a cornerstone of fall fashion. The way they add an instant "extra something" to an ordinary top and pants is uncanny, really. This vest in particular has excellent attention to lines, details, and tailoring, making it the perfect menswear piece, even if you don't do menswear on the regular. What's great is you can juxtapose the masculine features of this vest with feminine details, like a fluttery top with flowing sleeves, a statement necklace, and a killer pair of heels, or you can take the menswear idea all the way with trousers, loafers, and a crisp white button down, as shown. Also great with jeans, this can be your new favorite work-to-weekend staple. Priced at $168.
3. Almost Men's Trousers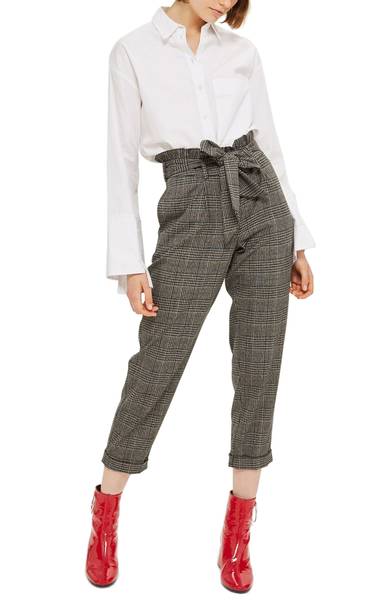 There are some patterns we associate more with masculinity, and a power check print like this one is definitely on that list. However, these weren't necessarily made with the boys in mind. The inclusion of a ruffled paperbag waist, sash belt, and leg-baring cropped length, prove there are plenty of details normally seen in women's clothing. In other words, you can still channel the menswear look while also incorporating feminine details. Great for fall, these are particularly ideal for work with a coordinating sweater, button down shirt, and your favorite heels or flats. For weekend play, try them with a pair of edgy ankle booties and a chic moto jacket. Priced at $80.
4. Gender Neutral Sweater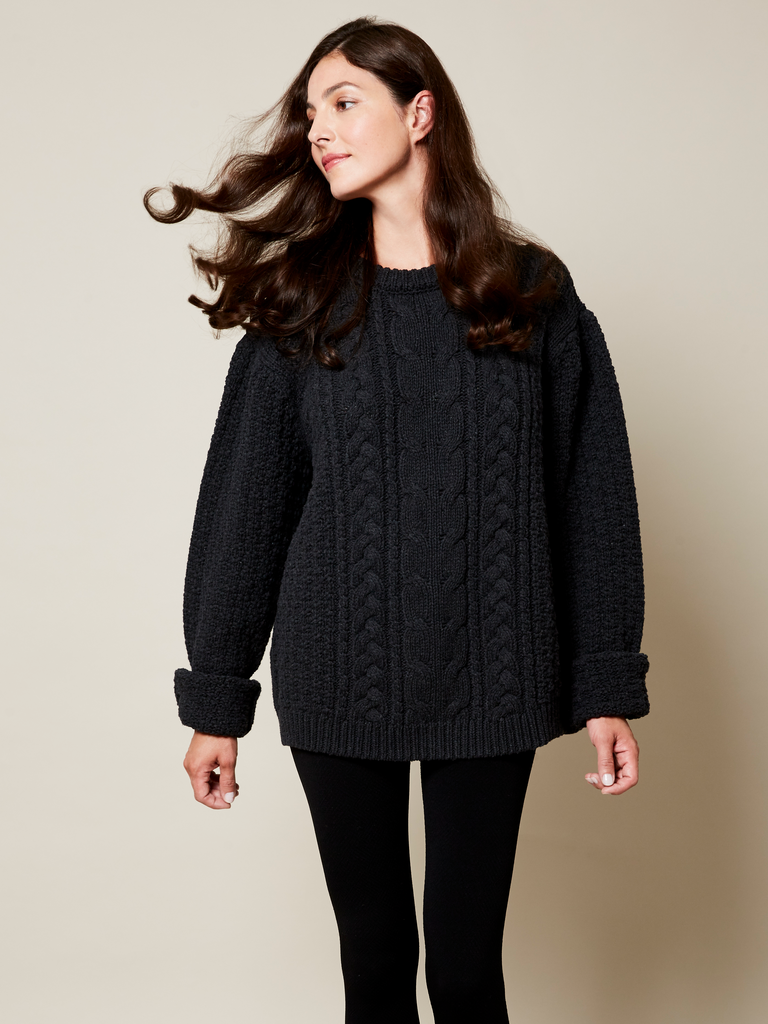 Leave it to Vaute Couture, the vegan, cruelty-free, and always inclusive fashion company, to create a handful of beautiful (and gender neutral) sweaters. To say this cable knit is your boyfriend's wouldn't actually be a lie. In fact, if you get it in a shareable size, he could also call it a "girlfriend sweater." Made from recycled cotton using a "wasteless process," Vaute Couture set out to create the comfiest, wool-free sweater, and here it is. Designed to already be oversized, you can get all the deets from the website, you'll feel like you're being wrapped in a cloud all day long. And who wouldn't love that? Priced at $325.
5. Plush Velvet Bomber Jacket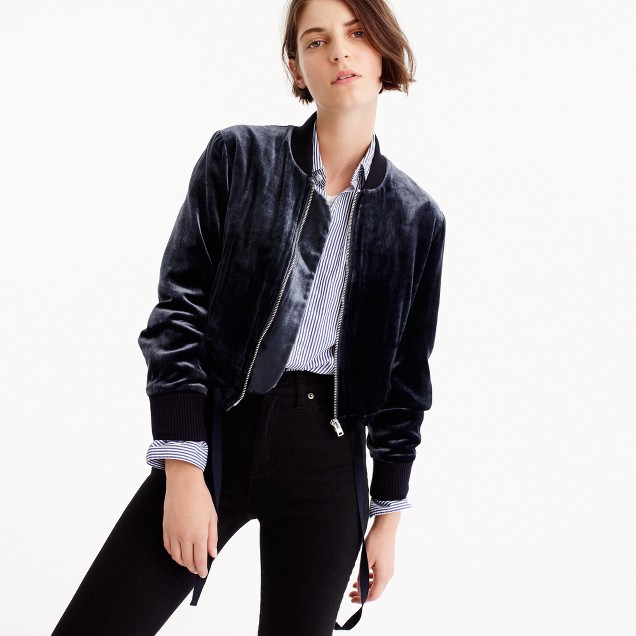 This list wouldn't be complete without some sort of menswear-inspired outerwear. But rather than present you with the predictable blazer or trench coat, we've opted for this luxe velvet bomber jacket instead. The bomber was originally designed for men, but it's definitely been borrowed, or completely snagged for that matter, by the girls. Presented in a deep blue shade of yummy velvet, this piece definitely errs on the side of masculine depending on how it's styled. The jacket would look dashing with something as simple as a plain white tee, jeans, and your favorite boots, but you can get as creative as you'd like. If you're feeling up to it, lend a bit of an edge to a flirty dress or skirt, and complete the look with tights and boots for the perfect mix of feminine and masculine. Priced at $150.
*Disclaimer: Help support EcoSalon! Our site is dedicated to helping people live a conscious lifestyle. We've provided some affiliate links above in case you wish to purchase any of these products.
Related on EcoSalon
Perfectly Suited: The 4 Best in Sustainable Menswear
Breaking Gender Barriers: Ethical Menswear for Everyone
The Promising Future of Men's Fashion: An Interview with The Discerning Brute's Joshua Katcher