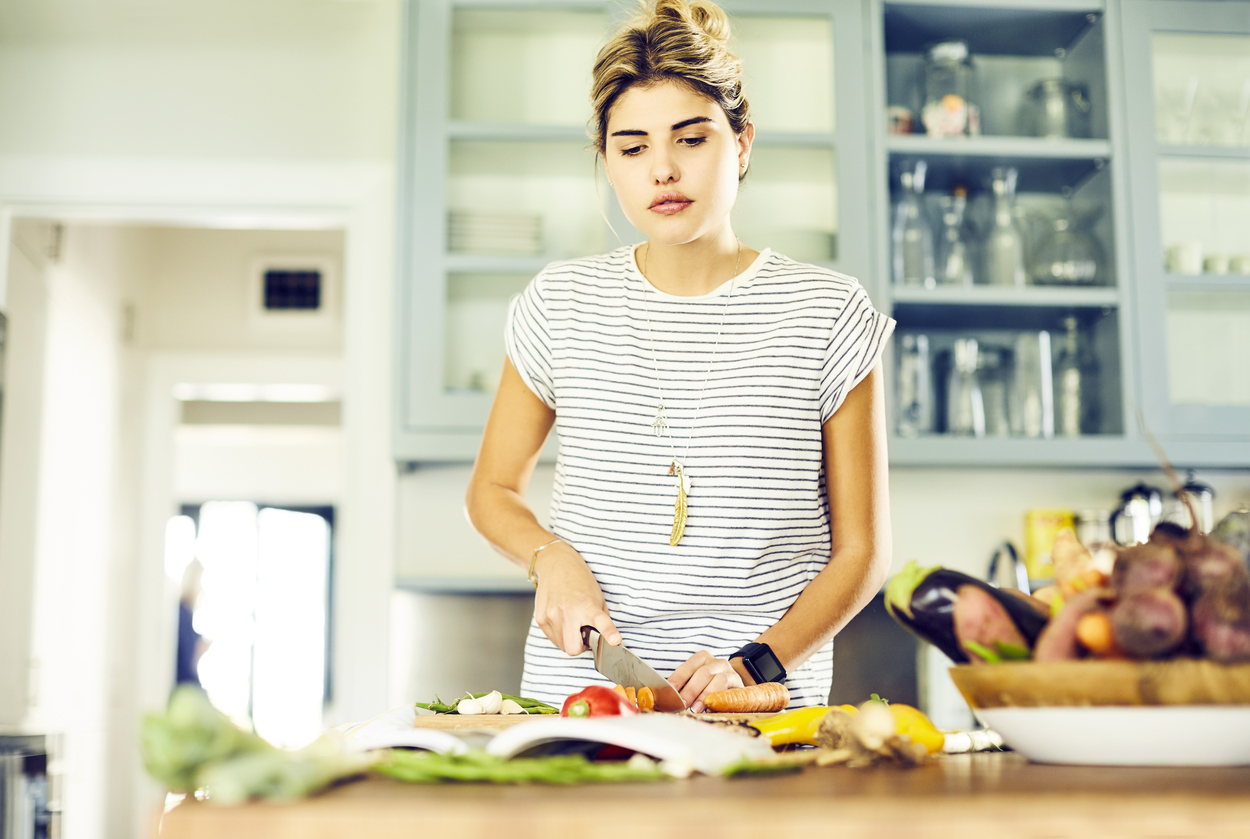 While Pinterest is an undeniably useful source for finding new recipes, there is no real replacement for the comfort of a cookbook.
Flipping through the pages and gawking at the delicious-looking recipes is an experience that shouldn't be missed. These vegan cookbooks suit the needs of everyone from the home chef with little experience to the ultimate foodie.
Also, for those with a gluten allergy or intolerance, you'll be pleased to know these cookbooks contain recipes that are gluten-free or can be easily adapted.
The Greatest Vegan Cookbooks
1. "Chloe's Kitchen"
In her debut cookbook, "Chloe's Kitchen", Chloe Coscarelli successfully veganizes classic dishes such as mac and cheese, fettuccine alfredo, and even In-N-Out inspired cheeseburgers! "Chloe's Kitchen" is the perfect vegan cookbook for new and veteran vegans alike.
Coscarelli's delicious recipes are actually largely responsible for my own personal transition from vegetarian to vegan. Even my non-vegan friends and family members haven't been able to resist Coscarelli's amazing recipes.
Try These Recipes:
Double Double Drive-Thru Burgers, page 103
Ooh-La-La Lasagna, page 136
Peanutty Perfection Noodles, page 141
Ooey Gooey Cinnamon Rolls, page 229
2. The "Oh She Glows Cookbook"
The "Oh She Glows Cookbook" by Angela Liddon is ideal for vegans who love nourishing recipes. The book is chock full of nutrient-rich recipes with wholesome ingredients. From green smoothies to salads to mains, this book has all of the recipes that your healthy lifestyle needs.
Try These Recipes:
Taco Fiesta Potato Crisps, page 85
Walnut, Avocado & Pear Salad with Marinated Portobello Caps & Red Onion, page 103
Summer Harvest Tortilla Soup, 135
Sweet Potato & Black Bean Enchiladas with Avocado-Cilantro Cream Sauce, page 147
Peanut Butter Cookie Dough Bites, page 235
3. "Blissful Basil"
Newly released "Blissful Basil" by Ashley Melillo is the most unique vegan cookbook I've ever read. The pages are filled with recipes that I had never even tried anything similar to, despite my years of vegan cooking experience. I've only tried a handful of recipes so far but I loved every one of them.
Besides being filled with mouthwatering recipes, "Blissful Basil" is very allergy-friendly. Each recipe in the book is marked with symbols indicating if the recipe is gluten-free, grain-free, refined sugar-free, soy-free, nut-free, and/or oil-free.
Try These Recipes:
Crispy Cauliflower Tacos with Tangy Slaw + Avocado Crema, page 175
Shaved Carrot Reuben with Special Sauce + Swiss Cheese, page 185
Baked Mostaccioli with Walnut Bolognese + Cashew Mozzarella, page 219
Peanut Butter Cookies, page 281
4. "Chloe's Vegan Italian Kitchen"
Chloe Coscarelli is the queen of vegan cookbooks. After publishing "Chloe's Kitchen", Coscarelli published "Chloe's Vegan Desserts" and then the amazing, "Chloe's Vegan Italian Kitchen". This latest release, which veganizes classic Italian dishes, does not disappoint and I consider it a go-to.
Try These Recipes:
Avocado Caprese Pasta Salad, page 56
Butternut Squash, Caramelized Onion, and Apple Pizza, page 89
Pizza Burgers with Avocado Pesto, page 106
Tequila Tempeh Fettuccine, page 130
Leftover Red Wine Chocolate Cake with Drunken Raspberries, page 222
5. "The Kind Diet"
"The Kind Diet" by Alicia Silverstone not only contains tasty vegan fare but is also an excellent source for information on the benefits of veganism, nutrition, and sustainability. After just one read, the book convinced me to incorporate more a wider variety of vegetables and legumes into my diet.
"The Kind Diet" is broken down in an easy-to-follow format which makes flipping through its pages even easier. The first recipe section has healthy yet balanced recipes which are great for new vegans while the last section has nutritious, clean, and wholesome recipes. After I eat one of the meals from the books, I always feel sustained and energized.
Note: The book uses a lot of soy products so if you have an allergy or avoid soy, I would not recommend this book.
Try These Recipes:
Ginger-Baked Tofu, page 160
Sweet Potato-Lentil Stew, page 166
Cheesy, Oozy Guacamole Bean Dip, page 207
Braised Daikon in Mirin and Shoyu, page 271
Related on EcoSalon
7 Must-Have Vegan Kitchen Pantry Staples
The Modern Kitchen: Do You Consider Cooking a Pleasure or a Chore? Foodie Underground
21 Essential Vegan Baking Tips for the Egg and Dairy-Free Kitchen