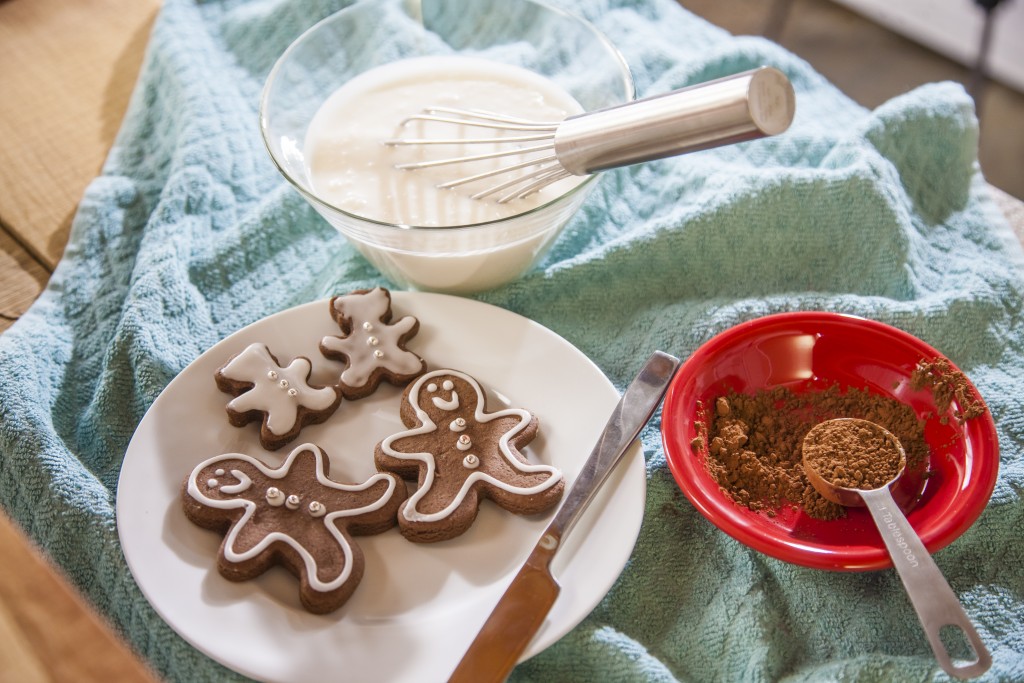 Whether it's your Nonna's Italian rainbow cookies or your Bubby's rugelach, holiday cookies are heavy on comfort, but they're not always the healthiest thing you'll make all year. While it's definitely time to celebrate with a special occasion cookie, we love these healthier holiday cookie recipes: they feature natural ingredients for tasty cookies you'll be proud to share.
1. Chocolate Gingerbread Cookies
These gingerbread men get richness (and protein) from organic SunButter. Classic spices like ginger and cloves, rich molasses, and just the right amount of cocoa powder unite to make this a new classic. Be sure to opt for an organic corn syrup like this one from Wholesome to keep your cookies glyphosate-free.
[Christmas Linzer cookies with raspberry jam]
2. Raw Vegan Linzer Cookies
These raw vegan linzer cookies are rich and sweet thanks to a combination of walnuts, almond flour, dates, maple syrup, and coconut oil. Cut them out using your favorite holiday cookie cutters, and spread with a homemade raw raspberry jam made with chia seeds.
[Thumbprint cookies]
3. Vegan Thumbprint Cookies
Thumbprint cookies are a super fun recipe to get even the littlest kitchen helpers involved in the holiday festivities. This vegan dough packs a protein punch with almond butter and a secret ingredient: chickpeas. Don't worry, though – once you've added the vanilla, maple syrup, and coconut palm sugar, the chickpea flavor doesn't come through in the final cookie. Fill them with whatever jam or vegan chocolate spread you like.
[Image: Chocolate cream cookies]
4. Raw Chocolate Macaroons
These paleo-friendly cookies are made with a combo of coconut, pecans, raw cocoa, and pumpkin purée. Sweetened with raw organic honey and just a touch of vanilla and cinnamon, they're positively perfect for the holidays. (Leave a few out for Santa and see how quickly they disappear!
Image: Plate of shortbread rings with nuts on table
5. Kamut Shortbread
Kamut brand khorasan wheat is an organically grown cousin of conventional wheat that's more nutritious and easier to digest. Along with chopped mixed nuts, Kamut is the topping for this simple, rich shortbread recipe. Use grass-fed butter for the healthiest, most delicious results.
Kamut Shortbread Recipe (Care of Kamut)
Makes 8 large shortbreads
Ingredients
1 stick unsalted butter, softened
⅓ cup plus 1 tablespoon granulated sugar
½ tsp vanilla
1 cup all-purpose flour
½ cup salted and roasted mixed cocktail nuts, chopped
1 tablespoon Kracklin' Kamut
Method
Preheat oven to 375 degrees. Line a baking sheet with parchment paper.
In a medium size bowl stir together the softened butter and ⅓ cup of sugar until well combined. Stir in the vanilla then add flour and mix with your hands until a dough forms. Transfer dough to the baking sheet and form an even 8" circle. Score into eight sections and sprinkle nuts and Kracklin Kamut evenly over the dough, pressing down to help them adhere.
Sprinkle with the remaining tablespoon of sugar and bake until shortbread is deep golden in color, 25-30 minutes.
Cool on baking sheet for 10 minutes and cut into eight sections.
*Disclaimer: Help support EcoSalon! Our site is dedicated to helping people live a conscious lifestyle. We've provided some affiliate links above in case you wish to purchase any of these products.
Related on EcoSalon
21 Holiday Quotes on the Beauty of Bringing the Family Together
11 Simple Ways to Celebrate the Holiday Season Slowly and Joyfully
5 Perfectly Ugly Sweater Party Ideas