Prepare yourself for cold and flu season with these immune boosting products.
Many people may watch Mad Men for the human-interest stories, intense character arcs, and glimpses of history. I watch for the women's gloves. Gloves to this germaphobe means never having to open another public bathroom door with my sleeve. Or successfully touching my nose after riding the Metro. Or pushing a grocery cart without fear. Oh, what a world it would be.
So what's a glove-lusting germ-hater to do at the advent of cold and flu season? Green beauty has a nice selection of immunity boosters free of toxic ingredients. Check out our favorite picks to boost your immune system and see you through the winter.
(None of these products are meant to be consumed internally, nor has their effectiveness been evaluated by the Food and Drug Administration. They are not intended as a substitute for a doctor's care, so see your doctor if you are sick. Embrace hand washing. This announcement is courtesy of the common sense side of everything.)
I-Booster Salve by Buddha Nose ($24.00)
The last severe cold I (heroically) endured, I heavily employed this salve from Buddha Nose. As creator Amy Galper writes of her product, its intention is "to wake us up when we feel fatigued and to activate and protect us when we feel run down." By rubbing it on your neck and shoulders, you are said to receive a natural boost to your energy. Made with USDA certified ingredients, this lemon, clove, and cinnamon blend brings a pleasant scent up to your aching head.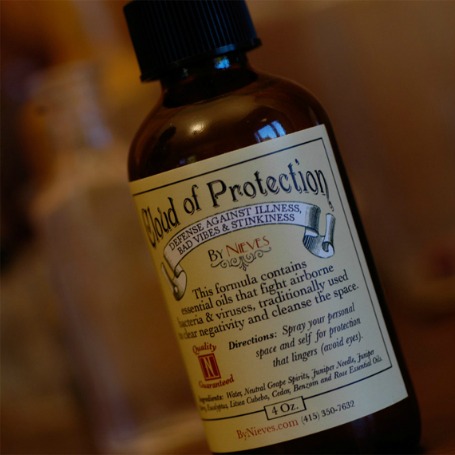 Cloud of Protection By Nieves ($18.00)
Perhaps one of the most fragrant spritzers I've ever come across, this formula contains essential oils that claim to fight bacteria and viruses. With naturally antiseptic ingredients such as juniper needle and eucalyptus, this product goes airborne to keep you in a lovely haze of scent. Its creators also recommend it to clear negative energy in your vicinity and to help with some "odor guidance" in public bathrooms and more.
Vapor Bath Elixir by Farmaesthetics ($31.00)
Another slam-dunk product from the green experts over at Farmaesthetics, this fragrant immune boosting "spa in a bottle" brings to mind evergreen forests when it's added to the bath. Containing certified organic ingredients to open congestion and boost the immune system, its mix of menthol, clove, eucalyptus and lavender is not to be missed. I actually keep my bottle on my desk to use as an aromatherapy boost throughout the day, it's that good.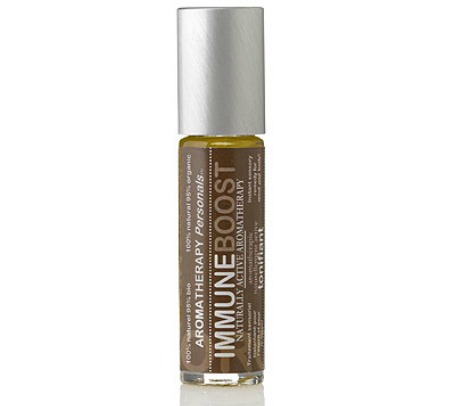 Aromatherapy Personals Immune Boost ($17.00)
Eucalyptus and lemon make another appearance in this fragrant roll-on from Aromatherapy Personals. Made with certified organic ingredients, it contains bacteria-fighting tea tree oil. It also has lemon, frankincense, rosemary, and sweet orange to sooth your senses. You can roll it onto pulse points along your wrists and use it on your temples and the back of your neck. Aromatherapy Personals also offers a product to sooth a sinus headache.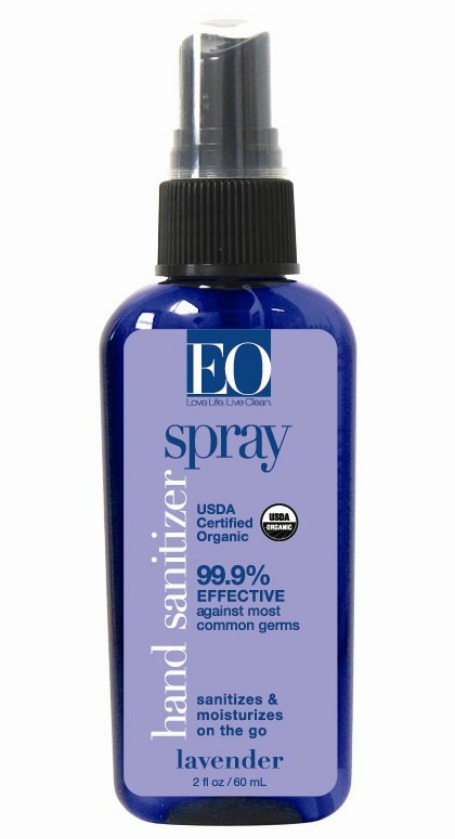 Hand Sanitizer Spray by EO Organics ($1.99)
Anti-bacterial sprays can be controversial. Loaded with triclosan, they kill off bacteria but not all of it. The surviving bacterium gets angry. And you don't want to see bacterium get angry. This product from EO Organics is ready to fight bacteria. What's more, it contains certified natural ingredients such as fragrant lavender. Yes, perhaps we can't walk around sporting Betty Draper-friendly elbow gloves. But at least we can dose our hands with some lavender-scented product to make life just a little easier during cold and flu season.
Image: Fran Ulloma