This time of year is perfect for attending or hosting a garden party. Beautiful weather, refreshing cocktails, finger food, dreamy decor, and a few of your favorite people are all you need to get things started. Oh, and a super cute outfit!
Since spring is in full swing, we're going to focus on light and bright looks with lots of dreamy, ethereal elements and floral patterns. Whether you're a pants kinda girl, or absolutely love dresses, we've got a little something for everyone on the list. Many of these looks can go from day to night, and will fit the bill for a variety of occasions. 
1. Lace Maxi Dress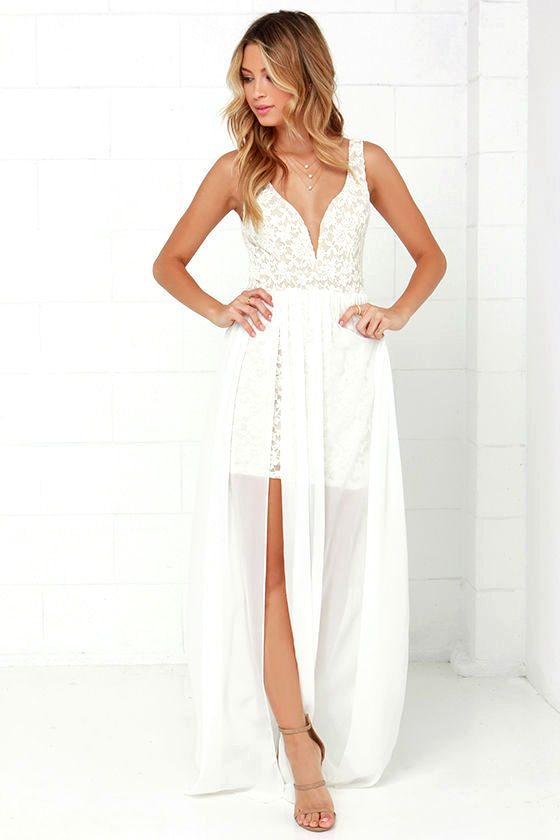 Totally gorgeous and perfect for a dressy garden party, this off-white dress plays peek-a-boo through a long sheer skirt. The full side slit and flowing chiffon fabric lend lots of movement and drama when making your way across the venue. A pair of flesh tone or white heels and a simple clutch are all you need to complete the look. It's a great choice as a guest, but if you're a bride looking for something simple and affordable, it would make a nice wedding dress, too. Priced at $77.
2. Plunging Mint Romper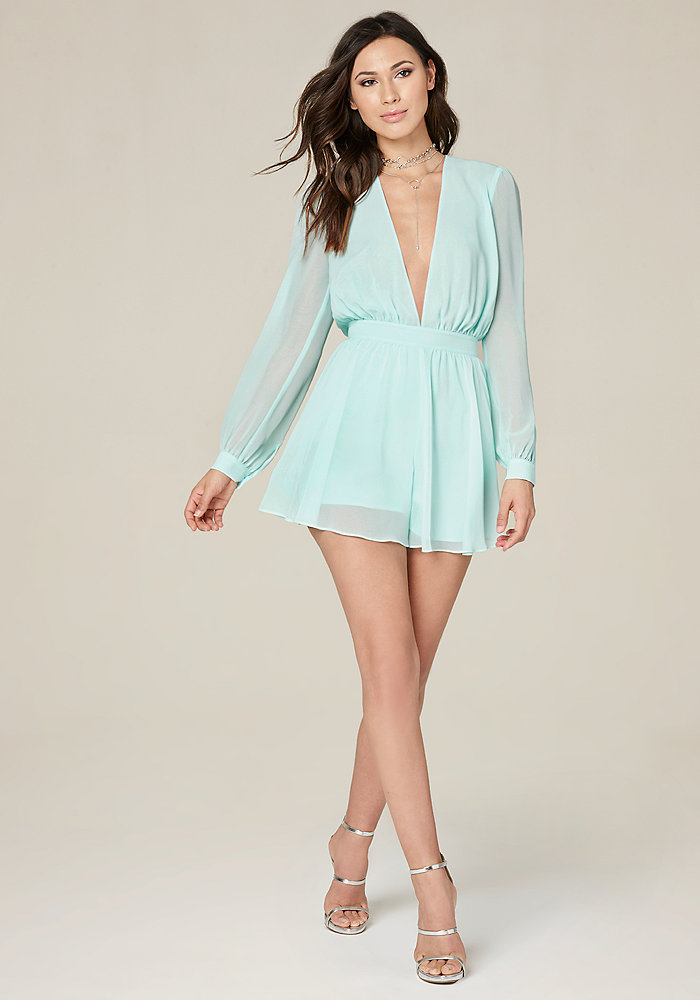 This plunging mint romper can be dressed up or down and offers a nearly complete look with one simple piece. The play on sheer and opaque creates interest and lends a sexy feel without being overly revealing. The flirty, ruffled bottom gives the illusion of a skort or skirt with the range of motion and privacy that shorts provide. Pair with a lace camisole if you want to wear a regular bra. Otherwise, a little double-sided garment tape should keep the girls in place. Simple jewelry and strappy shoes–espadrilles, ankle tie, flats, or stilettos–will complete this look. Priced at $119.
3. Lace Top Jumpsuit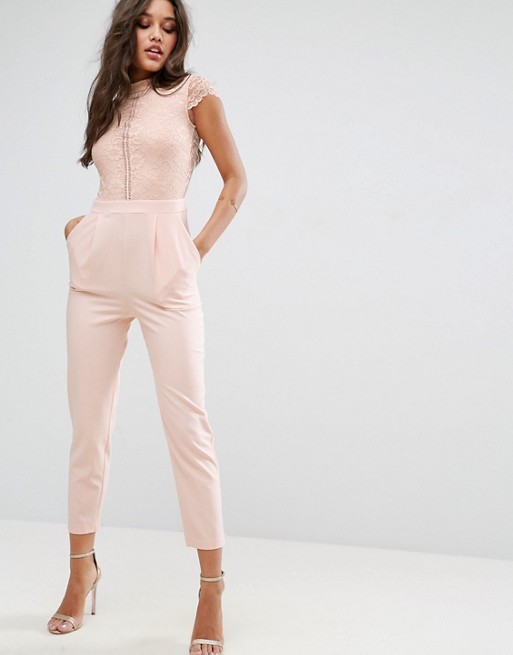 Jumpsuits are great for women on the go, and this peachy-pink piece is exceptional. Beautiful, stylish, and undeniably chic, the lace top jumpsuit is fitted in all the right places. Great for garden party goers, this look is sure to impress. The sheer back is sexy and flirty, while the classic, streamlined pants aid in creating a beautiful silhouette. Skip the necklace and wear earrings, bracelets, or a cocktail ring. Grab a compact purse–one with a long chain strap would look great–and a pair of sexy sandals to round out the outfit. Priced at $68.
4. Structured Floral Skirt
An A-line skirt is a great wardrobe staple and happens to be perfect for attending a garden party. This structured skirt is handmade, falls at a great length, and will pair beautifully with a variety of tops. The floral print is completely on trend, as is the high waist. Fitted tanks, camisoles, blouses, crops, and basic tees would all work well with this skirt. Dress it up with jewelry and heels, or dress it down with flats. Either way, you're sure to get a lot of miles out of this skirt. Priced at $44.99.
5. Crepe Wide Leg Pants
Wide leg pants are another wardrobe must-have. Great for all sorts of events in a pinch, these will take you from day to night and work to weekend in a snap. Pair these crepe pants with a strapless sweetheart neckline top for a classic, sexy look that's on target for a garden party. A sheer lace top and bralette, a dressy tank, or even a silky camisole would also work exceptionally well with these pants. Have fun with color since these are white. Kelly green, aqua, rose, and other hues are all up for grabs and are perfect for spring. Priced at $56.
*Disclaimer: Help support EcoSalon! Our site is dedicated to helping people live a conscious lifestyle. We've provided some affiliate links above in case you wish to purchase any of these products.
Related on EcoSalon
The 10 Hottest Spring 2017 Fashion Trends Have Arrived
7 Surprising Ways Clothing Affects Your Life (Not Just Your Look)
5 Pieces Inspired by Pantone's 2017 Color of the Year: Friday Finds