When the summer heat is on, sun protection is a must. But how do you determine a truly safe sunscreen from the many options out there?
Recently, the northeastern seaboard turned into a giant microwave oven, searing its occupants with 90-degree plus weather and, I'm pretty sure, 10,000 percent humidity. With sunscreen and summer still a novel concept, people frolicked care-free in the sun in madras pants and flowing dresses. I was one of them. Spending almost the entirety of Saturday in the sun, I diligently applied and reapplied my favorite certified organic sunscreen.
What happened? While my sunscreen held up, my applications skills did not. A bright red splotch still beams from the top of my foot. A streak of angry red runs along my neckline. There are actual thumb prints on my knees. I am an excellent walking public service announcement for why sunscreen matters.
Sun safety is paramount, and this includes safe sunscreen options. What do we mean by safe? As we recently outlined, some ingredients in conventional sunscreens might act as suspected hormone-disruptors and support the acceleration of tumors and lesions. Suddenly, a little sunburn doesn't seem so bad—except sunburns, of course, may cause skin cancer.
Luckily, the safety-conscious sun worshippers among us have options. The Environmental Working Group recently released their 2013 Guide to Sunscreens, outlining their picks of the best sunscreen and SPF products on the market. This list includes 184 beach and sports sunscreen, as well as 22 moisturizers containing SPF.
Which ones to pick? We'd sign off on any of them, as well as these EcoSalon-approved protectors. Here are five of our favorite sunscreens from the EWG's 2013 compilation.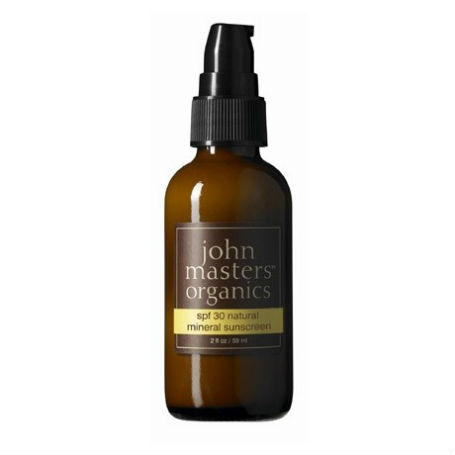 1. John Masters Organics Natural Mineral Sunscreen SPF 30 ($32.00)
From organic specialist John Masters Organics come this lovely, lightweight sunscreen suitable for all skin types. With titanium dioxide and zinc oxide offering a broad spectrum protection, it also acts as an excellent moisturizer. Made with extracts of green tea, shea butter and jojoba oil hydrate, this certified organic product is biodegradable and reef-friendly. The EWG gives it a 2 (a 1 is the highest rating), citing excellent sunscreen stability and a good UVA/UVB balance of protection.
2. Miessence Reflect Outdoor Balm, SPF 15 ($29.45)
This mineral sunscreen offers up a solid chemical-free protection. Acting as a physical sunblock that bounces the sun's rays off your skin (chemical sunscreens absorb it), this balm brings an intense 22 percent zinc oxide protection. It also contains natural vitamin E, the gold-standard ingredient for skin health. The EWG gives it an overall rating of 2, citing an excellent balance of UVA/UVB protection and stability.
3. Aveeno Baby Natural Protection Face Stick SPF 50 ($9.99)
Aveeno—yes, that Aveeno—offers up this easy-to-use sun protection in a handy stick. Using titanium dioxide and zinc oxide for its protection, this product is both oil and fragrance free. The EWG gives it a rating of a 2, citing excellent sunscreen stability and good UVA protection. Who knew the aisle at your local drug store could be so EWG-friendly?
4. DeVita Solar Protective Moisturizer SPF 30+ ($20.76)
One of the best trends in sunscreen is light protection that doesn't make you feel like a 1970s lifeguard smearing white streaks of zine oxide on her nose. (Though, 40 years later, said lifeguard likely has a lovely, sun-protected nose.) I, for one, am so adverse to that oily sunscreen feeling that I'd rather walking around in a personal radiation suit. So, three cheers for the moisturizer plus sunscreen from DeVita Solar. Given a rating of a 1 from the EWG, it offers up excellent UVA protection, as well as sunscreen stability.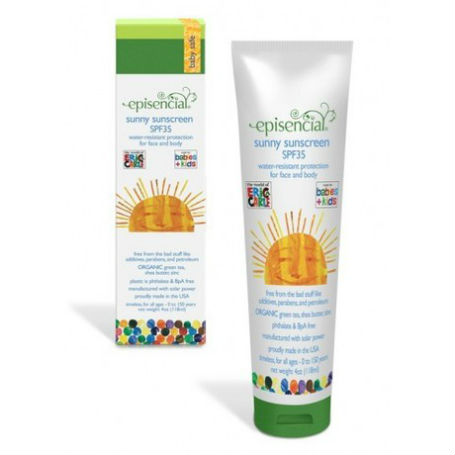 5. Episencial Sunscreen SPF 35 ($15.00)
For "ages 0-150 years," this broad spectrum sunscreen offers up a light, water-resistant protection. Made with organic green tea and zinc, it can be worn in the water (or sprinklers!) for up to 80 minutes. The EWG gives it the highest rating of a 1, citing its excellent stability, as well as good UVA and UVB balance.
Photo: Flickr/M00by