Thrift shopping for vintage treasures is easy when you know where to find them. Here are seven of our favorite thrift shops in New York City.
Thrift stores are no longer on the fringe of it all, they are very much part of the urban fabric and people from all walks of life frequent them. It used to be that all the good ones were in Brooklyn, but with Beacon's Closet recently opening an outpost in the West Village that is no longer the case.
Vintage shopping is part skill, part luck and part perseverance, but you can stack the odds in your favor by hitting up stores known to always stock good stuff. Here are seven of our favorite thrift stores in New York City. For those of you located elsewhere, many of these also have online shops.
Yours truly outside Beacon's Closet in Williamsburg
Beacon's Closet
If you only have time to hit up one thrift shop while in NYC, this should be it. Look for the bald baby with thick-rimmed glasses — that's the shop's logo. Beacon's now has three locations in NYC — Williamsburg, Park Slope and a recently opened outpost in the West Village. The Williamsburg shop is by far the largest, but (thanks to notoriously stingy buyers) they are all well-stocked with good stuff. Racks are organized by garment type but also color, making it easy to find something specific. In addition to clothing there's also a great selection of shoes, bags and accessories. My secret is to look for great boots in the men's department.
Williamsburg: 88 North 11th Street, Park Slope: 92 5th Avenue, Manhattan: 10 W 13th Street or Shop Online
Guvnor's Vintage Thrift
I love vintage stores that have a personality, where you walk in and just feel like you get what it's all about. At Guvnor's in Park Slope, the attitude is very rock and roll with a 50s rockabilly pinup vibe. There's a great selection of denim, suede and leather as well as cutesy dresses (that deserve to be paired with a good biker jacket). Guvnor's also throws parties every now and then. You'll know because there will be dozens of motorcycles parked outside.
178 Fifth Avenue, Park Slope, Brooklyn
Amarcord Vintage Fashion
With two locations – one in SoHo and one in Williamsburg – Amarcord Vintage Fashion specializes in upscale European vintage clothing and accessories, primarily from the 1940s to the 1980s. Luxury brands share the racks and shelves with unknowns, but the entire selection is carefully curated. Large parts of the inventory is obtained on seasonal buying trips throughout Europe – Italy in particular – which is owners Patti Bordoni and Marco Liotta's homeland. Amarcord also has a rental-only showroom in Brooklyn, stocked with more than 50,000 unique pieces from across the globe. Needless to say, stylists and celebs alike flock here to find that special piece that no one else will wear to the party.
Williamsburg: 223 Bedford Avenue (btwn N. 4th and N. 5th), SoHo: 252 Lafayette Street (btwn Prince & Spring)
Cobblestones
Walking into this little gem of a thrift store in the East Village is like traveling back in time, or shopping inside your (very stylish) grandmother's closet. Delanee Koppersmith is a native of the East Village and has owned this shop since 1981. She specializes in the 1930s and 40s and, in addition to lovely clothing, you can also find quirky NYC memorabilia, books and other accessories.
314 E. 9th Street, Manhattan
Housing Works
All twelve NYC locations of Housing Works are great destinations for bargain shopping. Spend some time rifling through the racks and you never know what you may come across. Head out to Housing Work's warehouse in Long Island City on certain dates, however, and you can fill up a whole bag with whatever you want for just $25. It's called Buy The Bag, and tickets usually sell out in advance, so plan ahead. You can also shop a limited selection online.
12 locations throughout NYC or Shop Online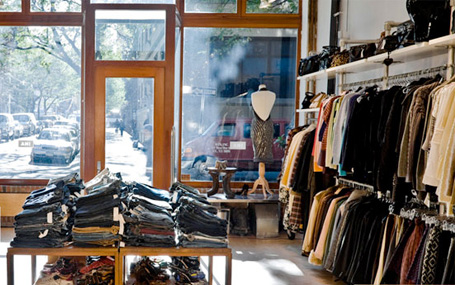 INA
If you're looking for big brands and high fashion, INA is the place to go. With six locations throughout the city as well as an online shop, you are never far from a good score like a pair of Isabel Marant boots (for half off). The selection is highly curated and you can be sure that you won't come across any designer knockoffs here. Prices are, as may be expected, not on the bargain side of things, but if you are looking for high-quality investment pieces, this is a good place to go.
NoHo: 15 Bleecker Street, Soho: 101 Thompson Street, Nolita/women: 21 Prince Street, Nolita/men: 19 Prince Street, Chelsea: 207 West 18th Street, Uptown: 208 East 73rd Street or Shop Online
What Goes Around Comes Around
Co-founders Gerard Maione and Seth Weisser have been collecting and selling vintage for over 17 years. The pair has amassed thousands of vintage pieces that are housed primarily in the company's 10,000 square foot archive in New Jersey – a fashion industry gem – with pieces constantly rotating between the New York City and Los Angeles stores. Although there is a bit more focus on the 60s, the collection spans every decade, sometimes as far back as the 19th Century. WGACA has one of the largest collections of vintage denim in the United States, making the store a favorite destination for stylists and fashion people. In 2010, they also introduced the Custom Vintage collection, created from authentic vintage, recycled and uniquely handcrafted materials.
351 West Broadway (between Broome & Grand St), SoHo or Shop Online
SEE ALSO: 7 Awesome Thrift Stores in San Francisco