Just in time for Earth Day, some of our favorite names in eco fashion are springing forth with new lines this season. But you can step out in guilt-free designer gear and support companies who support Mother Earth any day of the year.
Earth Day celebrates and promotes the greening of cities and communities worldwide. It's a big-picture holiday that you can participate in year round by virtue of the small choices you make on a daily basis. The daily question of "what to wear" can have a tremendous impact on Mother Earth, as the garments you wear contribute to your carbon footprint.
These stylish, sustainable eco fashion designers can help you make every day an Earth Day, straight out of your own closet.
1. Ethical Fashion from Eileen Fisher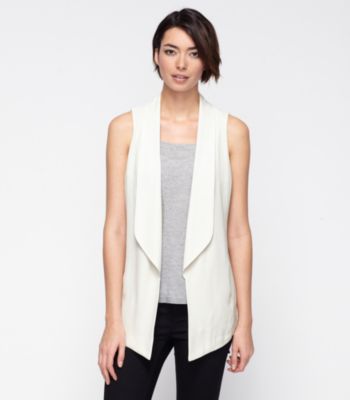 The vision of Eileen Fisher is to change the fashion industry one garment at a time. Fans of the designer can feel confident that they're giving back by opting for these eco styles. From the organic, chemical-free materials to the bluesign certified factory ensuring fair working conditions, Eileen Fisher is ready-to-wear for Earth Day.
Her breezy Spring 2014 collection features classic cuts like the Boyfriend Jean in organic cotton stretch denim. By avoiding conventionally grown cotton, you avoid one of the most toxic crops.
The collection also features an elegant take on sustainable silk within the Silk Effect collection. The garments are multi-layered with an ethereal yet earthy vibe.
2. Raven + Lily Preserve one of Earth's Most Powerful Resources: Women
Earth Day is not only about preserving the physical resources of our planet, but also the health of humanity. Raven + Lily offer eco friendly, Fair Trade fashion and accessory collections that support women. The company's mission is to empower women by employing those marginalized and in recovery from abuse. The artisans and craftswomen employed by Raven + Lily are provided with a sustainable income and health care.
Tops and tees from Raven + Lily are perfect for Earth Day festivities, and you can feel good that any jewelry you choose to accessorize with supports women all over the world including Kenya, Cambodia and the USA.
3. Tread Lightly on the Earth in PONS Avarcas
This Earth Day, you can step out in traditional sandals with a twist. The Avarca is a classic Spanish sandal. It's the traditional footwear from the island of Menorca in the Mediterranean Sea.
PONS Avarcas  is a company with a mission to preserve the integrity of these ancient sandals. PONS Avarcas imports the shoes directly from artisans on Menorca and the sandals are hand-sewn utilizing rubber soles repurposed from old tires. The company is true to the traditional design and craftsman ship of these versatile warm-weather essentials.
4. Akola Project: Accessorize with Activism
Earth-friendly endeavors extend to all levels of the manufacturing process, from the materials used to the labor practices. The Akola Project focuses on the Fair Trade and labor aspects of eco fashion, opting to employ impoverished women in Uganda. The marginalized Ugandan women are masterful artisans and create handmade jewelry and accessories.
Akola also provides fresh-water wells in the areas where its craftswomen live. In fact, 100 percent of the net proceeds from Akola are funneled back into Ugandan, Kenyan and Ethiopian communities in need.
5. LSTN Ear Buds for a Cause
Get into the spirit of celebration this Earth Day by listening to inspiring tunes on these equally inspiring ear buds and headphones from LSTN. These uber hip and eco friendly high-quality earpieces are the ultimate sonic accessory. LSTN donates proceeds from each sale towards restoring hearing for those in need, so you can rock out in socially-supportive style. The gorgeous one-of-a-kind headphones will turn heads and match with your sustainable threads. Made from repurposed wood, each pair is unique. Proceeds go to the Starkey Foundation which helps restore hearing to those in need. LSTN has already helped more than 15,000 people hear again.
6. FashionABLE is Fair Wage and Fabulous
A springtime scarf can be the ultimate accessory, adding a depth of style in the easiest possible way.
When you purchase a hand-loomed scarf from FashionABLE, you directly create sustainable business in Africa. The FashionABLE model is dedicated to long-term solutions in fighting the poverty that keeps women marginalized in East African communities. Your purchase creates jobs for women who become part of a revitalized local economy. FashionABLE also promotes Fair Trade and fair wage practices in the communities it serves.
7. Bluejeans Without the Blues: Love Premium Denim
Denim is the essential "down to earth" fashion item. In denim you're ready to get down and dirty, to work and to play. 

Wouldn't you love to step out on Earth Day in jeans designed by the same folks who wrote the "Kama Sutra of Jeans"? Love Premium Denim is your go-to designer for jeans that truly hug your body.
Luckily, the day after Earth Day, April 23rd, is National Denim Day–a day to be proud of your jeans-clad self.
Your purchases from Love Premium Denim supports breast cancer awareness, adding a socially aware element to your casual comfort.
Related on EcoSalon
Earth Day 2014: Low-Impact Sensibility for Your Natural Beauty Routine
8 Best Made In America Jeans Brands: On Trend
7 Stunning Spring Scarves for Any Outfit