Are organic sunscreens comparable in quality to their non-organic equivalents?

Does an organic sunscreen work? Don't I want the highest SPF possible? Will I burn more easily if I use a green sunscreen? Sometimes it seems like organic sunscreen is just one giant enigma surrounded by a sea of chemical rumors. But the truth is out there. Yes, sunscreens containing organic ingredients are as effective as others. You will not burn more easily with a green sunscreen, (unless you don't apply it correctly), and there is no evidence that any SPF higher than 50+ works better than others.
In fact, green sunscreens work really well. To celebrate this fact, we asked several of our green comrades to share their favorite eco-friendly sunscreen.
Episencial Sunny Sunscreen SPF 35 ($14.99)
Anna Getty, author and green living expert, recommends Episencial Sunny Sunscreen SFP 35. Another top-rated product from Skin Deep, this product uses natural minerals like zinc and titanium with no harmful nanoparticles. It's also fortified with organic green tea, as well as organic sesame, safflower and avocado oils.
Devita Solar Protective Moisturizer SPF 30+ ($25.95)
Aysia Wright of Chartreuse PR is a Devita Solar devotee. As Aysia tells me, "It's great for everyday use." This product received a #1 rating from the Skin Deep database, offering full spectrum UVA/UVB sun protection with a SPF of 30+. Best of all, it goes on extremely light and is virtually free of any sticky residues.
Miessence Reflect Outdoor Balm, SPF 15 ($29.70)
What does Laura Klein slather on her face? The founder and publisher of Organic Authority shares, "My preferred sunscreen is a hat, long sleeves, and glasses. But when I use sunscreen, it's Miessence Reflect Outdoor Balm." This product, which scores a rating of #2 from Skin Deep, does not contain any nanoparticles. Further, it creates a physical sun block that bounces the sun's rays off of your skin, unlike chemical sunscreens that absorb rays.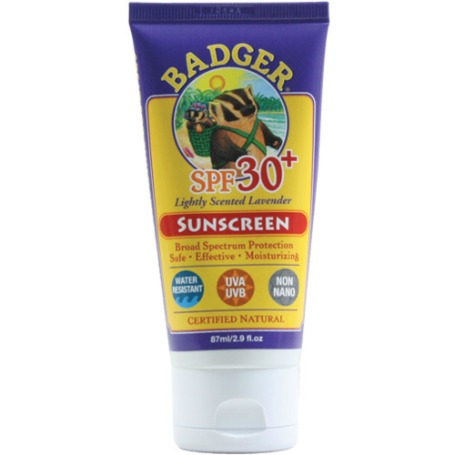 Badger Balm 30+ Lightly Scented Lavender Sunscreen ($16.00)
Kristen Arnett, makeup artist, Ecosalon columnist, and the founder of Green Beauty Team, recommends this sunscreen for both face and body.
As she tells me, "It does go on rather white, but it's safe, natural, works well, and lasts for quite a long time. It also doesn't clog pores and is very hydrating." This sunscreen also gets a #1 ranking from the Skin Deep database.
COOLA Face SPF 30 Matte Finish Cucumber Natural Mineral Sun block ($36.00)
We've made no secret that we're big fans of COOLA here at Ecosalon. But we're not the only ones. Another admirer of the brand includes Melissa Tournay, green beauty expert and co-owner of Primrose Organics Salon and Boutique in Los Angeles. This product, which rates a #2 from Skin Deep, is 95% natural with 70% certified organic inactives.
Jurlique Sun Lotion SPF 30+ ($20.00)
Our fearless leader here at EcoSalon, EIC Sara Ost, loves this product from Jurlique. As she tells me, "I adore Jurlique's products, which are biodynamic. They just smell amazing, and their sun block is nice because it isn't oily or greasy." An Australian company, Jurlique is certified under different standards and does not fare as well in the Skin Deep database. However, along with biodynamic principles, the company does employ several sustainable initiatives.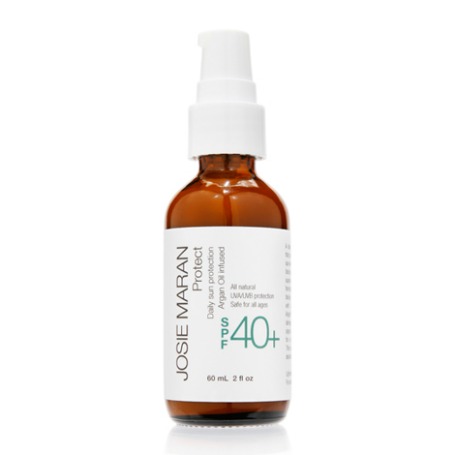 Josie Maran's Daily Sun Protection SPF 40 with Argan Oil ($32.00)
Anna Griffin, founder and Editor-in-Chief of Coco Eco Magazine, recommends this intense moisturizer from Josie Maran. (Skin Deep rating not available.) Containing some organic ingredients, this product is free of parabens and fragrance.  It's an extremely hydrating product that is lightweight and fast absorbing.
Image: 15472273@N07