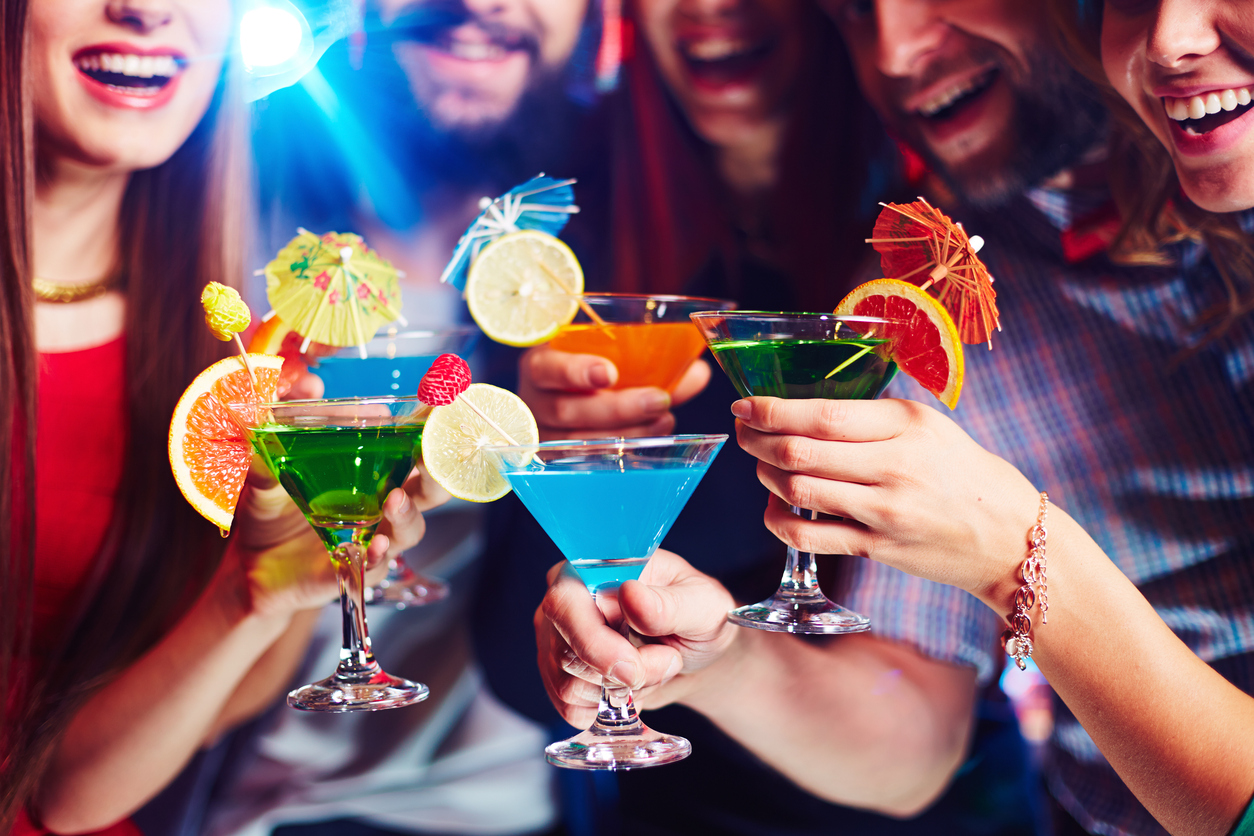 This is the prime time to try new cocktail recipes with seasonal flavors and alcohols. 
1. Orchard Toddy
Apple cider and cinnamon are the perfect warming combo for winter. This toddy combines cinnamon cider and whiskey with a peppery (and immune-boosting!) honey and ginger syrup.
Ingredients
Directions
Add all ingredients to a slow cooker and set at low heat. Allow to heat up and then serve and garnish with a lemon wheel studded with cloves.
If using a stovetop, add all ingredients to a small saucepan and simmer over low heat. Be careful not to allow the mixture to get too hot, because the alcohol will boil off.
**Honey Ginger Syrup:
Ingredients
2 cups honey
1 cup water
2 Tbsp finely chopped peeled ginger
Directions
Peel the ginger and then finely chop. Add all ingredients to a pot and cover. Simmer over medium to low heat for 20 minutes. Strain, allow to cool, and store in the refrigerator.
2. Hot & Angry
This drink boasts a Mexican flair with tequila and Cholula hot sauce. A slightly sweet base of cinnamon apple cider and pineapple juice makes this drink a party favorite.
Ingredients
4 oz Angry Orchard Cinnful Apple
1 oz Blanco Tequila
5 oz lime juice
5 oz pineapple juice
75 oz simple syrup
5 tsp Cholula hot sauce
Directions
Shake and strain into a rocks glass with ice. Garnish with a lime wheel and cinnamon stick.
3. Angry by the Fire
If you like a bit of spice with your cocktail, Angry by the Fire will definitely be up your alley. Fireball whisky is toned down with just enough heavy cream for a rich, warming cocktail recipe you're sure to enjoy.
Ingredients
4 oz Angry Orchard Crisp Apple
5 oz Fireball
2 oz orange juice
1 oz heavy cream
5 oz vanilla syrup (simple syrup with vanilla extract)
1 tsp lemon juice
Directions
Shake and strain into a collins glass with no ice. Top with Angry Orchard Crisp Apple. Garnish with a pinch of cinnamon powder sprinkled on top.
4. The Florist
This cocktail hails from the Carillon Miami Wellness Resort's brand-new wellness cocktail menu. The Florist is a refreshing floral cocktail blended with Botanist Gin, which is crafted from eight botanicals and 22 foraged flowers from Islay. It goes perfectly with Boiron Calamansi – a unique floral citrus juice from the Philippines that supports detoxing the colon.
Ingredients
1 ½ oz Botanist Gin
½ oz Grand Poppy Liqueur
¾  Boiron Kalamansi
½ Orange Blossom Honey
3 Drops Lavender Bitters
Soda
Dehydrated lime peel, for garnish
Directions
Combine ingredients in a shaker minus soda, shake with ice, strain into highball glass with ice. Top with soda and garnish with a dehydrated lime peel.
5. Pumpkin Power
The Pumpkin Power is yet another one of the Carillon Resort's delicious cocktail recipes, combining the certified organic Crop Pumpkin vodka and spicy, citrussy Fruit Lab Hops Liqueur. Blood orange adds vitamin C and antioxidants — much needed in the winter.
Ingredients
1  oz Crop Organic Pumpkin
1 oz  Fruit Lab Hops Liqueur
1 oz  Boiron Blood Orange
blood orange, for garnish
Directions
Combine ingredients into shaker and shake well with ice. Strain into rocks glass with ice cubes. Garnish with blood orange.
6. Pinky Groove
The Pinky Groove cocktail hails from the Le Guanahani resort on St. Barth — it brings the flair of the Caribbean to any party, no matter how cold the temperatures, with watermelon juice, lemongrass, and rose syrup. While in the summer it's lovely to garnish with fresh watermelon, in the winter, ginger makes a great garnish too.
Ingredients
4 cl Absolut Elyx
1 cl watermelon juice
5 cl apple juice
2 cl lemongrass infusion
1.5 cl rose syrup
Directions
Shake ingredients with ice in a shaker and serve in a highball glass.
7. The Black and White Cocktail
Chief bartender William Oliveri serves this warming cocktail at Bar 228 at the Meurice hotel in Paris, but you can just as easily make it at home. At the hotel, Alain Ducasse hot chocolate is used, but your favorite hot chocolate recipe will do in a pinch.
Ingredients
1.35 oz rum
0.3 oz Grand Marnier
2.7 oz hot chocolate, prepared
whipped cream, for garnish
Directions
In a grog glass, pour the ingredients one by one: the rum, followed by the Grand Marnier, and finally the hot chocolate. Stir, then top with whipped cream.
Related on EcoSalon
Spooky, Boozy, Activated Charcoal Cocktail Recipe
7 Sparkling Wine Cocktails for a Sophisticatedly Boozy New Year's Eve
Immunity-Boosting Ginger and Grapefruit Cocktail Recipe