Cabin life is slower, more relaxing, and a welcome alternative to the everyday hustle of normal life. These seven cabin-inspired home decorating tips will bring the spirit of the cabin into your space.
Do you yearn for the casual, outdoorsy feeling of the cabin lifestyle? Try these home decorating tips even if you live in the middle of the city.
1. Start With Scent Invite the outdoors in with Juniper Ridge's Cabin Spray or Campfire Incense distilled from real regional plants, trees, moss and herbs.
2. Comfort at the Core Comfort and softness are key elements to the optimal cabin experience, so keep your living room comfy by adorning it with a beautifully-patterned Pendleton Blanket or two in order to create an inviting space to relax. And if you really want to camp it up, get yourself a Poler Napsack; you may never leave your house again.
3. Wood is Good Wood is an important part of the cabin aesthetic and experience. While it's not reasonable to redo your entire interior with woodgrain, simply adding handmade wooden elements such as a driftwood candle holder helps mix up the materials in your home to capture a mixed rustic feel.
4. Decorate Distinctly While other home decorating tips on this list may be subtler methods of obtaining the cabin feel, sometimes it's best to not beat around the bush. Adding blatantly outdoorsy decoration such as a beautiful ax from Best Made Co. can really drive your point home and serve as a centerpiece for the rest of your nesting.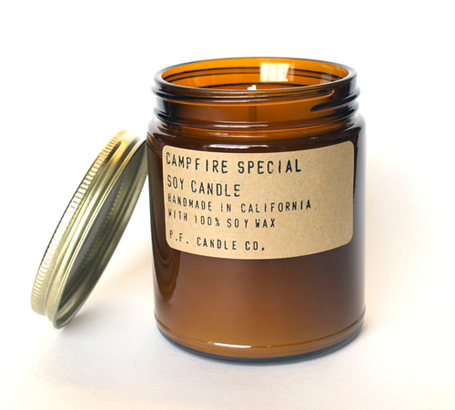 5. Bring the Warmth Gathering around the fire is one of the greatest cabin joys, so buy or make a fire pit for your own backyard to create community, share stories, and keep your summer nights going longer. If you're less drawn to a fire pit for space or legal concerns, add warmth indoors with P.F. Candle Co.'s Campire Special Soy Candle.
6. Cook Like You're Camping Though this isn't technically a decorating tip, large, simple, delicious summer family meals are one of the best parts about cabin life. Bring your friends and family together for camp-inspired meals as part of your weekly meal planning. (Bonus: for dessert, step up your s'mores game with specialty marshmallows from Wondermade.)
7. Loosen Up and Let Go The ethos of the cabin is one of simplicity, casual living, and the character of the space, goods and people it contains. Make it a point to loosen up on the minute details of curating and cleaning your home just as you would at the cabin. Leave room for imperfection, add interesting, non-matching "collected" items to your decoration and goods, and ultimately allow your space to feel "lived in."
Follow Garth on Twitter @garthinkingcap
Related on EcoSalon
Love the Outdoors? Check Out a Tree House Resort, Yurt, or Airstream Hotel for Your Next Vacation
5 Prime Spots for Viewing Wildflowers in the U.S.
7 Retro Surf Style Ideas to Create Your Own Surf Shack
Photo by Chris Ford