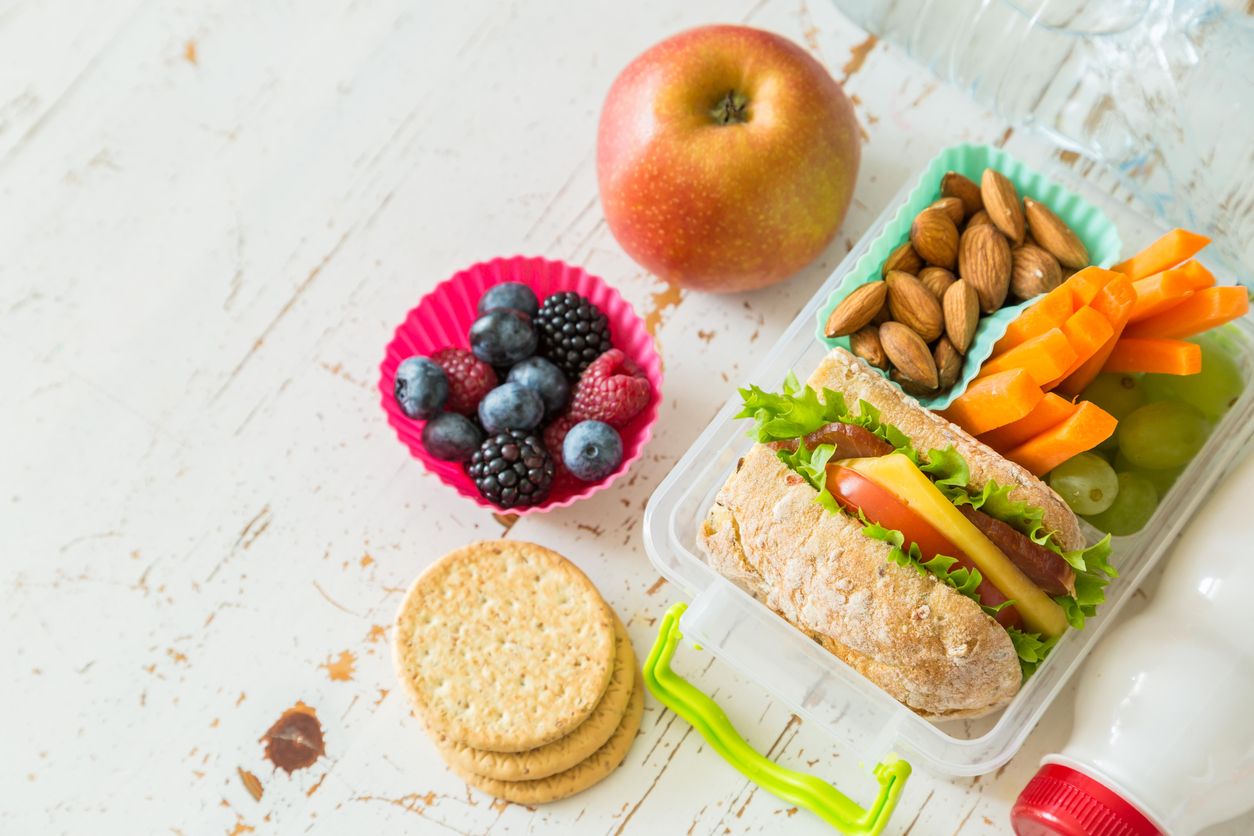 We all start out the school year with lofty goals for our kids' packed lunches (not to mention our own!) but it's been a few weeks, and we've all hit a rut. But before you fall back on packaged snacks, give these whole foods packed lunch ideas a whirl. They're fast, they're easy, and best of all, you can pack the same thing for everyone in the family.
1. The Classic: Sandwich, Veggie and Dip, and Fruit
This lunch idea falls back on the old classic you grew up with, with a few modern twists. Start with a sandwich: swap out that white sandwich loaf mom used with a healthier organic bread. You can either make your own (this vegan spelt bread is to die for) or choose your favorite store-bought or bakery bread.
Sandwich the slices around a simple filling made of healthy, whole food ingredients. Here are just a few of our favorite combos:
Organic roast turkey with mustard
Hummus and alfalfa sprouts
Organic beets and goat cheese
Organic cashew butter and raw honey
Next, throw in a baggie of carrot sticks, a fresh organic apple, and a little container of hummus, nut butter, or tahini, and you're ready to go.
2. Rice or Grain Salad
Rice or grain salads are a great way to use up leftovers from the night before. When you're making dinner, make a habit of cooking up a pot of rice, quinoa, or spelt, and toss it with a bit of oil, butter, or vinaigrette to keep it from sticking. Then add some mix-ins, and lunch is ready.
Here are just a few of our favorite combos:
Quartered cherry tomatoes and basil
Cooked black beans, chopped scallions, and salsa
Canned sustainable tuna and sliced olives
Goat cheese and leftover roasted squash
3. Fajitas
While a lot of Mexican options like nachos, tacos, or burritos can get soggy by the time you get them to school or to work, fajitas work a charm because you keep the tortillas separate until you're ready to eat. Try using bento boxes like GoodByn to separate the tortillas, guac, salsa, and fillings (roasted veggies or sliced grilled meats are great options).
4. Smorrebrod
For a super special sandwich, why not try a Scandinavian smorrebrod? The grainy rye bread is rich in fiber and super filling, and it makes a great base for a variety of ingredients (here are just a few of our favorite combos).
Some toppings may make the bread soggy, so consider packing the topping and the bread separately so that you can assemble when you're ready to eat.
5. Lettuce Wraps
Leftover ginger chicken or barbecued tofu are the perfect fillings for lettuce wraps. Just choose a lettuce that will hold together well like butter lettuce or bibb – or even a heartier green like Swiss chard or kale. Add a small container of your favorite dipping sauce like teriyaki, sriracha, or coconut aminos to make this lunch even more special.
6. Spanish Tortilla
A well-made Spanish tortilla holds together even better than an omelet and is even better cold than hot. While a traditional tortilla features just potatoes and a bit of onion as a filling, you can also add other low-moisture ingredients like bell peppers, chiles, or peas to add color and nutrients.
Make the tortilla the night before, and once it's cool, cut it into wedges. Wrap the wedges in a sustainable material like bee's wrap, and let everyone grab their piece out of the fridge before heading to school or work.
7. Leftovers
With a little bit of planning, you can ensure that all the effort you're putting into dinner serves you twice. Recipes like stir fries, Buddha bowls, or heartier soups can easily be doubled or tripled to make enough to pack up for the next day with no extra work or effort at all. Just be conscious of whether your kids have access to a microwave when picking your recipes: you want it to be something that's just as delicious cold as it was hot.
Do you have any other tips and tricks for making a healthy packed lunch quickly? Share them with us via Facebook or Twitter.
Related on EcoSalon
3 Reusable, No-Waste Lunch Systems for Back to School
Foodie Underground: Coming Together for Lunch
Greening the Brown Bag: Lunch Solutions