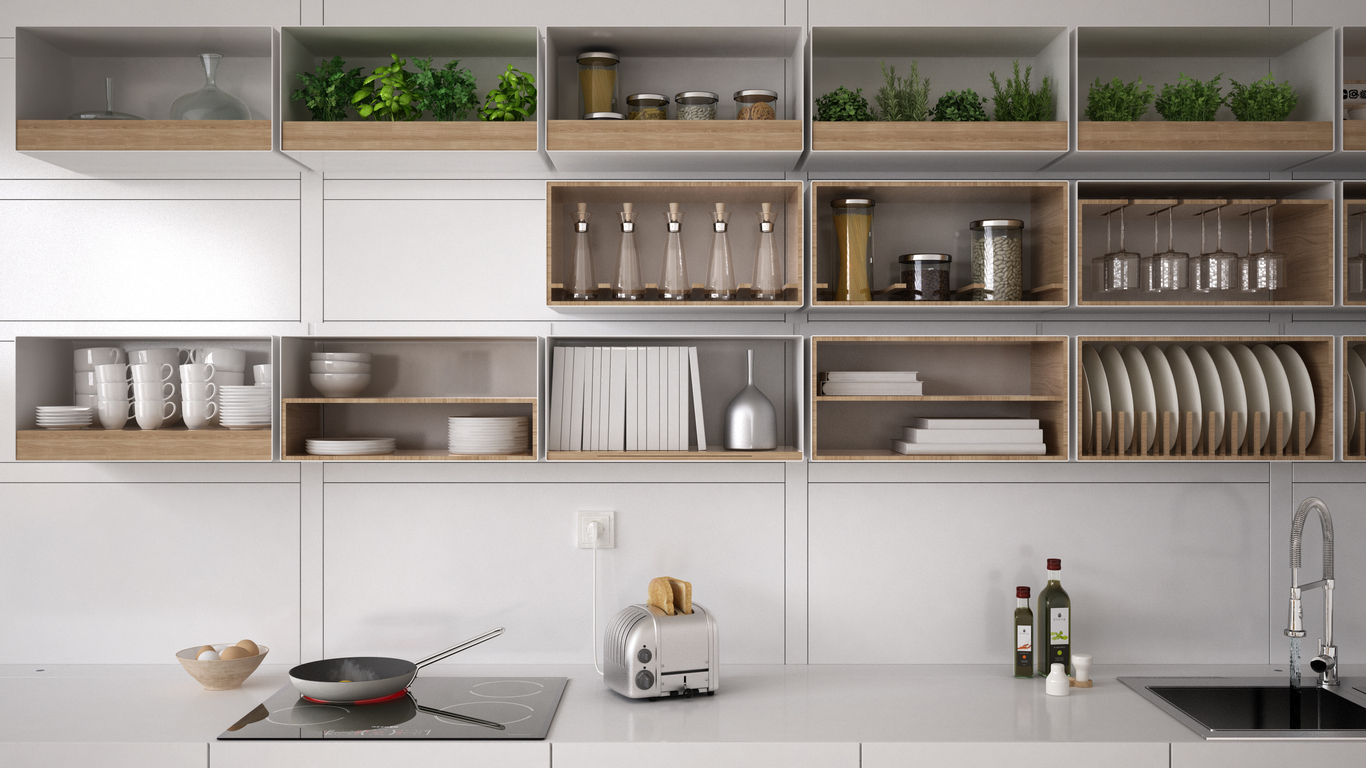 Whether you are making getting organized one of your New Year's resolutions or not, use these DIY organizing home hacks to bring some sanity to your space.
One of the biggest obstacles to getting organized is taking on too much at once. The key is to tackle small projects with east organizing home hacks. The other mistake many make is thinking it's necessary to buy all new storage containers and goodies. Organizing does not need to cost money or involve buying new stuff that will one day just end up in the landfill.
Instead, get your stuff together buy repurposing and getting clever with DIY organizing home hacks.
Organizing Home Hacks
1. Magazine Holders
Magazine holders can be repurposed for a multiple of uses. After all, who has a subscription to print magazines anymore? One idea is to reuse magazine bins for cabinet storage to organize pot lids and create more space.
2. Double Duty Furniture
Getting organized can be as simple as providing more storage space. For example, a small chest of drawers can be used as a bedside table. Not only is it a handy place on which to place a lamp, but you can also store your tech and cords in the drawers.
3. Create a coffee/tea station
Morning is not the time to be disorganized–especially for those of us who need to get caffeinated to start the day. Use a tray to store your coffee and tea fixings on the counter right next to the coffee pot and/or electric kettle. And use an under cabinet storage bar on which to store your mugs, so everything is within reach.
4. Color Code Closet
Another organizing home hack that will help you get to work earlier is to color code your closet. Not only will be able to find your favorite blue blouse, but you just may realize that you really have enough black pants.
5. Drawer Organizers are Key
Drawer organizing is key. Growing up, we had what was called the "junk drawer," but in reality every drawer was a junk drawer.  Baby food and other small jars are perfect for holding everything from bobby pins to thumbtacks. Paper boxes (like cereal boxes) can be used to keep pens and pencils together (measure your drawer to see at what height you should cut the box). And by the same token, individual yogurt cups can be repurposed to keep jewelry separated.
6. Ice Cube Tray Storage
Did you get a new refrigerator with an icemaker? Don't throw out those ice cube trays–they work wonderfully to keep nails, screws, nuts and bolts and other hardware sorted and organized.
7. Shower Hook Storage
Shower hooks are super versatile too. They work smashingly to keep scarves, belts, and small purses organized. Not only will your closet look like less of a disaster, but you will also look fabulous wearing all those items that were once lost on the floor or stuffed in a drawer.
8. Repurposed Drawers
Getting rid of an older chest of drawers? Consider keeping the drawers to utilize them for under bed or sofa storage. Store extra blankets or sweaters handy but out of the way. If your bed isn't high enough, try using risers!
9. Shoe Boxes
Whatever you do, do not throw out shoe boxes when buying a new pair of shoes. They are super versatile for DIY organizing home hacks. They work well for office storage–keep all your notecards, stamps, pens, and other stationery in a box to make it easier to send greetings.
Related on EcoSalon
6 Organization Tips for Repurposing Your Clutter
8 Ways to Declutter Your Home and Organize Bulky Items
How to Declutter: 7 Storage Solutions That Are Like Kryptonite to Clutter!