Black history is celebrated at a Chicago fashion exhibit that celebrates the Ebony Fashion Fair, which for fifty years brought the world's most exclusive fashions to black audiences nationwide, changing how African Americans viewed themselves in the process.
Fashion lovers visiting Chicago this summer are in for a treat. In addition to the city's hit Impressionism, Fashion and Modernity show at the Art Institute of Chicago, they won't want to miss the  Inspiring Beauty: 50 years of Ebony Fashion Fair exhibit a few train stops away at the Chicago History Museum. Featuring more than 60 garments by more than 50 designers, the curators show how one woman's couture collection changed both fashion and how black America viewed itself.
The exhibit, which runs through January 5, 2014, features a stunning collection of significant late 20th and early 21st century fashion culled from thousands of items that appeared in the legendary Ebony Fashion Fair. Launched in 1958, the groundbreaking road show brought high fashion to African-American audiences, employing African-American designers, stylists and models like the legendary Pat Cleveland. At its peak, it traveled to more than 180 cities creating great excitement in local communities that rarely saw images of African-Americans as beautiful, accomplished and successful.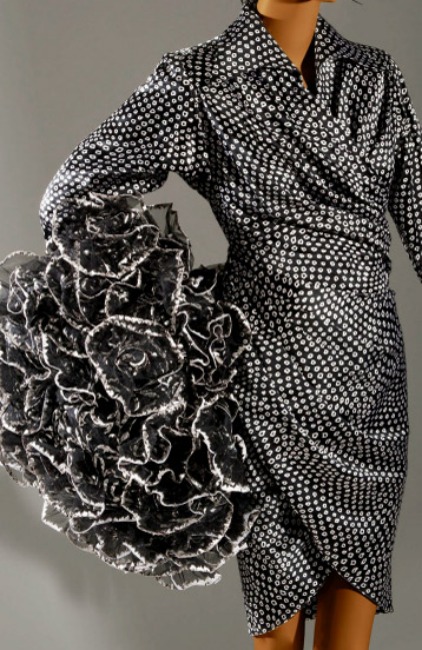 The Ebony Fashion Fair presented a powerful new vision for what was possible for African Americans
Despite civil rights victories during this era, images of black achievement were rare. John H. Johnson founded and published Ebony magazine with the intention of creating images that could testify to the possibilities of a new and different world. The best-selling magazine was an overnight success; its impact on black culture was stunning.  Johnson's wife, Eunice Johnson, who oversaw the magazine's fashion pages and was herself a deep-pocketed and intimidating patron of the world's most exclusive couture houses, spearheaded the traveling fashion show.

The exhibit features garments from 50 designers including Yves Saint Laurent, Christian Dior and Valentino
Buying more than 7,000 items of clothing and accessories over her lifetime  (for the show and her personal collection), Eunice Johnson produced and directed the Ebony Fashion Fair for more than 50 years. Not only did she shatter barriers by bringing high fashion to a growing black market, and raise more than $55 million for various charitable causes along the way, she challenged fashion's frivolous stereotype by asserting the vital importance of style and its ability to help create community.

Eunice Johnson pioneered the idea that "there was more to life than struggle, there's beauty and glamor."
The don't-miss exhibition highlighting this corner of black history is presented in three sections modeling the traveling show's format. The first part, Vision, explores Eunice Johnson's role as the creative force behind the event and features more than 30 costumes including some of the most revered names in 20th century fashion such as Pierre Cardin, Emanuel Ungaro, Courreges, Givenchy, Christian Lacroix and Paco Rabanne. Twelve ensembles answer the question of what power, affluence and influence look like. Another grouping of eight costumes reflects the use of color as a means to express beauty and risk-taking. The exhibition concludes with six garments that celebrate the female body, accentuating curves and showcasing skin.
 All Images: Chicago Museum of History