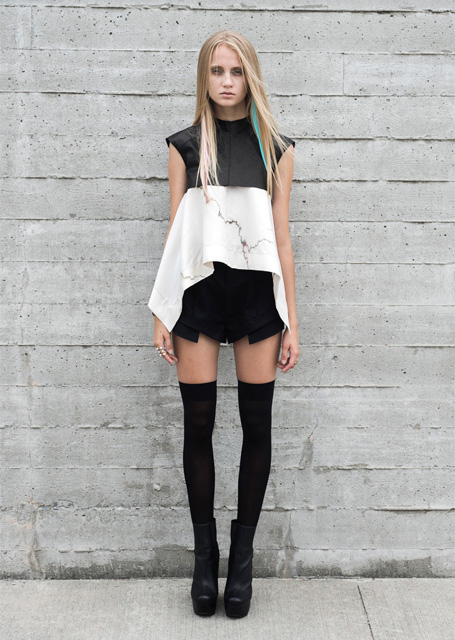 Titania Inglis' spring/summer collection is bold, minimal and geometric, yet with an unexpectedly soft, sweet side.
Subscribing to a philosophy of lush minimalism and a less-is-more aesthetic, Titania Inglis' spring/summer 2013 collection features visually striking yet wearable pieces made for a city girl with attitude.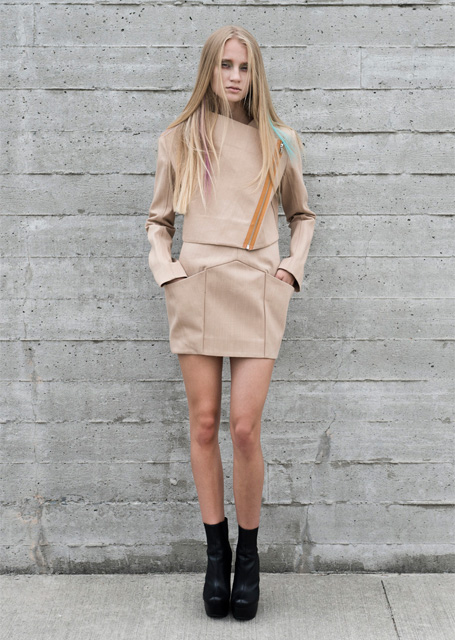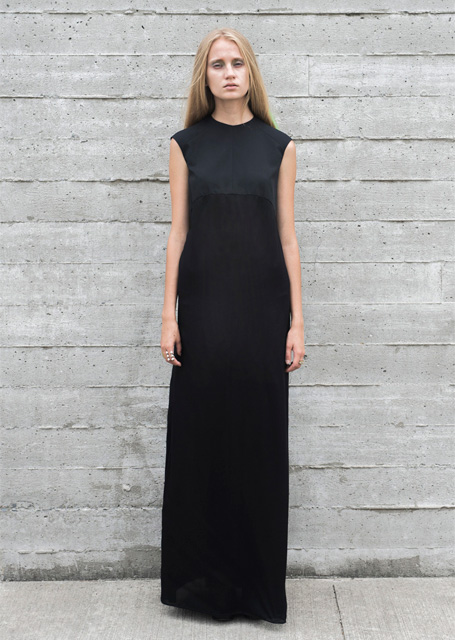 Diagonal lines and fluid geometry create interesting shapes that are highly flattering and appear almost sculptural on the body. The color palette is restrained and materials like leather are mixed with contrasting fabrics like flowy chiffon. The pieces are all designed to be seasonless and transition seamlessly from day to night.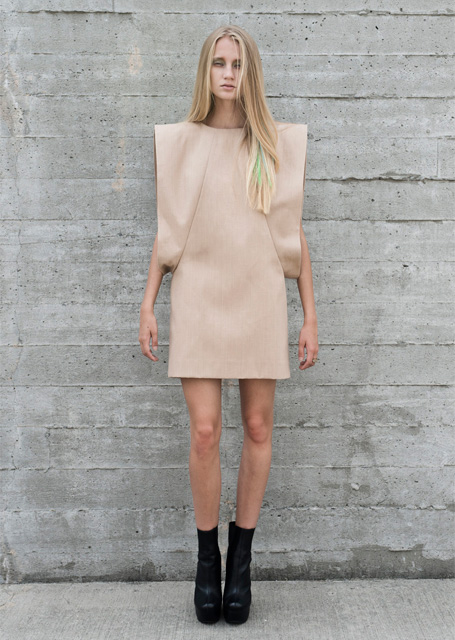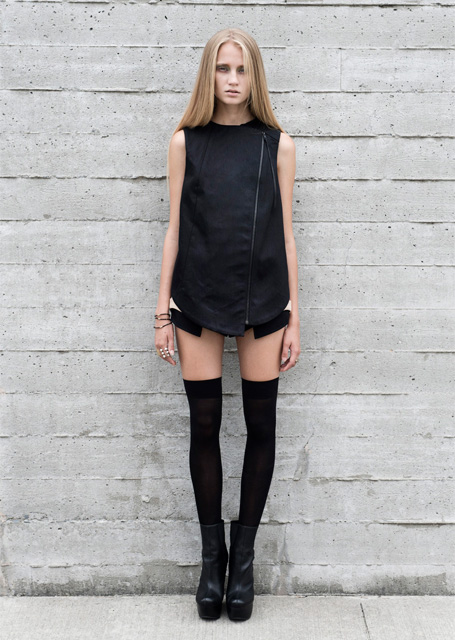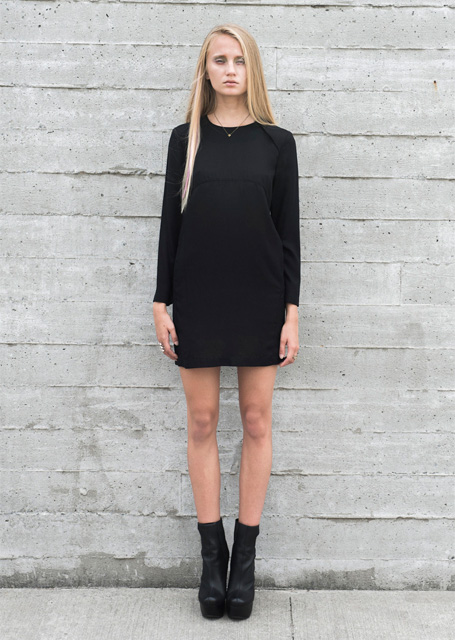 Inglis' garments are all made in a small factory in New York, using sustainably sourced fabrics like Japanese organic cotton, French vegetable-tanned leather, and deadstock wool from New York's garment industry.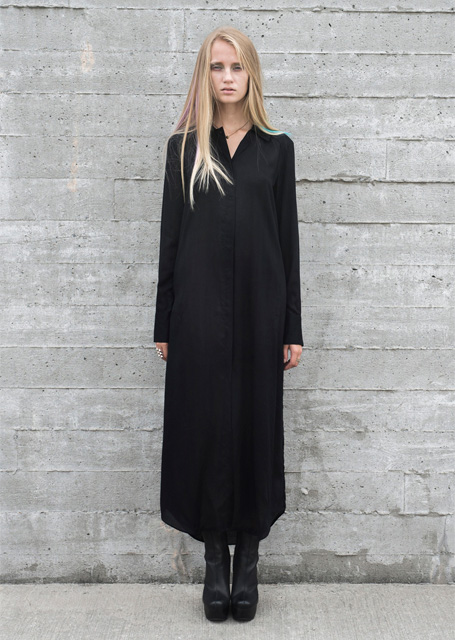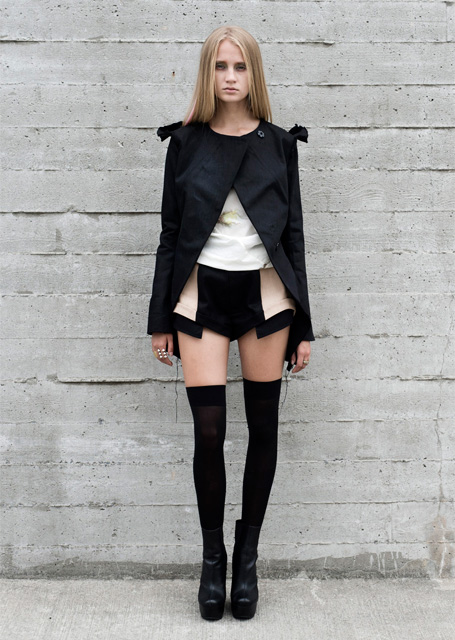 Born in Ithaca, New York, to Chinese and Scottish parents, Titania Inglis studied at Design Academy in Eindhoven and FIT in New York City and is now based in Brooklyn. She apprenticed with renowned designers like Camilla Stærk, Jean Yu, and ThreeASFOUR before launching her eponymous line just a few years ago.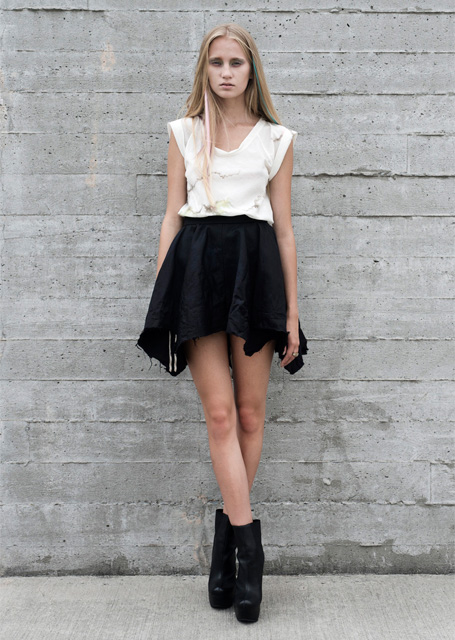 In 2012, she was awarded the Ecco Domani Fashion Foundation award in Sustainable Design. ELLE named Inglis one of fashion week's next big things, and her work has been featured in Vogue, The New York Times, PAPER Magazine, WWD and other leading fashion publications. It's safe to say that we will see more of Titania Inglis in the future. She is not only one of today's brightest stars of sustainable fashion, but of fashion in general.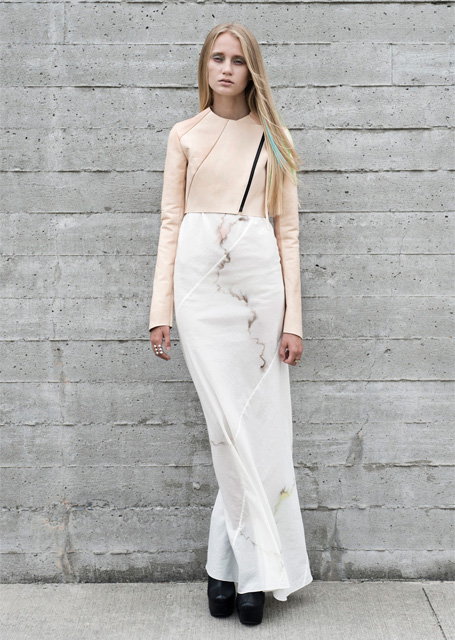 Lookbook photos courtesy of Titania Inglis
Photography by Edwin Tse / jewelry by Nettie Kent / hair and makeup by Kumi Hosoda / styling assistance by Boya Zhang / model: Glairy Kohv, Muse