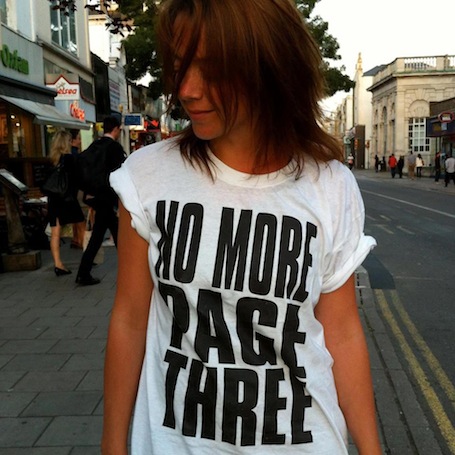 An outsider can learn a great deal about British culture by examining the readership of its leading newspapers. Unlike the US, which has few national papers, the UK has a bevy: there's The Guardian's progressive coverage, The Times which sits right of centre, and the traditional and conservative Telegraph, to name just a few.
However, when it comes to the UK's most widely read paper, Rupert Murdoch's The Sun, the most distinguishing feature has less to do with politics and more to do with objectifying women.
It seems almost incomprehensible that for more than forty years, a publication that brands itself as a mainstream, family newspaper has gotten away with content that is more suited to Playboy than a Pulitzer. However, with their recurring feature of Page 3—which features a topless "glamour model" photographed in every issue—The Sun has managed to do just that.
Since it was created, Page 3 has been a cultural mainstay, not a seedy pleasure that's viewed only in private. Nearly every Brit—whether they read The Sun or not—knows what a "Page 3" girl is and it's not uncommon to sit next to man on the Tube who is openly ogling the page.
When writer and campaigner Lucy Anne Holmes picked up a copy of The Sun during London 2012 to catch up on the achievements of Team GB superstars Jessica Ennis and Victoria Pendelton, she was relieved when she saw no image of a topless woman on Page 3. However, when she reached page 13, she was greeted by "a huge picture of a woman in her knickers—an image bigger than any of the other sports stars."
Holmes' outrage, coupled with a lifetime of feeling bad about her body and disempowered as a woman, drove her to start the No More Page 3 campaign via a simple petition on Change.org—the first one she'd ever started. She now has 8 volunteers, over 88,000 petition signatures, nearly 14,000 Twitter followers, a bevy of support from women's organizations and a letter to editor Dominic Mohan signed by dozens of members of parliament.
EcoSalon spoke with Holmes about why the campaign is important and where she got the courage to take on media and publishing's most ruthless mogul.
Rosie Spinks: 'No More Page 3' is your first campaigning effort. Before you took on this activist role, did you consider yourself a feminist?
Lucy Anne Holmes: I had spent a few months before the campaign writing a blog about sex and the female experience from my own point of view. I was just looking at myself personally, and my body hangups and why I used to say "I hate my bum" and "I hate my boobs" and why I would qualify things that I said with "well, I'm a twat." I finally said to myself: Why am I doing this? And then I realised it was something a lot of women do. I basically hadn't realised that I'd stumbled across feminism.
When I thought about why I hated my boobs, it was quite sad really because I realized that I'd hated them ever since they first arrived when I was 11 because I was comparing them to the Page 3 girls that my brother and his mates would go on about. I just carried that shame and I needed to reverse that.
RS: While you've had a lot of other successes with the campaign, you're struggling to get a female celebrity backer? Why do you think that is?
LAH: It's to do with the fact that The Sun is the most powerful and widely read newspaper in the country and people saw how The Sun treated [former MP] Claire Short when she challenged Page 3 in the '80s. They said appalling things like calling her jealous and fat and superimposing her head on a Page 3 model's body—that went on for years. So I would think if you are a celeb you might think "Oh well I'll just leave that for someone else to pick up."
RS: So did you personally have any qualms about taking on Rupert Murdoch and The Sun?
LAH: No I didn't. Even though people said to me "they'll destroy you." But since I was writing a blog that was very open anyway, I knew I was willing and able to own up to anything they say about me anyway. I'd got to a point where I felt okay about myself, so I decided they could say whatever they wanted about me, because at the end of the day that sense of self would still remain no matter what they wrote.
RS: One of the arguments of your critics is that women choose to be on Page 3, so why don't you take up a cause on behalf of women who are objectified or oppressed against their will. How do you respond to that?
LAH: Yes, women do choose that and our campaign is not against glamour modelling in any way. This campaign is specifically against an editorial decision to show these pictures in a newspaper.  There are other places more suitable for these photos—not a family newspaper that advertises kids toys. It's also shown within the context of page after page of seeing men fully clothed and actually doing stuff—you know, like running the country—alongside this massive image of a young woman standing there showing her breasts for men.
Also, a former topless model, Sheila Hageman, wrote in the Huffington Post, many women become glamour models because it is the largest, glossiest image in the newspaper that you grow up with. So when a girl is looking at that family newspaper, that's what it's telling her she needs to do to gain recognition.
RS: Can you talk about how Page 3 contributes to the public ownership of women's bodies?
LAH: The most commonly used expression I've heard when it comes to these pictures—which I've heard all my life—is "look at the tits on that." It's the word "that" which really gets me because "she" becomes an object, she becomes dehumanized. Any time we allow that dehumanization to occur, bad things happen, whether it's someone saying "get your tits out" to a 13-year-old walking down the street—which we hear happens so often—or it's more severe cases like rape or abuse.
RS: Why has Page 3 endured for so long in British culture?
LAH: It was started in the 1970s when the world was run by men even more than it is today. Though we still have a male managed society now— only 22 percent of  our members of parliament are female and 5 percent of newspaper editors are women.
When things have always been there, you don't question them. I'd grown up with Page 3 and it was only that experience last summer that made me think about it and once I started, I could not stop. That's happening to a lot of people who have said to me: "That's so weird, Page 3 has always been here, I've never really liked it, but I've never thought about [critically] it in that way either."
Also, people are making money out of sexism. The Sun knows more than anyone that it shouldn't be showing these pics. When Claire Short stood up years ago against this, she had thousands of letters of support, twelve of which were from women that had Page 3 mentioned to them while they were being raped. The Sun knows all this. But the reason they won't get rid of it is because they'll lose readers. They need someone big and ballsy to say "No I won't advertise with you anymore" or something like that.
RS: What do you think of Murdoch's response?
LAH: It was really interesting to see Murdoch's [tweeted] response when he commented that Page 3 girls could be replaced with glamourous fashionistas. So it's like he's saying: "We could lose Page 3 but we have to somehow put a picture of a woman that's there to look at." It's this idea that women primarily are there for decoration rather than to do, think, or say things.
The Sun also does articles like "what makes the perfect breasts," interviewing a plastic surgeon. So to absorb that continually has such an impact—we've sexualized boobs to such an extent now that women don't want to breastfeed because they see their boobs as primarily a sexual object or because their partner said breastfeeding would ruin them. It's almost as if men seem to think they own our breasts, or at least own how they're represented.
RS: What's next for the campaign?
LAH: We really have a multi-pronged approach. In addition to garnering more support in general, we're trying to get The Cooperative [a collectively owned, socially conscious retailer in the UK] to stop advertising in The Sun. We also are getting universities to boycott the paper and getting more signatures on our Change.org petition and backers for our Letter of Support.
You can follow the campaign on Twitter and sign the petition here.
Image courtesy of Lucy Anne Holmes