Avoid the pink product mania and participate in Breast Cancer Awareness Month by supporting good organizations instead.
We're sick of the commercialization of the breast.
October is National Breast Cancer Awareness Month, and for several weeks we've become increasingly blown away by the amount of pink junk being pitched our way in the name of "awareness."
What does awareness really mean? Is it buying a cute pair of pink socks? Is it painting your nails with bubblegum polish? Is it downing a package of pink cookies?
Breast cancer is real. It's not cute and it's not fun, and much like viral campaigns have been said to cheapen real cancer fights, pink products are just another thing on the list that might us feel good about promoting a cause but in reality don't truly engage us on the issue. And that leaves a lot of us stuck with pink fatigue.
Breast cancer has touched everyone on our staff in some way. No doubt you can say the same. We emphatically support breast cancer awareness. That doesn't mean we have to like a good cause being pinkified in order to hawk yet more retail. Especially when the products supporting the cause are themselves toxic.
Cheap jewelry
Pink silicone rings and cheap charm bracelets probably made in a sweatshop; do we really need to be sporting these to show our support?
Pink Gemstones
Because nothing says healthy like mining the earth for toxic materials.
Perfume
According to Breast Cancer Action, Susan G. Komen for the Cure's new perfume "Promise Me" contains chemicals "not listed on the label that are regulated as toxic and hazardous."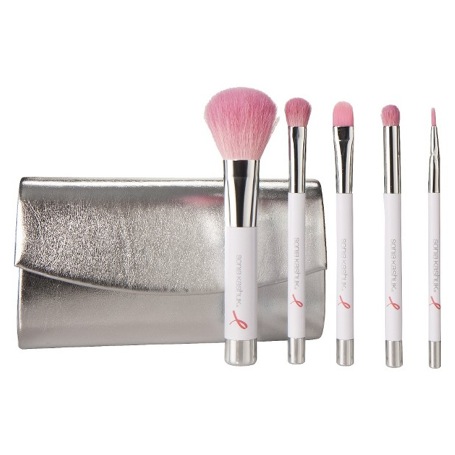 Makeup and Accessories
Instead of getting sucked in by pink brushes and palettes, opt for green beauty products that are natural and toxin free.
Cookies and Cupcakes
What better way to honor breast cancer than by eating goodies made solely with processed ingredients and chemicals?
We'll stick with our Pink Lady organic apples from the farmers' market, thanks.
We're all for businesses supporting good causes with their money, but let's take a moment to think about our individual actions. Think about what would happen if instead of buying more junk we don't really need, we gave it all to an organization doing breast cancer research and education.
Buying things we don't need isn't going to solve breast cancer, and wearing pink isn't going to make someone living with cancer better. So what can you do? Here are five organizations we think are doing a good thing when it comes to breast cancer awareness and research. Support them.
Images: Azrol Azmi, The Breast Cancer Site, Gemvara, Promise Me, Target, Pink Ribbon Shop