Debbie Harry auctions off 30 pieces of her clothing for New York-based clean water advocacy program, Riverkeeper.
Blondie's Debbie Harry is about as cool as one can get. Seriously. I saw her perform last summer, parading back and forth on the stage ready for a fist fight. She was dressed down in silk short shorts, a simple beaded tank top and pumps. I closed my eyes to hear if she sounded the same as all the records I listened to growing up and sure enough, she was spot on. She can't help but be badass.
Hanging out backstage later (thanks to knowing the opening band that was also crashing at my place), I got quick glances of Harry off-stage and away from the spotlight and still, nothing could detract from her ability to channel her own iconic style. I began to hate my safe outfit, pouted my lips when I could and rumpled my hair for effect. One thing you must know as a purveyor of style is that even though you get the right clothes, you have to have the right attitude. Watch at least one Blondie video before you read any further.
Now thanks to a Debbie Harry vintage collection being offered through 1stDibs, we can all celebrate Debbie Harry's "sense of style and the love affair between music and fashion that began in the mid 1970's with Debbie Harry and her band Blondie," while a portion of the proceeds will be going to Harry's chosen charity, Riverkeeper.
Riverkeeper says this 30-piece collection of vintage clothing spans Harry's entire musical career and includes vintage '40s day dresses that she often wore with cowboy boots early in her career, '30s sheer lace dresses, a Patrik Kelly leopard stretch velvet dress, a bubble gum pink leather jacket, a two-piece chartreuse suit deigned by Steven Sprouse, 1990's suit from Dolce & Gabbana, Marc Jacobs dresses, along with many other custom made dresses. All items in the collection will be sold with pink hang tags that are signed by Debbie Harry. Prices range from $500 to $5500.
Debbie Harry signed hang tags
Her collection also debuts with a new album called Panic of Girls, Blondie's ninth studio album and their first in eight years. Oh Deb, we are already listening to it.
Feel like channeling Debbie Harry and dancing in clothes she's worn to her own gigs? Check out some of our favorites from her vintage collection and get the real deal. Inherent style not included.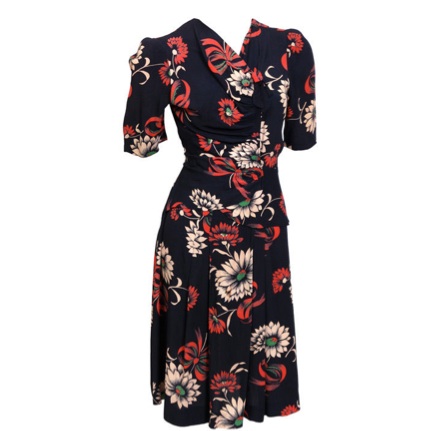 Debbie Harry Collection 1940's floral print dress, $975
Debbie Harry Vintage Collection 40's Hat, $425
Debbie Harry Collection Partick Kelly Leopard Dress, $1,500
Debbie Harry Vintage Collection Commes Des Garcons Shirt Dress, $1,100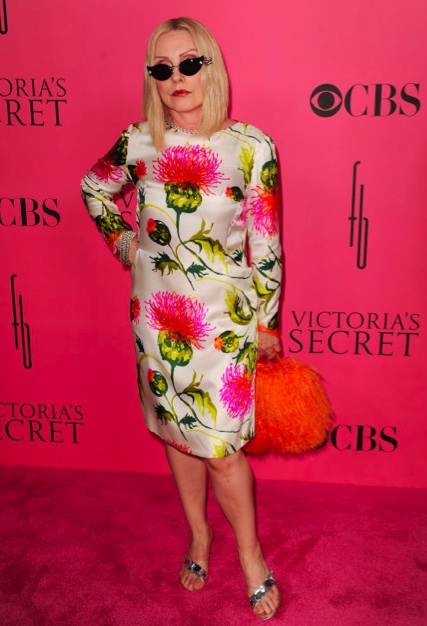 Debbie Harry Vintage Collection Silk Floral Dress, contact dealer for price
Debbie Harry Collection Leather Jacket, contact dealer for price
Debbie Harry Vintage Collection: Commes Des Garcons Dress, $1,200
Top image from Riverkeeper of Deborah Harry, the band and Riverkeeper President Paul Gallay at the opening of the Marc Jacobs/Blondie pop-up shop.