Clever solutions for stylish clutter control.
Estimates show that we use about 20% of our objects 80% of the time. Why, then, are our lives so cluttered? It could be that we have an overabundance of stuff – here's a hint: we do. Or perhaps we haven't yet discerned the fine art of fitting all those bits and pieces seamlessly into our personal sanctuaries.
A word of caution: I'm a proponent of downsizing – even purging – to get to a minimal way of being. But there is a better way, a cleaner and prettier way to selling off that 80% horde. Indeed, these clutter solutions prove that there is a sexy way to stick your stuff where the sun don't shine.
Hidden compartments behind expensive works of art are typically reserved for grand houses under investigation by Sherlock Holmes. Now thanks to iBride, you can bring some of that nineteenth-century style and mystery to your own abode.
From the series "Les Dandys," these hidden bookshelves depict a trio of Baudelaire-era gentlemen in immaculate dress and rams' heads. Sexy beasts, if I do say so myself.
These mile-high bookshelves are deceptively tall. Designed by London and Germany based architecture team Kraus Schoenberg, this integrated and stylish book cranny is one of the main storage features in an affordable, prefabricated low-energy house.
Repurposing staircases as storage drawers was, I've read, invented by Japanese cabinet makers. They called them kaidan tansu; I call them very cool.
Another variation on staircase storage, this serves both form and function.
If you're lucky enough to land an antique mail sorting cabinet, turn it into a gorgeous storage opportunity. It's an enviable solution for shoes, hats, and scarves.
Had I grown up with this cloakroom under the staircase, I'd be a much more organized person today. Certainly our most family-friendly clutter solution.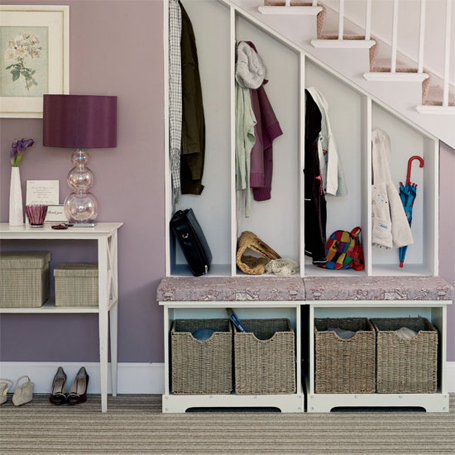 Yet another inventive use for our trusty friend, the mirror. It's a logical arrangement: jewelry, makeup and other flair tucked tidily inside a sturdy floor-length.
Try as we may to meld the modern television set with the wall, it nevertheless detracts from the quiet simplicity of our homes. Perhaps by tucking it discretely behind the stairs, we'll forget it's even there. Out of sight, out of mind…until it's time for True Blood.
Now that the clutter's sorted, how about a therapeutic purge?
Images: Storage Geek; iBride; Kraus Schoenberg; The Lennoxx; Spoon & Tamago; House to Home Pinterest; Department of the Interior via Kim Ficaro; HB