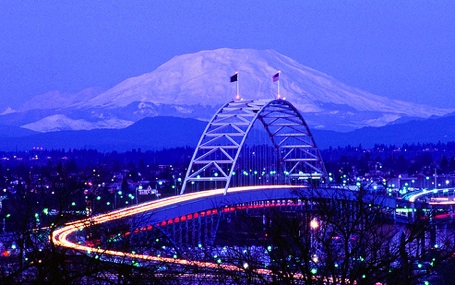 St. Patricks' Day this week turned cities green literally – from landmarks to libations. But how green have major metro areas around the U.S. been throughout the year? The American Cities Business Journal group has released a new study on the matter.
Their inaugural Green Cities Index examined 43 U.S. cities, and ranked them based on 20 criteria encompassing residents' environmental behavior, cities' use or abuse of land and water, and presence of a variety of environment related projects and industries. The Green Cities Index 2010 survey results have been hot in the blogosphere ever since, with bloggers and residents bragging or bummed about their scores.
Portland topped the Green Cities Index 2010, with San Francisco in a close second place, Honolulu at third followed by Austin and Boston. The new study's rankings fell in line with related studies by the Natural Resources Defense Council, and by Popular Science. But not exactly.
Surprising Strengths

Green Cities Index 2010 gave areas lacking environmental credibility overall some surprising points. Houston, one of the most traffic-choked cities in the U.S., held the top spot for Energy Star rated facilities, saving it from a much lower score.
Meanwhile, Albany ranked in the top ten on this list, though traditional manufacturing plants have caused severe pollution there for years. The city's high score was influenced by Albany's top score for "green jobs."
At least the presence of more green jobs per capita in the area indicates the promise of a sea change.
It ain't easy being green…

How important are green aspects of a city to the quality of life there? We think entirely important. That's why we're surprised that Green Cities Index 2010 chart topper Portland did not rank so highly in a separate happiness survey, the Gallup Healthways Well-Being Index which was released last month. The happiness study examined 162 cities, and Portland came in at 59. (That compares indirectly to 16th place on a 43-city list like Green Cities.)
Greensboro, North Carolina which came in dead last on the Green Cities Index, with the worst ranking for sprawl and its result, carbon emissions per capita, ranked 97th on the well-being index, which would put it at about 25th on a list of 43.
While there's no apples-to-apples comparison between the studies, it's worth asking: why aren't the greenest cities always the happiest? Where does your city rank, and how happy are you?
Basic reading:
"A few hundred miles up the Ohio River from Cincinnati, Pittsburgh sits as a shining example of sustainability. After decades of working to clean its smoky skies and polluted waterways, the Steel City also has become a model for green building and sustainable design…" – A news feature discussing the reasons why Cincinnati Business Journal decided to launch its Green Cities Index
"Nine of the 10 cities that fare best on 'life evaluation,' assessments of life now and expectations in five years, boast a major university, a big military installation or a state Capitol – institutions that presumably provide some insulation from recession." – A news feature breaking down a Gallup study of how happy people are in American cities, via USA Today
"If you want to be good to the environment, stay away from it…" From a 2009 study on Suburban vs. City living by Edward L. Glaeser
"No Northwest city is yet close to the destination of sustainability: carbon neutrality; widely shared prosperity; stable populations in strong communities; educational and economic opportunity for all; hyper-efficient use of natural resources; zero-pollution industries; and low-stuff, high-satisfaction lives." – a different assessment of green cities from the Vancouver, B.C. news site, The Tyee
Further Resources:

News from OregonLive.com about the lack of trees in an otherwise green city, Portland: "Green Portland Isn't Green Enough"
An Environmental Protection Agency air quality report
For contrast, a news report on air quality in Islamabad
A Greenbang.com story about London's aim to imitate Copenhagen, Europe's greenest city
A blog post calling for public transit support in Nashville, and referencing its low ranking on Green Cities Index 2010
Image Credit: Keith Skelton
This is the latest installment of EcoMeme, a column featuring eco news, tech and trends by EcoSalon writer and columnist Lora Kolodny.