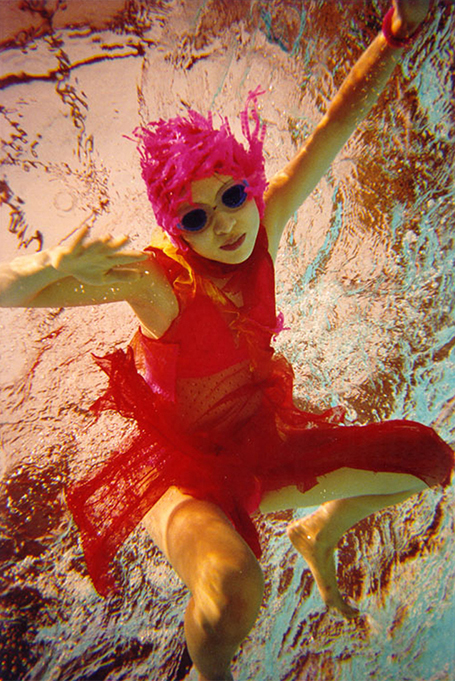 Environmental artist'Fuchsia Lin's latest project brings attention to Japanese scientist Dr. Masaru Emoto's profound discovery about water and hopes it can change the way we see the world, starting with a very personal transformation within each of us.
Environmentalism has long been the focus for artist Fuchsia Lin. Creating film, photography and textile sculpture that includes costume and fashion design, Lin uses environmentally friendly techniques and materials to promote the message of sustainability.  Her inspiring and avant-garde designs have been sold at the famed Parisian boutique, Colette and collected by notables such as Bjork.
Water, and the need to protect the earth's freshwater resources, is a recurring theme in her work. The environmental artist recently completed a multimedia project, Fantasy Folklore and Freshwater, which was rewarded with a grant from the Regional Arts and Culture Council Individual Project.
Her latest project, Crystals of Transformation, returns to familiar watery territory to celebrate the inspiring research of Dr. Masaru Emoto. His groundbreaking studies have suggested that water molecules change their structural forms to beautiful crystals or deformed structures depending on whether they are exposed to positive or negative thoughts and environments.
In collaboration with choreographer and dancer, Andrea Parson, Lin will create a series of costumes that express the essence of water crystals and the potential of Dr. Emoto's discoveries for personal transformation.  "The two phrases that Dr. Emoto found water strongly responded to are: 'Thank-you' and 'I love you,'" says Lin. "Water, complex and multi-dimensional is as much a 'being' as we are. As our bodies are 70%, our brains 90%, and much of our planet is water, honoring this discovery would truly impact our collective health and environment if we were conscious of the water we come in contact with."
The project was awarded the RACC's Professional Development Grant, which she is supplementing with a Kickstarter-like fundraising campaign through artist-supporting site, USAProjects.org. The campaign ends on June 25th for those wishing to contribute.
Crystals of Transformation from Fuchsia Lin on Vimeo.
Image courtesy of Fuchsia Lin