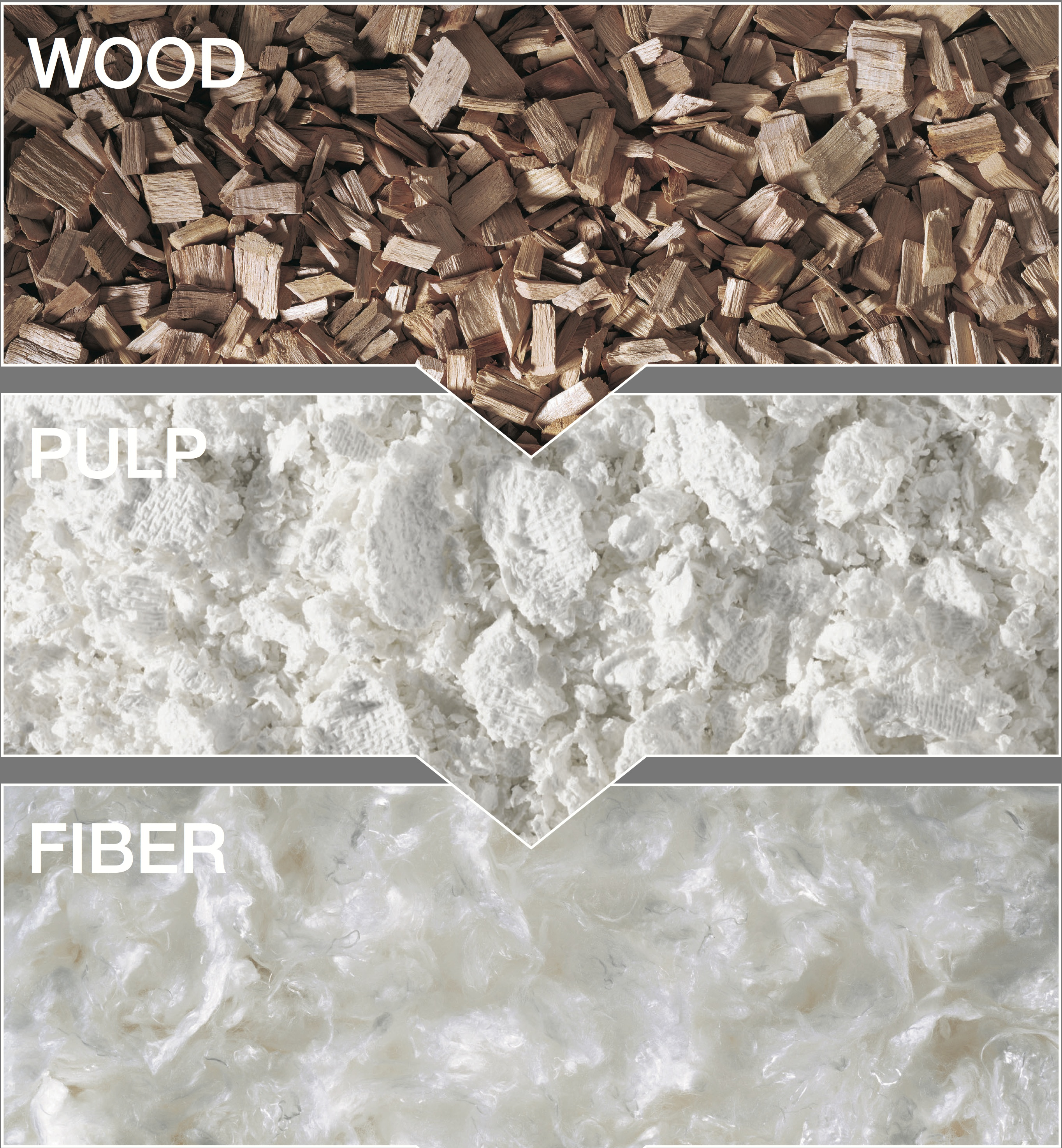 Have you ever worn a eucalyptus tree?
You may have worn eucalyptus since Tencel, the fiber and fabric made out of eucalyptus wood pulp, is rapidly gaining popularity among big name apparel producers like Patagonia and Topshop. Tencel is classified as a man-made cellulose fiber, meaning that the fibers used to make it are extracted from the cellulose-rich core of the eucalyptus tree, and processed by machine to be made into yarns and textiles.
Tencel is recognized as a very sustainable textile solution because of its superior fabric qualities, biodegradability, renewable resource base, and production process that could be entirely closed-loop.
Eucalyptus wood fiber was originally termed lyocell by the company that created the fiber extraction process, but Tencel has become synonymous with lyocell as it is the leading wood pulp textile product. The producer of Tencel fabrics is Austrian-based Lenzing AG, a company dedicated to developing sustainable and environmental solutions for fabric manufacturing. They have found eucalyptus to be a highly renewable resource since it grows at a rate of 6-12 feet per year, reaching nearly 100 feet within a 10-year period. The eucalyptus trees Lenzing uses are grown on plantations certified as sustainably and responsibly managed to ensure this renewability.
After harvest the trees are turned into pulp that is broken down with amine oxide, a non-toxic solvent that heats the wood pulp until all of its cellulose dissolves. Then the cellulose solution is squirted through a spinneret with hundreds of tiny holes to solidify streams of large molecules into fibers that can be spun, simultaneously releasing the amine oxide. Once the fibers have been spun into yarn, they are washed to remove any solvents, dyed and finished, ready to be woven with nearly any type of fabric to produce a range of high quality textiles.
Academic studies have shown that growing wood for fiber products has a much smaller impact than cultivating cotton, and manufacturing Tencel causes hardly any damage to the atmosphere or environment.  Amine oxide is the only chemical used throughout the entire process of fiber extraction and processing, and has been recognized by the Forest Stewardship Council as "a non-toxic solvent."
Lenzing retrieves the released amine oxide after the spinneret process and concentrates it through distillation so that 99.5% of it can be re-used. All waste is utilized, such as any of the leftover wood, which is used as bio-diesel to power Lenzing's internal manufacturing process. Even by-products of the manufacturing process are harnessed and utilized, like xylitol found in the wood that the food industry uses as a natural sweetener.
This entire process renders Tencel a very versatile fabric, and one with superior qualities such as good draping, softness, breathability, moisture-wicking and natural wrinkle-resistance. Tencel is even biodegradable, with several experiments proving that the material can completely biodegrade in under six weeks (one study found it to decompose in eight days) in the compost.
Tencel has also received the Biobased Certification by the USDA's BioPreferred℠ program that aims to reduce reliance on petroleum based consumption, meaning that the fiber is "composed wholly or significantly of biological ingredients—renewable plant, animal, marine or forestry materials."
The textile is used for a number of applications such as high fashion, activewear, outerwear, underwear, home textiles and furnishing fabrics. A few months ago, Lenzing released information on innovations in Tencel yarn for denim, which could reduce the amount of cotton used for jeans alongside eliminating the often harmful and water-thirsty processing of cotton-based denim textiles. Kontiki designs bags that incorporate recycled bike tubes and has collaborated with Lenzing by also using their Tencel denim.
Several designers and apparel companies have decided to incorporate Tencel fabric into their garments not only because of its environmental benefits, but mainly because of its amazing qualities as a textile. Patagonia has been at the forefront of utilizing Tencel fabrics, with above pictured Tencel and organic cotton blends becoming a fast favorites. Even mainstream brands like Acne and Free People are adopting the material because of its extreme durability and breathability, while higher end labels like Marc Jacobs, Calvin Klein, rag & bone and Elie Tahari favor its excellent drape,  softness and applicability for a range of designs from silky dresses to leggings and trousers.
Tencel is not finished or dyed by Lenzing, making the traceability, full impact and knowledge of chemical use in a Tencel garment difficult. However, as the fashion industry begins to understand the long-term sustainability of producing clothes responsibly, we'll no doubt see the tenacious Tencel staking its claim as a textile of the future.
Also check out:
Fiber Watch: Off Of Wine Bottles & Into Clothing
Fiber Watch: The Bast Is Yet To Come
Fiber Watch: The Sartorial Sting Of Nettles