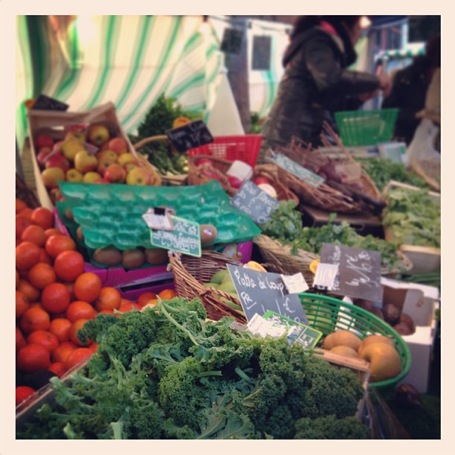 ColumnWhere can I find 'le kale'?
There are certain staples in the Foodie Underground diet: coffee, quinoa, sea salt, red wine, cardamom, kale.
In fact, we all have staples; the essentials that we depend on, the stuff that we'll never dream of being without. The ingredients that wake you up in the middle of the night because you think, "shit, I am out of [insert essential fruit/vegetable/product here]."
Kale may in fact be at the top of my list, second only to coffee, naturally. The versatile green makes its way into a many a dish, and on the days when you can't be bothered to cook at all, at least you can throw it in a pan with some olive oil and sea salt and saute away. If kale hasn't already made it into your daily diet, you're behind on the times. It's the new beef after all. And it helps with depression.
Kale has of course experienced a renewed popularity as of late – the trendy green – resulting in raving fanatics paired with a humorous bit of mockery. The all kale diet? Yeah, you can almost believe it.
Obsessed with kale? You my friend are not alone. There's a blog for that. Wait, two. I mean three. And a book for that matter.
But believe it or not, in some places in the world, kale isn't a thing. Take France for example. You can get dandelion greens, rucola, parsnips and aubergines at the local marché, but try to find a bunch of kale and you might be searching for awhile. Imagine a world without kale chips… depressing, isn't it? Red wine and good cheese will only take you so far.
It's a funny thing when your staples are taken away from you. You hit a new level of obsession, the kind that makes you track down an ingredient at any price. Ask an expat how much they would pay for a jar of peanut butter and you'll see what I am talking about. Three weeks without kale and I was craving kale chips like a madwoman.
My love of kale and travel had previously led me to The Kale Project, an initiative to reintroduce the vegetable to Paris. French-based food lover trying to revive my favorite green in the markets of Paris? Sold.
In France, kale is a forgotten vegetable. The kind of thing that one farmer grows, sometimes by accident, but no one really even knows what it is. Hell, the French can't even decide on a unilateral name for the thing. It was once even called "the most elusive ingredient." That's why The Kale Project founder Kristen Beddard made it her mission to bring it back. Working with farmers, markets and restaurants, she's putting the green on the Parisian map, one bunch of kale at a time. An admiral goal if you ask me.
I grabbed drinks with Kristen and another Paris-based food lover and locavore Emily of Paris Paysanne. What ensued was a conversation about the complexities of food politics, French versus American food culture and how to make a good winter kale soup. Friends within seconds. Kristin promised to let me know where to find kale as soon as her farmers let her know who would have it at their stand the following Saturday.
"They've got kale at C'Bio this weekend, I'll be there around 10:45 if you want to go!"
It's always nice to have an insider kale tip.
We wandered around Marché Biologique des Batignolles, one of Paris' most renowned organic markets, navigating through the large crowd of market goers on a mission. Don't dawdle while you're standing in line or that sweet looking old French grandmother will cut right in front of you with her market sack on wheels.
I felt like I was a ten year old on a scavenger hunt. It seemed ridiculous to get so excited about a leafy green, and yet…
"There it is!"
Right there in the middle of C'Bio's stand was an entire wooden crate of beautiful kale leaves.  "Chou/kale" it was marked.
"Un demi kilo s'il vous plaît."
I wasn't sure what I would do with a half a kilo of kale, but it seemed like the appropriate choice. Kristen took an entire kilo, "I have to develop this recipe…"
My kind of woman.
And that was how I ended up trekking the streets of Paris for an afternoon with half a kilogram of kale in my purse. Some might call that obsessed. I just call it knowing what's good for you. Because on Sunday morning, brunch consisted of sauteed kale with fried organic eggs and cardamom currant scones.
Sometimes you just need your staples.
This is the latest installment of Anna Brones' weekly column at EcoSalon: Foodie Underground, an exploration of what's new and different in the underground movement, and how we make the topic of good food more accessible to everyone. More musings on the topic can be found at www.foodieunderground.com.
Images: Anna Brones