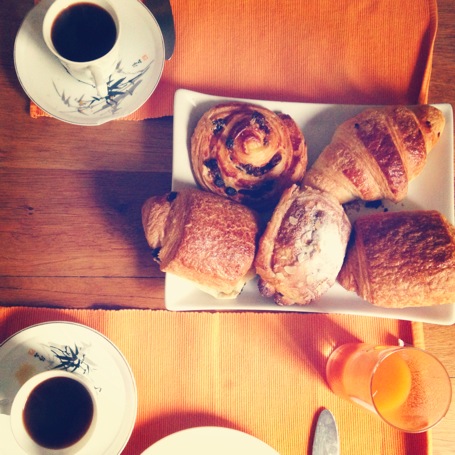 Column What is it that makes us so obsessed with French food culture?
Travel and food go together like… well… travel and food. There's no better way to get to learn a place, except for maybe pack up and move there, which is of course not usually possible. Food allows us a look into the everyday lives of others. It's a chance to smell and taste the local ambiance and really get to know the terroir of a place – its flavors, its ingredients, its producers.
One could argue that there is no better place for food and travel than France. Yes, yes, there are many others, but France has a very special allure that other parts of the world find hard to beat. In fact, the commitment to food tradition in France is something that many of us are drawn to, the kind of thing we might make a comment about, pointing out that "well, it's not like we have as strong of a food culture as France does…" when we're talking about our own culinary traditions.
Think what you want about the French (and no, they are not all rude), but we're obsessed with Julia Child for a reason: French food is romantic, idyllic and delicious, and we want as much of it as we can get. We drool at the sound of a pain au chocolat and we have bucolic visions of French farmers tending their happy chickens, most likely named Pierre and Jean-Claude.
But what is it that makes France such a romantic place for foodies? Is it just because if you wanted to you could drink a glass of wine with lunch? Or is it that no matter where you are in France–urban or rural–a good boulangerie is never that far away?
Maybe it's because food culture in France is so ingrained; it's not a trend, it's just part of everyday life. A Parisian neighborhood joint serving wine and good cheese with the day's offerings marked in white chalk on a black board doesn't feel forced. It just is. The waitress waxing ecstatic about the smoked mozzarella isn't doing so because she's an avant garde foodie, she just simply loves cheese. Good food isn't pretentious, it just is.
When the chance came to go to Paris for a bit (as a writer you can legitimize these things by saying you're "on assignment") I couldn't resist. In fact, as Audrey Hepburn once said, "Paris is always a good idea." For the record, it is.
My first night in town, only a few hours after stepping off the plane, I got taken along to a vegetable pick up at the local Association pour le maintien d'une agriculture paysanne. AMAP is an organization that's meant to support small farms in a world of corporate agribusiness, creating a direct link between producer and consumer, similar to a Community Supported Agriculture program in the U.S.
French men and woman, dressed in long black winter coats and rugged boots because of the snowy sidewalks outside, took part in the mad rush towards the carrots, potatoes and even sauerkraut by the kilogram. The vegetables were so freshly picked that they were still covered in clumps of dirt. Even the most committed produce stand in the U.S. wouldn't dare put out root vegetables that haven't at least gotten a casual brush off; we have things to learn.
The farmer on hand laughed and joked with customers. You could tell this was a convivial gathering. Food bringing people together. Even in the heart of Paris the producer to consumer connection is alive and well. Certainly, not everyone participates in something this direct, but just go to any Parisian market to see the value of access to fresh produce and an interaction with a farmer or butcher and you'll see that the commitment to good food is alive and well.
French food is good – really good – but that's not why we fall in love with it. We fall in love with it because it's simply a part of everyday life.
A good pastry for breakfast isn't out of the ordinary. It just is.
Choosing a bottle of white Bourgogne to heighten the taste of the cheese isn't snobby. It just is.
In France, eating isn't a task or something you cram into fifteen minutes, it's an essential part of living, an action that is just as much tied to who you are with and what you are talking about as what you're actually eating. Food is life, and life is celebrated.
This is the latest installment of Anna Brones' weekly column at EcoSalon: Foodie Underground, an exploration of what's new and different in the underground movement, and how we make the topic of good food more accessible to everyone. More musings on the topic can be found at www.foodieunderground.com.