ColumnWhat motivates us to share our culinary adventures.
When four different people, who don't know each other, all send you the link to the same article, an article that poses the question "are your friends bombarding you with food porn?" you know you have a problem.
Been inundated with food photography lately? You are not alone.
As I sat down to the first impromptu backyard dinner of the season last night, the hostess stopped everyone from putting any food on their plates so that we could get a picture of the table first. I had my phone out (of course), because that tablecloth color went so well with the salad. Click. And that grilled asparagus… so green. Click. But for the sake of maintaining my sanity and living in the moment, I did not Instagram. You have to draw the line somewhere.
We love to document, in fact the human propensity to document is the backbone of historical records. We have experiences and we share them. These days, we simply live in an era where sharing photos has become particularly easy, maybe even too easy.
"Do you think more people take pictures of their animals or of food?" asked another friend at the dinner table. "Look at any picture on Facebook and it's probably someone's cat or their lunch. Why do I need to know what kind of grilled cheese sandwich you had? I don't, but we all love to do it."
It's true. "Are you going to take a picture first?" is something I hear a lot when eating with friends. I have been known to switch plates and move someone's glass out of the way just so the photo looks better. Why are we obsessed with food photography?
Food in art has been around for centuries, dating as far back as Ancient Egypt. While we're no longer painting food scenes in tombs in the hopes that food will become available in the afterlife or committing time to painting still lifes with grapes in the Dutch style, we do love to whip out our DSLRs and iPhones and document the moment for the sake of prosperity.
Not only do we document however, we also consume.
Even a non food lover would have a difficult time not drooling over Instagram Foodies, a site dedicated to pulling together the best of the best in food photos taken with the popular photo sharing app. Ping! You just got a text, and didn't your day just get a little better because it was a picture of a good dish someone thought you would like?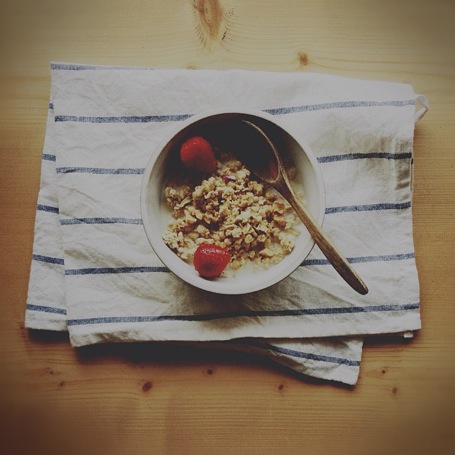 On a larger level, food magazines are more popular than ever; Food Network Magazine alone announced that it is increasing its ratebase for the seventh time since launching, increasing by another 50,000, to 1.45 million. Take a few minutes to browse the food section on Pinterest and you can easily become overwhelmed. And those food blogs aren't just there because people write them; as a society we have become enthralled with learning about the behind-the-scenes of people's kitchens.
"You can find out more, and more quickly, about the history and culture of a nation by looking at its food than in any other way. Food is a direct expression of a country's spirit," said food photographer Tessa Traeger.
We all have to eat, and food becomes our common ground. As journalist and academic Simran Sethi once said to me in an interview, "food is universal."
That is a sentiment that the world of food photography has picked up on in recent times. If you have ever picked up your mother's copy of Better Homes and Gardens or Betty Crocker you know full well that the pot roasts and casseroles of the 50s and 60s were less than appetizing, and certainly not indicative of a meal you would make at home on a Tuesday night. "In those days, the pictures looked as though they were taken from the top of a ladder, six or eight feet away. And the food was so artificially doctored up that it gave the profession a horrible name," Photographer George De Gennaro, who began photographing food in the 1950s, once said in an interview.
But that is all changing. Because of the digital world, and easy access to cameras and photo sharing tools, food photography itself is becoming more democratized. Take a look at any food magazine that is on the newsstand right now. You'll find the pages full of natural looking food, as if the photo was taken on your own kitchen table. A lot more styling goes into placing that knife and the bread crumbs accordingly, but food photos nowadays give us more than just a visual of the food. They make us feel that if we make that certain meal, we'll also get the ambiance.
The farm table, the linen napkins, the candles in mason jars, the bouquet of lavender and rosemary tied with a piece of twine… our backyard dinner parties will be exactly the same.
It's called food porn for a reason.
We lust after those moments, a certain lifestyle. Food photos are seductive because they let us forget about reality for a few minutes, the fact that most of us are throwing something together last minute in between one activity and another. We yearn for something slower. A put together meal. A memorable moment. The times that we break bread together as a community, sharing food and conversation. We share our food photos because food is what brings us together, and food allows us to have a connection with our larger social circles.
Food is at our core. As are our relationships. It's no surprise then that the two go hand-in-hand. That we share our food photos because we're sharing a moment, a glimpse into our everyday routine, no matter how styled it is. After all, if you're stuck drinking a cup of coffee by yourself, teleporting a friend to join you is difficult. Texting them a well-framed photo of the rim of the cup and the handle is easy.
Editor's note: This is the latest installment of Anna Brones's weekly column at EcoSalon, Foodie Underground, discovering what's new and different in the underground food movement, from supper clubs to mini markets to the culinary avant garde.
Images: Anna Brones, Instagram Foodies, Anna Brones, Anna Brones