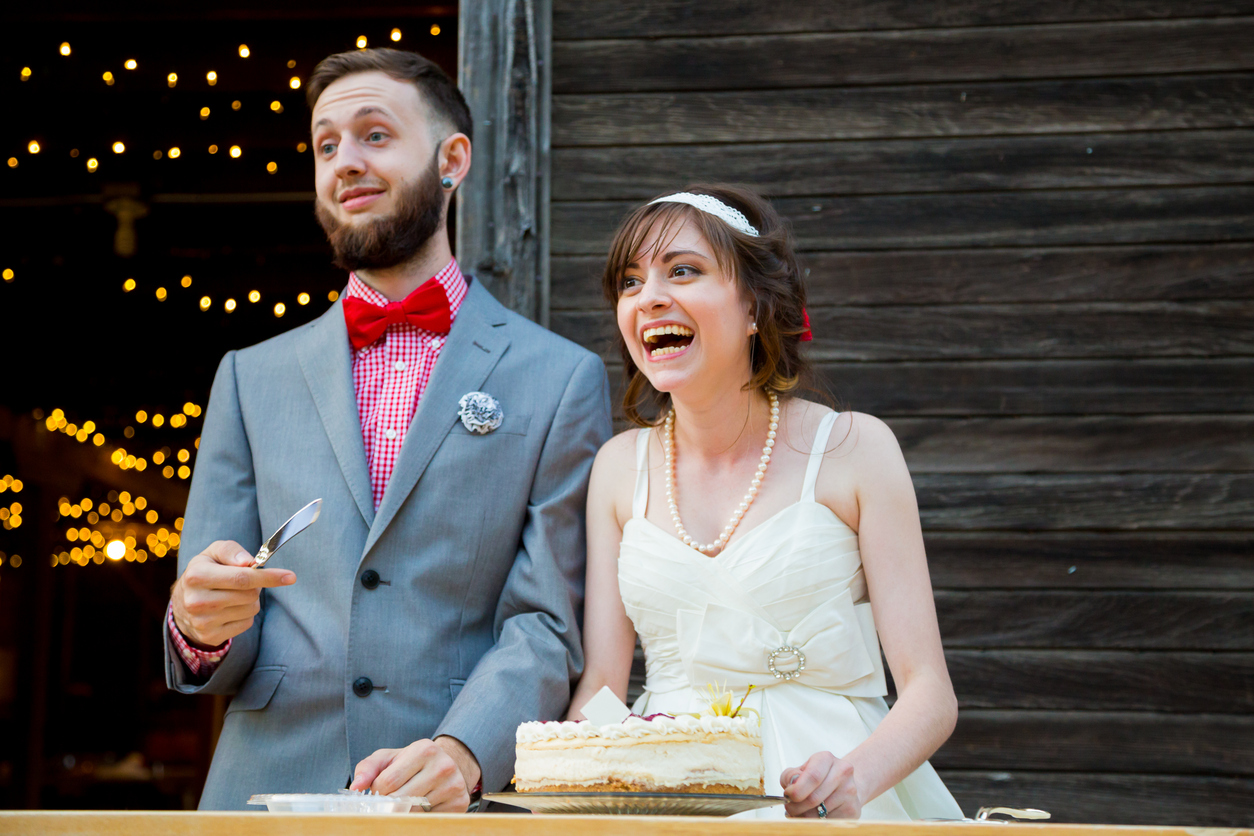 It used to be that there was one option for wedding cakes: those multi-tiered numbers covered in too-sweet white fondant. But the times they are a-changing, and so are the cakes. Following a wave of naked wedding cakes, trends for 2017 include vegan wedding cake, colorful or metallic icing, and even some receptions where there's no cake at all.
While weddings in 2016 were all about naked cakes and metallic accents, according to Toni Roberts, Pastry Chef for top Chicago hotel theWit, this year's cakes are going in a bit of a different direction. She's seeing a lot of influences from natural geological elements like geodes and marble, as well as mixed metals like copper, bronze, and rose gold.
But the industry is also seeing an influx in a demand for vegan wedding cakes, something that Jenny Schmohe, baker and wedding coordinator for vegan bakery Sweetpea Baking Company in Portland, Oregon, is all too happy to fulfill.
"It definitely seems like more people are open to the idea of ordering a vegan wedding cake, in part because of the growing prevalence of high-quality vegan baked goods," she says. (It can't hurt that celebs like EllenDeGeneres and Portia De Rossi or Paul McCartney and Nancy Shevell served up vegan cakes at their nuptials.)
But even though awareness of the vegan diet is growing, there is still a learning curve, according to Schmohe, at least when it comes to vegan wedding cakes.
"Every once in awhile a 'skeptic' of vegan baking will come in to do a tasting and make comments along the lines of 'I can't believe this is vegan!' or 'This is good… for vegan cake,'" she says. "I think these kinds of comments still speak to an overarching misunderstanding of what vegan food really is all about – being as delicious and satisfying as any counterpart while substituting animal products with plant-based alternatives."
But for the most part, folks in big cities like Portland are all too happy to try out vegan wedding cakes, especially when they come in unique and interesting flavors. Roberts says she's noticing more and more demands for fruit fillings in wedding cakes, and Schmohe notes that the most popular flavors at Sweetpea are toasted coconut, lemon chiffon, and berries & cream.
"My personal favorites are always when clients get creative and mix and match different components that they enjoyed from their tasting (toasted coconut cake with lemon curd filling, for example)," she says.
While Schmohe notes that she cannot recall any clients ever opting to have both a non-vegan and a vegan wedding cake their reception, omnivorous folks who want to make sure that their vegan friends can still partake in wedding sweets might want to opt for another growing wedding trend: an alternative dessert.
Roberts says that many people are opting for interactive desserts like doughnut towers, s'mores stations, and mini dessert displays either alongside or instead of a more traditional wedding cake.
"I think people are more comfortable expressing themselves as opposed to staying tied to tradition," says Roberts. "This also stems from more couples footing the bill themselves instead of succumbing to the wants of paying parents."
We're all for people expressing themselves through their wedding desserts, through colors, designs, and dietary choices – but what about you? Share your favorite wedding cake ideas with us on Facebook or Twitter.
Related on EcoSalon
5 Versatile and Unique Wedding Dresses You Can Easily Wear Again
Wedding on a Budget: Keep the Day Unique, Romantic, and Low-Key
DIY Flower Crowns Perfect for Music Festivals and Weddings