Discover some of America's finest fashion designers and labels that have built their brands on the concepts of domestic, ethical and environmental apparel production.
Last week we discussed the pros and cons of bringing apparel production back to the USA. Although several negative factors were pointed out, such as the dangers of fracking versus green technology for energy, and the lack of a skilled workforce, we would like to highlight designers and labels that design, manufacture and sometimes even source their materials domestically. The 7 designers below believe that fashion can function as a local and sustainable industry, especially in our land of vast resources and intelligent and able minds.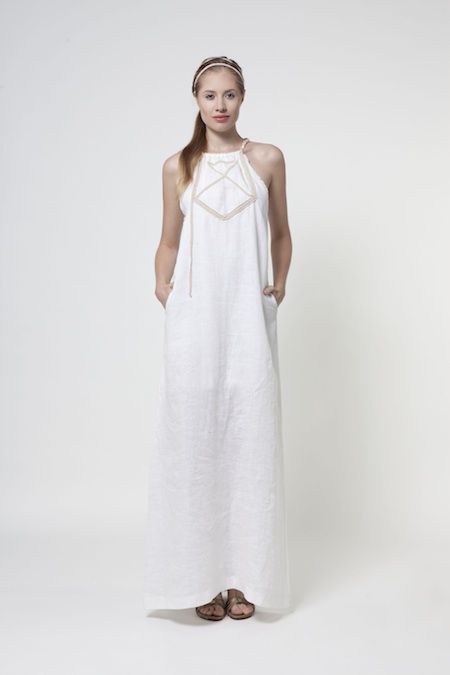 1. A.D.O.
Based in New York City, A.D.O. is a clothing label dedicated to non-chemical dyeing, fair trade textile sourcing and domestic, sustainable production methods. The use of Ayurvedic herb dyes, textiles such as peace silk, organic cotton and organic wool sourced from small hand-loom workshops, alongside assuring that every detail down to the buttons and labels are natural and organic feed A.D.O.'s aim of becoming a carbon-neutral company. On a mission to save the domestic fashion industry, a.d.o. manufactures each collection in the NY garment district, also using completely recycled materials for all packaging.
Designed and manufactured in New York City's garment district, Allison Parris dresses define glitzy and girlie party dresses. However, these dresses aren't made by  children in Asian sweatshops, but by skilled garment manufacturers and designed with intricate details that provide fitted, feminine silhouettes to make a girl feel like a star on a night out. Luxurious materials like embroidered cotton, silk organza and recycled PET (sourced from the U.S.) are featured in Parris' collections, which include dreamy dresses that can easily take you from day to night.
3. Carrie Parry
New York-based Carrie Parry has all of her garments manufactured in New York City, utilizing fabrics sourced in the USA "whenever feasible." All of Parry's materials are responsibly sourced, like her woven wool materials that come from artisan weaving communities in the Indian Himalayas. Through sophisticated tailoring, vibrantly colors and unique looks for the modern woman, Carrie Parry artfully demonstrates how to feel "confident in the garments you wear and companies you support."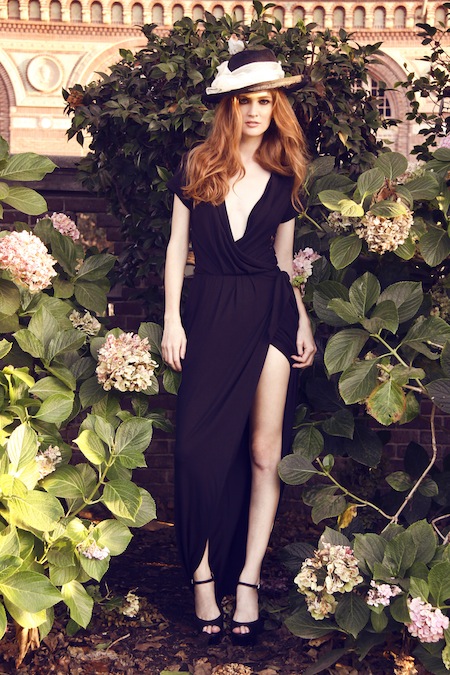 4. Frock Los Angeles
Glamorous and feminine, Frock LA's gorgeous dresses and gowns are manufactured in Los Angeles, with most materials sourced from Californian producers. Made from luxurious jersey blends of bamboo and cotton, these dresses are easy to wear and easy to care for, all the while oozing the effortless sex appeal that has caught the eye of several celebrities. These sensual styles easily take the wearer from the office to cocktail hour, all the while supporting the type of patriotic fashion industry that we really need.
5. Kristinit
Los Angeles-based label Kristinit strikes the perfect balance between California cool and feminine elegance with colorful collections of dresses, tops and coats. Made from responsibly sourced materials and manufactured in LA, designer Kristina Lenss also donates 5 percent of all proceeds to charities that support the environment and animal welfare. As the designer states: "I believe that for a piece of clothing to be truly beautiful it should be designed, sourced, and executed in a way that is holistic and gentle towards the environment and the people involved in the manufacturing process. Only then can a garment be considered truly "beautiful" possessing an heirloom quality that transcends fads and destructive manufacturing practices."
Designer John Patrick has been at the fashion forefront of using organic and natural materials for his collections, alongside creating a viable domestic fashion industry. Defining the fusion between casual chic and modern work-wear, Organic by John Patrick demonstrates the importance of creating a connection between the community that makes these wares, and the community that wears them. Manufacturing garments out of a warehouse in upstate New York has created many jobs for that community, enriching the neighborhood and giving the designer and his supporters a piece of wearable and patriotic pride.
Fashioning Change is an online sales platform that features ethically and environmentally produced alternatives to most fast fashion and designer brands. The platform's own clothing line, KCA by Fashioning Change, comprises 'Ethical Knockoffs' of basics that are manufactured in Los Angeles from locally sourced organic cotton and organic hemp. Each garment features a quick response code, allowing consumers to discover the full story and supply line behind their purchase.
Images: A.D.O., Allison Parris, Carrie Parry, Frock LA, Kristinit, Organic by John Patrick, Fashioning Change