Emblazoned just below Alaffia's name on the Fair Trade skincare product's website, are three familiar, yet powerful, words: equality, empowerment, and beauty. And although the product line does aim to make its users feel good, the man and woman behind the business have committed their lives to improving those of others. Upon speaking with Alaffia owner, Olowo-n'djo Tchala, after his recent trip to Togo, Africa, it became evident that their organization's cause goes much further than just skin deep.
Alaffia founders Olowo-n'djo Tchala and his business partner and wife, Prairie Rose Hyde, both came from modest beginnings. Tchala was one of eight children raised in his hometown Kaboli, a small village in Togo, a country that has long struggled with overwhelming poverty (about 80 percent of the people living in Togo live under the poverty line) . He grew up watching his mother help people in their community even with their limited resources. Because his family couldn't afford tuition, he was forced to drop out of school in the sixth grade and he worked alongside his mother on her farm.
Prairie Rose, on the other hand, was born in the States, but could still very much relate to the struggles of growing up poor. Her family needed welfare to survive, and she eventually sought a better life by joining the Peace Corp. It was on Hyde's mission trip to Kaboli 19 years ago that the two first met and fell in love.
After her service ended, they both moved back to the U.S. and attended the University of California Davis together. After graduating, and with a shared vision for their lives, Tchala said that they were moved by "the injustice that exists in the human life and both had the urgency to do something about it." So, in 2003, with limited knowledge of actual product formulation and a lot of heart, the Alaffia skincare line was born. With high hopes of giving back to the West African community the two traveled between Togo and America frequently.
The couple wanted to create a product for women by women that would fulfill a need on both ends of the spectrum – sustainable, Fair Trade skincare for the public that simultaneously improves the lives of women in West Africa. From this mutual desire, lotions, soaps, haircare, and other natural beauty products utilizing native ingredients were developed. And although they learned the trade as time went on, Tchala and Hyde never sacrificed their core beliefs for the sake of business.
Alaffia was and is still committed to full transparency and traceability, and consistently reinvests its profits back into the company and into the community. Fortunately, the products are easily accessible through online ordering on Alaffia's website, and for purchase in your local Whole Foods Market and other brick and mortar stores.
With a personal promise to never abandon the people of Togo, especially the women, whom he believes have it much worse in West Africa than men, Tchala and his wife started making major changes in the lives of others. They wanted to focus on teaching women self-sufficiency and independence. Solid living wages, although important, became a byproduct of the desperately needed sense of empowerment and self-worth that came as a result of learning a trade.
According to the Alaffia website, "women in West Africa have long been excluded from the formal education sector, which means they cannot read or write." The female Shea Butter Cooperative established in Togo allows women to capitalize on their strengths, such as their "unique skills, traditions, and knowledge." And whether it's basket weaving, or making shea butter, these women can all feel confident in themselves and their ability to contribute to their families.
While women are a centralized aspect of Alaffia's philanthropy, it's the company's belief to also spread empowerment at the community level. After evaluating the issues hindering the village, it is believed that "exclusion from education, maternal deaths, and environmental degradation" all heavily contributed to the discord. In an effort to solve these problems, Alaffia has committed to the following projects:
Bicycles for Education – Since 2006, Alaffia has collected and sent over 6,300 used bicycles to disadvantaged Togo students to utilize as transportation to and from school.
Maternal Health – Since 2004, Alaffia has provided pre and post natal care for 3,237 women in central Togo to help reduce high maternal death rates in West Africa.
School Supplies & Repairs – Alaffia donates metal roofs, seats and school supplies to schools in rural Togo to help communities educate their youth.
Restoration & Environment – To combat effects of climate change and deforestation, Alaffia plants trees and builds home biogas units.
And, as if that wasn't enough, Alaffia is also certified as a Fair Trade skincare business that takes environmental impact seriously. Shea butter is one of Africa's natural resources and is the focus of Alaffia's cooperative, but all of the products are actually handcrafted and comprised of ingredients indigenous to the region.
Sustainability is a crucial aspect of the business. In fact, sustainability is the "soul of our organization," says Tchala, "because I look at culture for sustainability first." In other words, the commitment to long-term preservation is a holistic process, from population to product.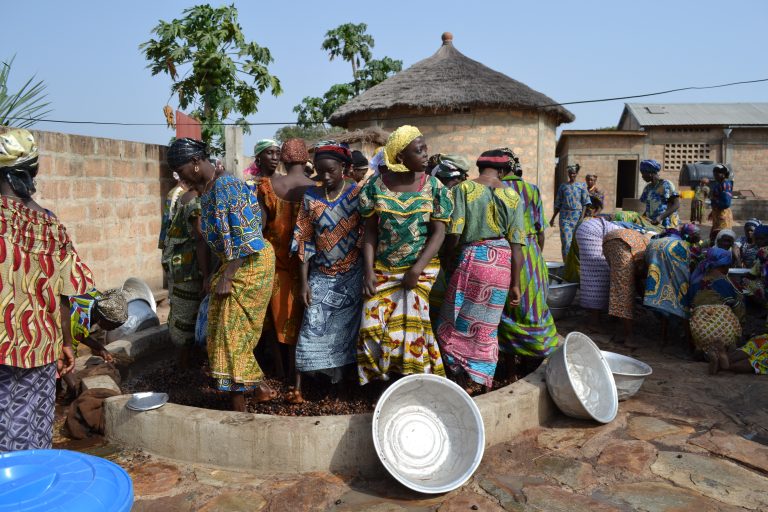 The one-on-one sustainability is evident through Alaffia's community efforts, but that has also been extended to the product production aspect. Headquartered in Washington, 80 percent of all packaging is sourced from either Utah or California in an effort to reduce the carbon footprint as much as possible. Many of the bottles used to package products are made from 100 percent post-consumer waste, with the remaining containers having a 50 percent minimum threshold.
Tchala believes that economic sustainability equates to morality – that Fair Trade isn't enough to be an upstanding business and that the certification shouldn't simply be used as a marketing ploy, but is a notion that should be lived and upheld through strong morals and ethics.
Alaffia's unprecedented standards, along with the commitment to consciousness, truly places this skincare company into a category all its own. Not only that, but Tchala can promise his customers peace of mind by knowing that when purchasing this product, they are "not contributing to slavery, destruction of humanity, or making one person richer – your money is being spread around, and not just in Togo, but in the state of Washington, too."
With a bright future and strong moral compass, Alaffia is a deserving business with a worthy cause. And if you still need a friendly nudge in the right direction on your next trip down the skincare aisle, Tchala said it best: "From lotions to body washes, we can create everlasting impact and contribute to all humans in a very truly positive way. The traditional methods of making things can yield women and their families a benefit while uplifting all humans around the world." From the inside, from the goodness of our hearts, that's what real beauty looks like.
What's your take on this sustainable, Fair Trade skincare business? Are you as excited as we are? Let us know on the EcoSalon Facebook page! For more information, or to order online, please visit www.alaffia.com and be sure to show them some love on social media, too.
Related on EcoSalon 
Adèle Dejak: Reclaimed African Fashion Design
Fruit Leather Handbags Are Reducing Food Waste in Style
Celebrate Fair Trade Fashion Month with Ethically Made Beauty Products: A to Z
All images via Alaffia