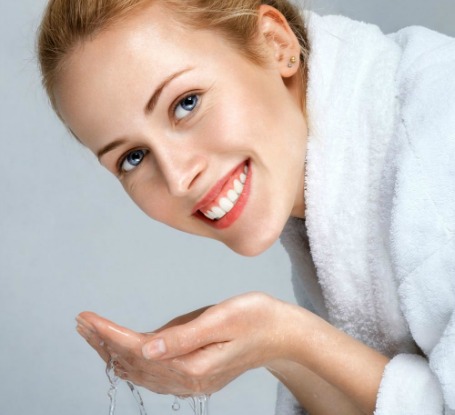 Seems simple enough, right? Get it clean and the job is done. Not so much. Do you know how to wash your face for best results?
You may be surprised to learn that your skin issues could be chalked up to improper cleansing. That's right, mistakes in the product or method you use can cause acne, irritation, congestion, dryness, oiliness, uneven tone, flakiness…you get the picture.
So, what's the right way to go about cleansing the face? The best first step is selecting the right cleanser for your skin. Most skincare products are formulated to suit a particular skin type. If you are unclear on your skin type, here's a snapshot.
Another cause of imbalance is the use of chemical cleansers. Many women believe they have highly sensitive skin and realize, once they switch to natural skincare, that it was the chemicals causing upset. And did you know that chemical acne washes can actually cause acne? The harsh ingredients dry skin out, causing a flaky top layer that traps oil and causes breakouts.
Cleansers made with natural ingredients clean the skin, remove makeup, and balance oil production without stripping the skin of natural oils. Avoid products made with Sodium Laureth Sulfate (SLES) and Sodium Lauryl Sulfate (SLS). These ingredients are behind that luscious foam you get from conventional cleansers, but are linked to health issues and may contain harmful contaminants.
For Normal/Combination Skin Types // Those with this skin type enjoy naturally balanced skin, for the most part. A light cream cleanser works well. For excess oiliness or breakouts, try using using a blemish-control cleanser in the T-zone to avoid causing dryness on cheeks and neck.
For Oily/Acne Prone Skin Types // An antiseptic cleanser helps to keep pores clear and eliminate bacteria from skin. Be sure you are not over cleansing with a too-harsh product in an attempt to combat breakouts. Using a gentle cleanser designed to balance oil should do the trick.
For Dry/Mature Skin Types // These are actually separate skin types, but are often lumped together because mature skin tends to need extra moisture. Dry skin does well with cleansing oils and balms. Have you tried the oil cleansing method? If not, give it a shot. Plumps skin and reduces the appearance of lines and wrinkles.
For Sensitive Skin // If your skin tends to be easily upset be sure to use a cleanser designed for sensitive skin. Products free from fragrance ingredients are best for reactive skin. And if your skin isn't dirty, don't wash it. Over-cleansing or exfoliating can induce irritation. It is important to go to bed with clean skin, but you may be able to skip that morning cleanse if you don't truly need it.
Now you know how to wash your face for max benefits. Here are our natural cleanser picks for each skin type:
May Lindstrom Skin The Clean Dirt
Tata Harper Purifying Cleanser
Kahina Giving Beauty Facial Cleanser
Pai Camilla & Rose Gentle Hydrating Cleanser
One Love Organics Chia Whip Purifying Foam Cleanser
Related on EcoSalon
5 Breakout-Banishing All Natural Remedies for Acne
How to Get Rid of Acne Scars with Natural Remedies
9 Ways to Wash Your Delicates without Dry Cleaning
Image of woman washing face via Shutterstock