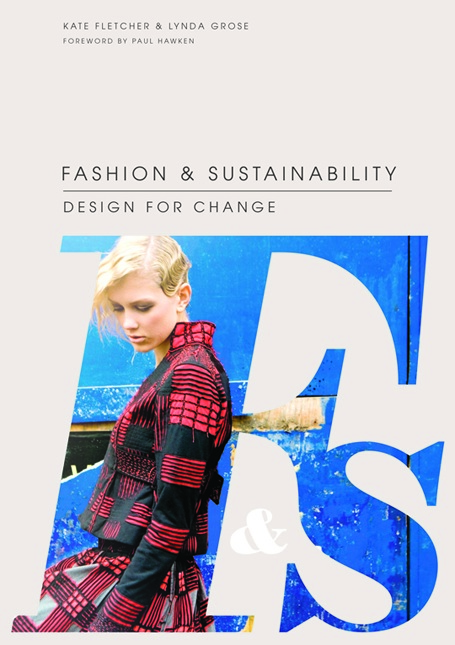 InterviewLooking at the entire fashion system and how to incorporate the consumer.
Kate Fletcher is a true pioneer of sustainable fashion. Having started research in the field more than 15 years ago, she is the mind behind the concept of Slow Fashion, and always at the forefront of innovation through directional sustainability projects. A prolific author, she has just published her latest book, co-authored with Lynda Grose called Fashion & Sustainability-Design For Change.
The book was launched in London last week, at the Carnaby Book Exchange, with an introduction by Dilys Wiliams, Director of the Centre for Sustainable Fashion (London College of Fashion), and in conversation with Patrick Laine, Director of Corporate Partnerships, WWF-UK.
EcoSalon had the chance to have a chat with Kate Fletcher during this occasion, to talk about the book and the solutions she presents in it – to create a new fashion system that recognizes sustainability as a fundamental element.
Who is your book aimed at? Who is the target audience, and who is the message for?
Its audience is the design community, but by design community I mean something extremely broad and inclusive. Not just the professionals who have been to design school, but everyone who is trying to change things, in a direction where they see a positive effect. So all of those who are engaging with issues in the area of sustainability. The ambition of the book is to show people a whole diversity of innovations and opportunities around fashion and sustainability, because too often things are framed as "eco-efficiency" opportunities, while that is only just the first step on a very complex journey.
You said you want to create a shift from "adding sustainability to fashion as it currently works" to transforming fashion practices at their core. Do you believe this can evolve from the current situation where a niche movement is trying to take on the whole of the industry?  How else do you think the issue should be tackled?
I think it's important to be speaking to the mainstream sector, it's important to be showing them what they can do today, and how they can begin to transform their business, but at the moment that's what's happening largely alone, and I don't think that can't happen alone. And if a big company doesn't increment that with a broader vision, you end up always reiterating the same things that have been done in the past.
The problem as I see it, is that we can't get to sustainability by extrapolating from where we are today, because this is just building in the shortcomings and the problems of the current business models. So we must dream up something as a positive step, ask ourselves "what do we want? What's a healthy sector like?" And if we can start building from that perspective, then inherently we won't have the problems that we have today.
Still with regards to the big fashion companies, both high-street retailers and luxury conglomerates: what's your opinion about their efforts to incorporate sustainability? Do you think their approach is truly felt, or do you see them as token gestures to avoid criticism, and spurred by the fact that sustainability can sell?
I think it is meant and felt, but a lot of people in the industry are deluding themselves that what they're doing is worthwhile and enough. So a lot of people are still perpetuating the same model, but they substitute one fibre with another, or try to build a more transparent supply chain… Certainly with some of the luxury sector there are some shameful practices that are going on, and blatant greenwashing and bandwagon-jumping. This doesn't mean that they're not sincere, but they're certainly misguided, and that's the problem.
Author Kate Fletcher with Patrick Laine at her recent book launch
In the UK, recently three TV programs have been aired, showing the efforts of companies that are trying to bring manufacturing back to Britain. Do you think going back to local manufacturing is feasible, is it achievable?
There is evidence this is already happening, even though the move has been driven by economic factors rather than sustainability reasons. There is every reason to ride that wave, as it is going in the same direction that we want, and we should use that energy. Also, "Made in the UK" is not the solution to all problems, firstly because at the moment there's a major skills gap, and we don't have a skilled enough workforce to make products the way we want them; and also because in many developing countries a lot of people depend on the manufacturing jobs created by our demands. But I think there is an opportunity there for us to think what we want our sector to be, and try to strike a balance between the two realities. From my personal perspective however, I see localism as a cornerstone idea within sustainability.
You have an important role as an academic, within the CFS at LCF. A lot of universities now offer sustainable fashion courses, forming the designers of tomorrow. But what about the consumer of tomorrow? What do we need to do to engage the young generations, and how do we communicate sustainability to them?
If all we do, like we're still doing today, is get them to choose between two different products on a shelf, then I don't think we're doing the right thing. Part of the problem is that we're casting people in a very simple way as consumers vs. producers. I think we need to think of what they are in a very different way: as part of the whole process, as engaged persons, who take responsibility, who ask their own questions. Therefore I wouldn't even talk about them as "consumers," but rather as "citizens," as people who are in the system with us, and make their choices part of their lifestyle. Perhaps that's where the real change lies.
One thing I would really suggest to all users of clothes to do, would be to go through their wardrobes and try to remember why they bought each garment, consider what they liked about it and the reason why they chose it. So that they can be reminded of the garment itself, assess its current potential to be worn again, styled with something else, and develop more awareness of what's already in our wardrobes. We are so overwhelmed by the shopping options out there, and we need to take a moment and re-engage with what we already have.