InterviewTextile designer and artist Heather Ross has recently released her second book full of DIY projects, printable designs and instructions for creating your own crafty prints.
Heather Ross Prints include cheerful and enchanting projects for interior decoration, small gifts and garments that are an inexpensive, easy and exciting way to introduce yourself to crafts or delve into new projects if you're a DIY veteran. An entire chapter of the book is dedicated to demonstrating the textile print design process so that you can create your own textile designs with sketches and a little help from Photoshop and an included DVD.
Heather's philosophies on sharing the inspiration, skills and processes for making your own beautiful objects are a leading example of the tools that todays very able but technologically sedated society craves and needs. EcoSalon caught up with the enthusiastic author to hear about her views on crafts and the importance of understanding the continuous learning curve that makes up our lives as creative beings.
What was your starting point for writing the book Heather Ross Prints?
I have this library of pattern designs and so I wanted to figure out a way to take all my textile designs and build projects around them to make them very accessible and inexpensive. I wanted to put art in the hands of the readers and inspire them instead of going through a licensing process. I didn't want to do the lengthy processes I was being approached because those projects seemed to be creating unusable stuff and it didn't really feel like we need a lot more stuff – what we need is to learn how to make things ourselves.
Through the book you've openly shared your prints and processes for any one to utilize. What do you think the benefits of open source design are?
People in the craft community are always willing to share their ideas, resources and connections and I wanted this book to be part of that world. I wanted it to be just as easy to open a book as it is to go online and find a craft idea for your daughter's birthday party. I get to have my art out there and have it utilized, while the people using it see that it is possible to make your own designs or use my designs to make your own things. I grew up with very little in terms of money or things, and so I'll take every opportunity I have to give something away.
We live in such a visual era and it all gets shared anyway, so why not build it as a resource rather than just an image?  I wanted to create a way for people to make something they see that inspires them and they keep and use it rather than just looking at it for a second online.
Some people think if you have a handmade item it has to be claimed as one person's art, but if you look a the collaborative processes of making a book or building a fashion line, there are a lot of creative people involved. I don't see why I can't be the designer while someone else is the illustrator, someone the maker, and someone the user so that we can all contribute.
What is your favorite project from the book? 
The wallpaper! The idea that I could have an image in my computer, build it into a repeat, send it to someone in LA and a week later get a giant, giant box in the mail and Google how to put up wallpaper for my daughter's bedroom was so exciting to me.
I also think the paper projects in my book are really fun. I always wanted to do a stationery line, and making designs where people could go in and change the text to personalize it is also really exciting to me.
I wanted to incorporate projects for things you wouldn't find elsewhere. A lot of the sewing projects are very simple because I wanted to make them accessible. The pride people feel in making things is the side of craft that really appeals to me – where people realize how possible it is for them to make things by hand.
What is it about fairytale aesthetics that fascinate you? 
I lived on an incredible piece of property as a child and it really felt like there were all of these semi-invisible, magical creatures that inhabited it. My childhood was difficult and so this imaginary world was an escape from having to cope with the very adult issues that were part of my life. Our property was paradise with waterfalls, moss so thick you couldn't see your feet in it and dark corners of the woods, and I think all of that was my salvation and foundation.
What projects are you currently working on?
I'm writing a book of essays about my childhood and how it contributed to my career in the same sort of DIY, imaginary world.
I'm also working on some illustrations for picture books, as well as the Crafty Chloe series, which is really fun. I'm hoping the series lasts for a while because I've just fallen in love with the character – it's nice to have an alter ego that's this crafty, 6 year old redhead for who the quality doesn't matter, it's the effort that counts.
I am also planning on coming into the retail fabric market next year with designs that were made with my home in mind.
How important do you think crafts are in today's society?
There is something innately satisfying about making things yourself, whether through cooking, crafting or something else. In this very impersonal, online world, something that you can touch and see is important.
There is also this whole other side of craft that is letting us care for ourselves and provide for ourselves. We are the first generation of American women for whom Home Ec was not a given and whose mothers were not necessarily providing us with those skills because they were working. So in the last 20 years there's been tremendous demand for those skills, and I feel like that has made us a very dependent generation. I feel the more stuff we can do for ourselves, the stronger and more independent we can feel. Filling your home with things you've made turns your home into a space that's an extension of yourself. I love walking into people's homes and seeing their quilts on the bed and their art on the walls because you feel like you instantly understand a bit of who that person is.
Why do you think there's been a revived interest in crafts and DIY?
The first thing I think when I see something I like is: How is that made? Could I make that? Maybe a lot of people started thinking that and realizing how good it feels to make something beautiful yourself.
Martha Stewart, Amy Butler, Denyse Schmidt and Anna Maria Horner all know how to make DIY beautiful and know how to show the thrill in thinking that you could live in a home with your own recipes, paintings or quilts. Since the 80s all the small stores and manufacturers have been disappearing and everything is about large retail and everyone dresses the same, so our lives are becoming branded. I think crafting and DIY is a reaction to that because we are all looking to build an identity and stand out and feel like we understand who we are outside the culture we belong to. Maybe making things is the easiest and most satisfying way to do that.
Technology has made a range of crafting activities more accessible. How do you foresee new technology changing the way we make things?
Anything you can imagine is possible, and technology is supposed to be one step ahead of our imagination. For creative people, that makes things limitless. That was a huge part of this book – to say that I've been printing my Christmas cards on a 200 dollar printer for five years, and I can show you how to do it. Spoonflower allows us to print our own fabric, and that is so amazing. There was a great story in the Wall Street Journal about a woman who found a vintage blouse, picked it apart, uploaded the pattern to Spoonflower and made a tablecloth out of the material she had printed. I think that shows how amazing technology is.
What does sustainability mean to you?
To me it means things are so well made that they last and you can work on them and fix them. My sewing machine is 65 years old and my car is 25 years old but I understand how they work. Things should last for a long time and when they break you should be able to fix them, so you should know enough about them that you can fix them.
A couple of years ago my husband and I bought a completely abandoned 100-year old house in the Catskills. We could see that it was a solid house, and knew we could bring it back. We know that things used to be made to last, and they're not any more, which is incredibly sad to me.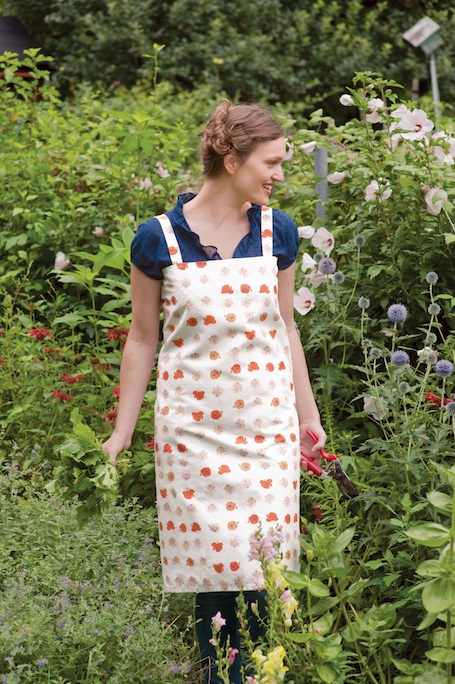 What does your dream home look like?
I've never had a distinctive vision for a particular space, it's been more about filling spaces with things I love. When I imagine an ideal home I imagine the view from the windows instead of the interior – I'm obsessed with spaces that bring the outdoors in. We're really trying to turn this house in the Catskills into its original splendor with an Arts and Crafts and Beaux Arts feel. Although it isn't what my husband or I ever envisioned, it is becoming our dream home now because we have this special stewarding relationship with it.
What inspires you?
My daughter – I've always worked with juvenile images and now that I have a kid around I've actually been able to use these images. I've lived in the city for 5 years now but I spent most of my life in remote, economically depressed and beautiful places, and being back in the Catskills has reconnected me to my time as a kid. I was always having to imagine things because we didn't have a lot of stuff, and there's a lot of inspiration in the middle of nowhere with all these beautiful things that don't cost anything.
They exist whether or not you are there – they aren't being produced for you, they aren't being sold to you. Nature doesn't care if we exist or not, it doesn't think of us, it doesn't care who we are or what we do, it just exists because it exists. That's not the case in the way we exist in cities and online; everyone is looking for eyes, reactions or some kind of response or validation. You don't see that in nature – there's a transcendental quality in it that I find really inspiring.