Haute couture goes to new extremes in order to create waves globally.
As a woman who tends to wear her favorite 'uniforms' to social gatherings and art/fashion events, the realm of haute couture has never really been something that I have felt particularly connected to. Sure the artistry and pageantry is alluring and the bevy of VIPs flanking the runway is seductive, but I have always considered haute couture to be an artificial phenomenon that creates a rigid caste system within fashion rather than a stage for democratic beauty – until now.  After the most recent summer fashion shows in Europe, I ask myself whether an artier side of couture might be creating a watershed moment in the future of a more aesthetically and culturally diverse fashion?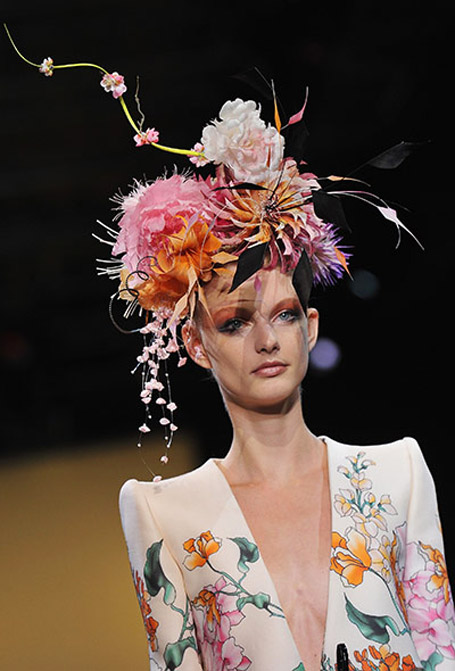 Giorgio Armani Prive Haute Couture 2011/2012 (photo: Le Segretain/Getty Images)
While Americans were celebrating Independence Day during the first week of July, editors, buyers, and celebrities had assembled for the Paris Haute Couture Week presentations, and despite the exclusivity of it all, the energy during these shows had a ripple effect throughout Europe and beyond. I read something on Twitter during this time that claimed, "Approximately five hundred fashionable women in the world are able to afford and become regular customers of haute couture." This estimate seemed obscene and surely did not fit with my ethos of making objects of beauty accessible to all. Who are these elite couture supporters, I asked myself, and do they really have anything to do with the rest of us?
Iris Van Herpen Haute Couture 2011/2012 (photo: Victor Boyko/Getty Images)
In reviewing the Paris collections and the exquisite handwork that went into their crafting, I had a new appreciation for the designers who aim to take their clients on ecstatic flights of fancy that honor the traditions of bespoke craftsmanship and the laborious finessing of designs. Granted the price tags for these garments must be astronomical and grossly inflated in this era of economic belt tightening, but as expressions of cultural pride and imaginative ingenuity, contemporary haute couture definitely celebrates fashion as high art as well as sustaining the historic timeline of the atelier model.
Like ethical fashion, there are quality standards that haute couture designers must adopt and abide by in order to receive the prestige of calling oneself a couture house for advertising, marketing, and participation in fashion weeks on the annual calendar. Members of the Fédération française de la couture must follow strict rules and practices, for example:
Create made-to-order couture for private clients, with one or more fittings.
Operate a workshop ("atelier") in Paris that employees fifteen people full-time.
Present a collection two times a year to the press, comprising a minimum of thirty-five runs/exits with day and evening wear represented.
As fast fashion continues to erode the very soul of creative designs and our dreams about fashioning self, it seems as if indie and haute couture designers have more in common than I might previously have surmised. To be sure, their clients and company economics are typically at opposite ends of the spectrum, but the risk-taking and the hands on methods demonstrated in their production cycles allies more than divides them, at least in the spirit of the craft. I will not go so far as to say that haute couture follows a slow fashion agenda, but the idea that fashion of this sort might be a source of national pride rather than a copyright embarrassment or garment factory nightmare, is something to view as a thing of promise.
Haute couture with culturally diverse roots at Georgian Fashion Week
Perhaps there is a philanthropic nature to the women who collect and invest in couture creations in the same spirit that blue-chip art is handpicked from galleries or costly film projects are backed by individuals who believe in a story that must be told and shared. Despite the pomp and circumstance that goes on during fashion week, the integrity of the atelier as an institution that supports endangered handwork and artisan techniques is a model that is micro in nature and historically human in scale. There are, no doubt, horror stories related to the excessive use of materials in the creation of haute couture collections, not to mention the unbridled use of "luxury" fabrics and fur and the exploitation of skilled workers. But as organizations like the EcoChic Fashions in Hong Kong as well as green showcases at fashion weeks in London, Milan, Paris, and New York continue to push our definitions of eco-luxurious couture into uncharted territory, creative diversity continues to take center stage. In many instances, we really cannot overlook the fact that cultural preservation, and in turn, timeless fashion methodologies are sustained by the very presence and persistence of the haute couture shows.
EcoChic Geneva runway finale at the United Nations Headquarters (photo: Abigail Doan)
I am reminded of the diversity represented at the EcoChic Geneva runway presentation at the United Nations Headquarters in Europe during January 2010, where the cross section of cultures, textiles, and innovative approaches to redefining couture and beauty was extraordinary. If we can work to preserve fading architectural monuments, tracts of pristine park land, and indigenous folk traditions globally, then we can also labor to sustain the diversity of garments and the role of haute thinking as an agent of change. It's the business of fashion that we should be weary of, not the persistence of the imagination or the seemingly foreign nature of biodiverse materials.
image: Iris Van Herpen Haute Couture via The Guardian