Designing fashion for the future with century-old techniques, Isabell de Hillerin embraces heritage for Spring/Summer 13.
One would think that in fashion, the "new" is welcomed almost as much as a friendlier price point. But not to forget, also in fashion, are passageways that inspire designers and pull them back to heritage, history and hopefully, an embracing of something deeper.
Berlin-based Isabell de Hillerin is one of those designers. In her Spring/Summer 13 collection "Eclectic Line," she combines traditional Moldavian craftsmanship -think flamboyant handmade embroidery and handwoven fabrics with modern designs- to  embrace techniques from over 100 years ago.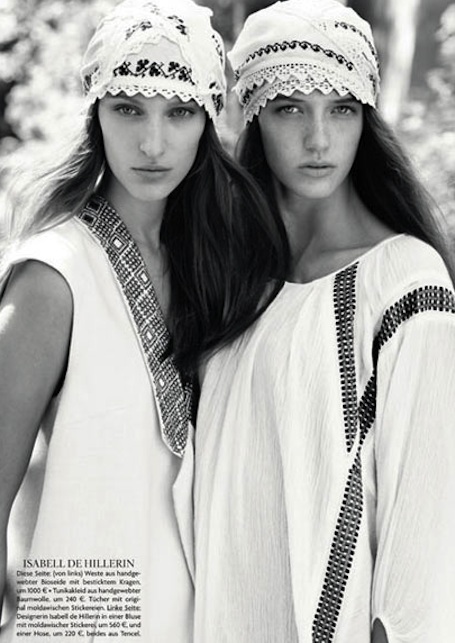 Isabell de Hillerin's Spring/Summer 13 in the November 2012 issue of German VOGUE
De Hillerin says "In a time where the pulse of the vanguardia captures the world and simultaneously moments increase when individuals cut themselves off, we realize that we are increasingly fading out the marvelous settings that surround us every day. The importance lies in the past and the nostalgia which provokes one to remember."
For her Spring/Summer 13 collection, de Hillerin traveled to secluded villages in Moldavia, meeting women manufacturing fabrics in the same way they were done a hundred years ago: quietly on looms, in sewing circles and by hand, one stitch at a time. One might wonder what these same women, tucked into remote villages thought when they saw their work in the November issue of German VOGUE featuring the designer's Spring/Summer 13 collection.
Berlin Fashion Week and the "Eclectic Line" from Isabel de Hillerin, photo by H. Berthold

The designer says: "The information revolution deletes distances. Keywords like accessibility and transparency gained importance. At the same time our fast moving and modern society ruined traditional roots. The designs reflect a rebellious response to our modern system called life."
De Hillerin's collaboration is a project supported by the European Union that offers future prospects to the people by providing the women with above-average wages, while promoting a disappearing Moldavian art.