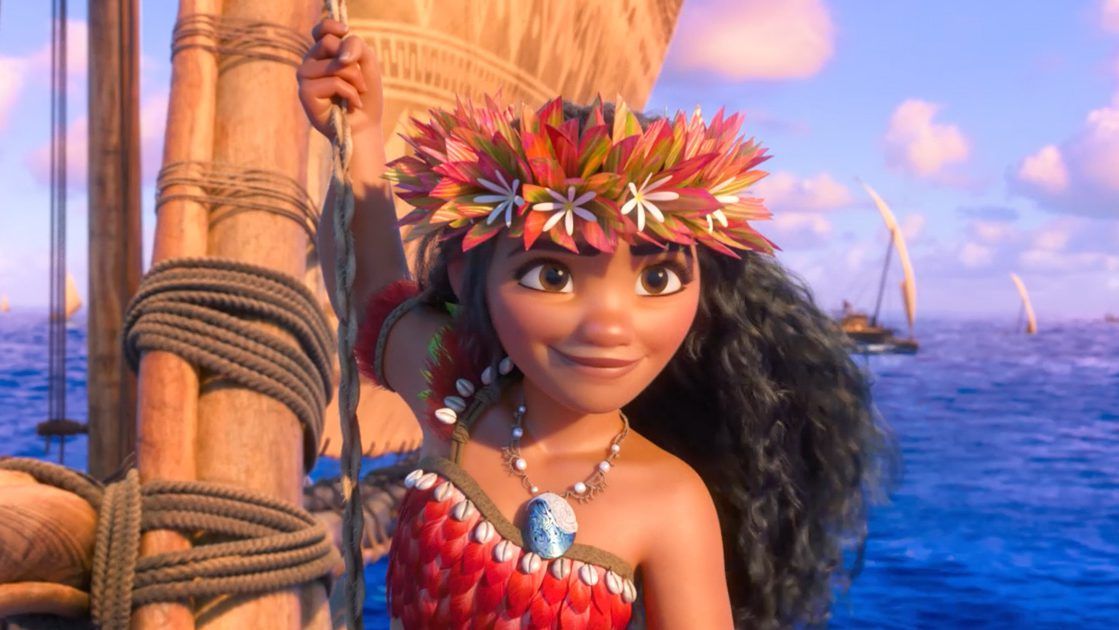 All I wanted my daughter to be for Halloween this year was something unusual. Maybe it's because I always found the holiday rather ridiculous for so many reasons that I just didn't want her to play by the rules. I wanted her to be an astronaut or a scientist. Maybe a vegetable farmer. I'd have settled for a Ghostbuster. But at four years old, there's one character, and one character only, who she wishes to be. Can you guess? Of course it's Moana.
Don't get me wrong. I love Moana. Where do I even begin with all the ways that I love this girl? She's smart and funny. She's strong yet understanding. She's brave. So brave. She loves her family. She takes the traditional hero's journey and faces her fears like I can only hope my daughter will one day.
I love so many other things about this film, too: I love that the story presents the real issue of how limited our resources can become. That even in paradise, trouble can arise at any moment. I love the way it embraces an elder, even if they give her the nickname of "village crazy lady." I love that farm animals are friends not food. I love that no one wears shoes and that my daughter noticed this. I love that coconuts may still have yet another use we'd never thought of. I love that Moana doesn't need a man to solve her problems – and in fact, it turns out, he needed her to fix his. I love that the plot twist (spoiler) is that the fiery monster Te Kā was Te Fiti all along, just disconnected from her own heart. If that's not a worthy lesson for kids (and their, ahem, many changing moods), I don't know what is. In fact, that may be the most critical lesson here in a lot of ways. (And yes, for the record, I deeply love that Bowie-inspired no-one-could-have-done-it-better "Shiny" performance by Jemaine Clement.)
But, according to Redbook, if my daughter embodies this character of color so filled with, well, character and color, this Halloween, then both she and I are racists. End of story.
"To pretend to be a racial, ethnic or religious minority when you're not makes light of their history," the Redbook "Editors" wrote, "and reinforces a deeply problematic power dynamic, wherein white people use, then discard, pieces of cultures they've subjugated for centuries just because they can."
I read this over and over because I want to do the right thing. Because I can't believe we're at this point. Because I'm terrified someone might spit on my child for wearing a costume that makes her poised and proud, just because her parents are white.
My daughter doesn't know she's white-white. She sees her skin, of course, and it's not white. It's pinkish in parts, beige-ish in most others. One of her bestie's skin is as dark as night. Her neighbor, just a year younger, has hair as yellow as a daisy. Her daddy's eyes are as blue as the sky. (And her mom's hair color, well, that comes out of a box.) She sees this rainbow around her and she only understands the nuances of colors, the depth and beauty, not the lines we draw around them. And she certainly doesn't love Moana because of or despite her skin color. She loves her because of her true colors.
At four years old, my daughter's not culturally appropriating anything. She's aiming. She's setting her sights on someone who resonates, who motivates, and a story so genuine that it feels right to her. Because it is right. Because a girl who stands up to fear and danger and all for the benefit of other people is the world we desperately need right now, so much so that a preschooler can't even seem to talk about much anything else.
In fact, if I told my daughter she couldn't dress up like her favorite Disney character because she's not Polynesian, or rather, because she's white, I fear it may be more likely she could one day come to resent people of color because she wasn't allowed to celebrate them. Isn't that our whole problem in the first place? These god-awful displays of racism stem from a belief that people aren't worthy, that they're suspect, that they either took something from us or owe us something else. That what they look like, or what they wear is a bad thing because it's different. And telling my daughter she can't be this girl because of the terrible mistakes other people have made throughout history doesn't solve a problem. It creates one.
I want my daughter to know no sharp edges between herself and her friends or her community. In fact, we've immersed her in an international school  that focuses on world cultures for this very reason. At age 4 she's been exposed to more languages on a daily basis than I had been by age 20.
It's only a "power dynamic," Redbook, if she thinks these cultures owe her anything. And there's no reason in the world for her to think that – and not just because she's only 4 years old. She's not "using and discarding" anything. Yes, she may grow out of her Moana phase eventually, but the lessons, the value, the poetry of that story – that's something that will hopefully stick with her forever. And really, isn't that the point? Isn't that why Disney made the film in the first place? To empower the people represented in the story, to acknowledge the wisdom and the traditions? To give us new heroes? Don't you think Lin Manuel Miranda takes his projects seriously and with respect? Don't you think Dwayne Johnson wanted this story to be told not just for his own connection but also for his half-Spanish and half-white daughters? And what about Auliʻi Cravalho – the talented young actress who played Moana? Would she have agreed to do the film if everyone but white people could see it? How does that change anything? I know I'm all 20 questions here, but don't children deserve the opportunity to be fully immersed in what makes them feel beautiful and strong and brave? Whether that's a LeBron James jersey or a Moana costume – isn't denying that just projecting our own convoluted grown-up bullshit?
Sure, I could stuff her in a Ghostbusters costume and placate her with corn syrup, but all she'd do is long to be Moana. Not letting her wear it doesn't remove that desire. It's just like Moana's dad not letting her go past the reef. And we all know how that turned out.
If not being Polynesian prevents my daughter from being allowed to celebrate this story, then what should she be watching or wearing? By this logic, if we don't embrace and immerse ourselves in other cultures, all she'll know is Cinderella or Rapunzel and find herself locked away in her own castle of ignorance, waiting for someone to set her free. Or, like so many white girls I've known, she'll wind up following the white rabbit down the hole into worlds not as forgiving as Wonderland. That's not the world I want her to grow up in. It's the world I've been trying to change. Women face enough challenges as it is. How can we protect each other if we we're not allowed to love each other?
Toward the end of the film Moana encourages Maui to come back to the island with her, telling him her people could use a good wayfinder. "They already have one," he says, looking straight at her, proudly. She understands. So does my daughter. It's a powerful moment, the truth that Moana had been seeking all along has finally come to the surface. It was always inside her, of course, but now she's got the strength and the courage to lead her people into a prosperous future. When will that happen for the rest of us?
Find Jill on Twitter and Instagram
Related on EcoSalon
Tolerance for Transgender and Non-Binary People is Key: #NowWhat
9 Ways to Tackle Your Insecurity and Embrace the Imperfections in Everyone
7 Classic Children's Films That'll Bring Out the Vegan in You