New Zealand just announced the world's next eco fashion week, joining Amsterdam, Vancouver and Berlin Fashion Weeks. Flying the flag for the Asia Pacific region (Australian designers have also been active in the ethical realm), New Zealand will be hosting an Eco Fashion Runway Event in September to support their exciting, emerging market. The show will include up to 14 designers and involve New Zealand's sustainable style model, Hannah Pasene. Like most of the other big fashion weeks, it will be a combination of workshops, pop-up shops and spectacular runway events.
Co-founder and eco fashion designer Denise Anglesey says the idea for the event has been brewing since 2008, and indeed she is joined by plenty of other Kiwi creators. To celebrate this exciting new announcement, we look to three of New Zealand's successful labels that keep sustainability in style.

Shikoba Clothing
Shikoba Clothing's creation is influenced by New Zealand's unique natural environment (think Lord of the Rings) and cultural heritage. Aroha Wikotu founded the line in 2006, and she has a strong commitment to innovation and is constantly researching new processes, technical skills and the latest in fabric design. The entire line is 100% made in New Zealand, and their website hints that they will soon be announcing a new eco label, which uses only New Zealand-made fabrics, so this is one line to keep an eye on.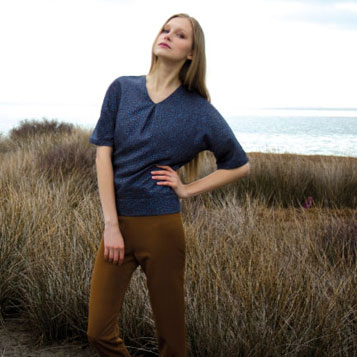 Untouched World
Untouched World prides itself on being the first fashion company in the world to be recognised by the United Nations for sustainability. A fashion and sportswear brand based on and inspired by the New Zealand lifestyle, Untouched World works on the principle that you don't have to forgo luxury to support fashion that is both stylish and eco friendly. This ethos caught the attention of the United Nations, which in 2007 acknowledged their efforts by accrediting them to use the United Nations Decade of Education for Sustainability emblem on its clothing. They regularly publish sustainability reports on their website and have won a plethora of awards for their efforts. Their logo represents a Maori kite, which is an emblem of the relationship between man and nature. This sentiment drives their business and is reflected in their effortlessly chic styles.
Kowtow
Kowtow Clothing only uses certified organic, fair trade materials and they regularly promotes the fact that their lines are ethically and sustainably made from seed to garment. They use only 100% fair trade certified cotton (which is also 100% organic!) and manufacture in an ethical factory in Kolkota, India. They are so committed to fair labor that the Kowtow team travelled to India, to document on film, their entire cotton chain from seed to garment. In addition to offering stylish, quirky pieces for both men and women, they also have a 'building blocks' collection of versatile, long-lasting pieces, which will blend across the seasons and team nicely with more of the up-to-the-minute looks.
Images: Shikoba, Untouched World, Kowtow, N.Rekhviashvili