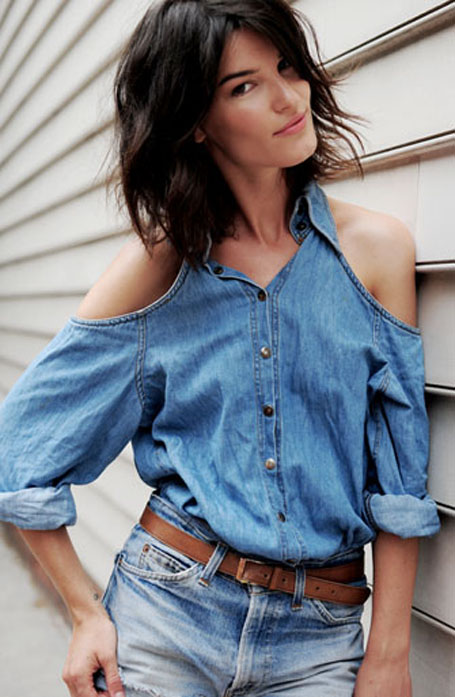 Fashion has had a change of heart on the denim on denim rule. Seen here on Hanneli Mustaparta.
Remember the rule about not wearing denim with denim? Ever since multiple shades of denim were seen on designer's Spring 2010 runways the trend has been slowly filtering down to the street – making the former "no" a definite "yes." It's not just about jeans either; denim jackets, vests, overalls and borrowed-from-the-boys button-ups are appearing in this distinctly blue-themed season. Why, even the "Mom" jean is back.
We've since discovered Marilyn was a lot more alternative than we first realized.
The popular twill weave was originally called serge, and came from Nîmes, France. Denim was originally called serge de Nîmes, it was then soon shortened to denim.
Denim Wearers at Woodstock 1969
Sturdy, easy-to-care-for and super comfortable in modern Lycra mixes to fit ever curve, denim is such a huge part of all of our wardrobes now it's hard to imagine a time when it wasn't. Surprisingly, this is a relatively recent development. Despite its undistributed role as the ultimate symbol of American style dating back to the Californian Gold Rush; it wasn't until the 1980s, that denim emerged as fashion clothing and mainstream sales really exploded.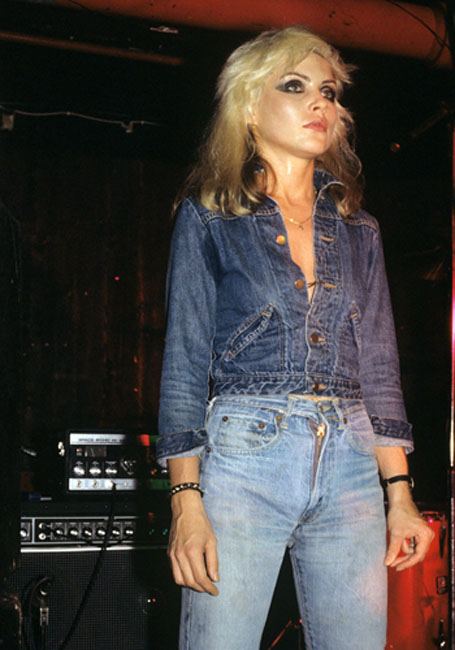 Debbie Harry in 1978, an early pioneer of the denim on denim trend
Prior to that, denim was the choice of society's minorities. In the 1950s denim was popular with the newly emerged teenager. Worn by young movie stars like James Dean in the 1955 movie Rebel Without A Cause, students were banned from wearing denim in some U.S. schools. In the 60s and 70s, jeans were worn by tuned-in hippies and peace protesters, fringe fashion groups quite apart from the industry's influential designer houses and runways.
Denim went mainstream by the 1980s.
Want to catch up on some more fashion history?
Now & Then: The History of the Bikini
Now & Then: The History of the White Wedding Dress
Now & Then: The History of Shapewear
Now & Then: The History of the Ballet Flat
Now & Then: The History of the Breton Shirt
Now & Then: The History of the Pencil Skirt
Now & Then: The History of Skinny Jeans
Read more Now & Then articles here.