Using patented no-waste technology, knitwear brand Kotoba makes pieces that are as conscious as they are covetable.
At New York Fashion Week, knitwear seemed to make an appearance in some form on just about every runway. On Thursday, collective knitwear brand Kotoba celebrated the launch of their Spring/Summer 2013 collection with a fun, low-key presentation at The Maritime Hotel in the Meatpacking District.
Kotoba is the Japanese word for language and the collection, designed by Melinda Danko and Lindsay Mann, featured timeless pieces in simple, versatile silhouettes enhanced by unexpected structural details and textures. Basics in black, taupe and ivory were complemented by pieces in bright and playful colors, particularly orange and mint green, two of the most on trend hues this fall and going into spring.
"We were inspired by multiple things, but it all came down to leisure activity," says Melinda Danko. "We thought about the one thing that people forget to do, which is how to enjoy themselves – how to have fun doing sport activities, going to the beach, taking care of environment – things that are important in life." This playful spirit was evident in the presentation, as the models were given props like footballs, skateboards and baseball bats.
"Lindsay and I developed the collection very organically," says Danko. "We just burst out ideas and silhouettes and with the yarns we have it just came together. We started with one design and it all just fell into place after that"
All the pieces in the collection are produced using WHOLEGARMENT technology, a patented production technique derived from Shima Seiki, a Japanese knitwear machine manufacturer that has been around for fifty years, but has more recently, in the past five years, developed knitting machines for making clothing. It's an innovative way of producing knitwear that is lightweight and stretchy and made virtually without any waste.
"We wanted to bring back crafts and trade and the sustainability aspect to the U.S. domestic market," says Danko. "Everything we make is seamless, there's no waste in the production, and the entire collection (except the yarns, which are from Italy) is made in America"
Kotoba's spring collection is everything I love about sustainable fashion – it's locally and ethically produced (in NYC's Garment District), using innovative technology, but it's also fun, sexy, wearable and timeless.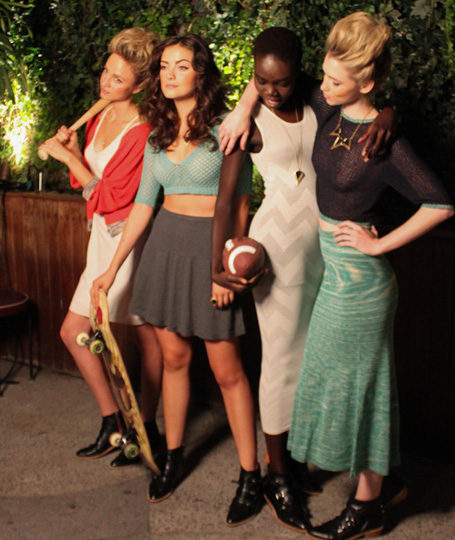 Danko says: "We make qaulity garments that, yes, you are going to spend more money on. But the lifetime and durability makes them pieces that you can have in your wardrobe and love for years."