Beautiful, stylish, and unique, the new modern and minimalist vegan handbags from ONO Creations are more than just wardrobe worthy – they look like they belong in an art museum. Posh without being pretentious, this handbag and accessory line for men and women is a brand that we could easily deem the new face of sustainable fashion. Get behind.
Inspired by the Cause No Harm philosophy, ONO begin just three short years ago and has been blossoming ever since. The leading force behind ONO is Bernadette Bodenmueller who has been following her passion to build an outstanding eco-friendly brand. Drawn to an attractive aesthetic, Bodenmueller desired to position ONO as a lighthouse for beauty and sustainability. So far, we'd say she's right on target.
According to ONO, the principal manufacturing material is made from cork and tencel (wood pulp and eucalyptus trees). The cork serves as the top or outer layer and the tencel is hand placed as the cork's backing. Developed and honed especially for ONO, this highly unique material is resultant in the company's ability to produce and utilize the only sustainable cork leather fabric currently available.
Other materials in the finished products include a luxurious organic bamboo lining, which is said to be dyed using plant based pigments and are fully natural, as well as straps that are made from organic cotton. The cotton is derived from non-genetically modified plants that are grown without any chemicals.
And, as if it couldn't get any better, ONO also employs ethical working conditions and works with individual tailors and small businesses. Although certification does not exist, by following the standards of the ILO (International Labor Organization) and The Fairwear Foundation, ONO and its partnered workshops are able to give consumers peace of mind due to the agreement made between them that is designed to honor and uphold such stringent principles. Additionally, all products are handcrafted in Portugal and Indonesia, and are manufactured under "human, animal, and eco-friendly conditions."
Furthermore, ONO Creations was kind enough to share some exclusive information with EcoSalon about one of its newest collections, Stelo, that has yet to even reach production.
Excited about this addition, Stelo is aimed to let women shine with a design that is said to be "a combination of three uniquely patterned, high quality materials that create the contour of a star when joining them together." The new collection features "handcrafted and exclusively designed hardware from a gold brass composite" to add to the luxurious character, making it a "classy companion for each woman who follows her own star."
ONO is currently evaluating whether or not to move the production of Stelo to Europe, so keep your eyes peeled for new vegan handbags and accessories to possibly pop up in the near future.
In the meantime, though, be sure to shop ONO's present collections that are readily available on the company's website. Featuring an excellent price point, and with products like laptop sleeves, phone cases, yoga mat carriers, cross-body bags, and more, there are so many great pieces to choose from. In fact, we've chosen a few of our favorites to share with you below.
Cor Unity
The Cor Unity is a unisex bag that can be carried over the shoulder, as well as cross-body style, or by using the handle. It's crafted from the signature cork leather and the interior lining is tinted a beautiful shade of emerald green. This bag retails for $185.
Cor Life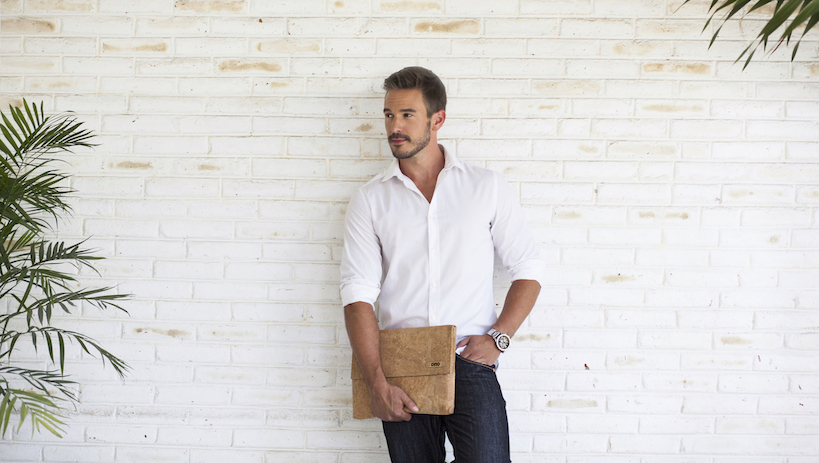 Another beautiful unisex bag, the "Cor Life is for living," or at the very least, perfect for toting around your laptop is style. This computer sleeve basks in all of it minimalist glory and definitely adds a sense of warmth to otherwise typical encasement designs. This laptop cover retails for $109.
Cor Love
You'll fall in love with the Cor Love as soon as you lay eyes on the unique shoulder bag's design. Not your typical looking handbag, this purse is sure to garner a lot of positive attention everywhere you take it. Fashioned in the signature cork leather, and with a brown interior lining, this striking bag retails for $229.
With the wish to not just make and sell bags, but to also show the world that beauty can be obtained through following a sustainable and ethical approach, ONO is bound to become a new fixture in the world of eco-friendly fashion.
Now that you've feasted your eyes on this beautiful brand, we want to hear from you. What do you think about the collections from ONO Creations? Did you love the designs as much as we do? Let us know what you think about this emerging eco-friendly fashion business on the EcoSalon Facebook page!
Related on EcoSalon
It's in the Bag: 7 Vegan and Eco-Friendly Handbags
Fruit Leather Handbags Are Reducing Food Waste in Style
5 Beautiful Vegan Handbags to Wear on Your Arm: Friday Finds
Image of Woman with Handbag via ONO Creation