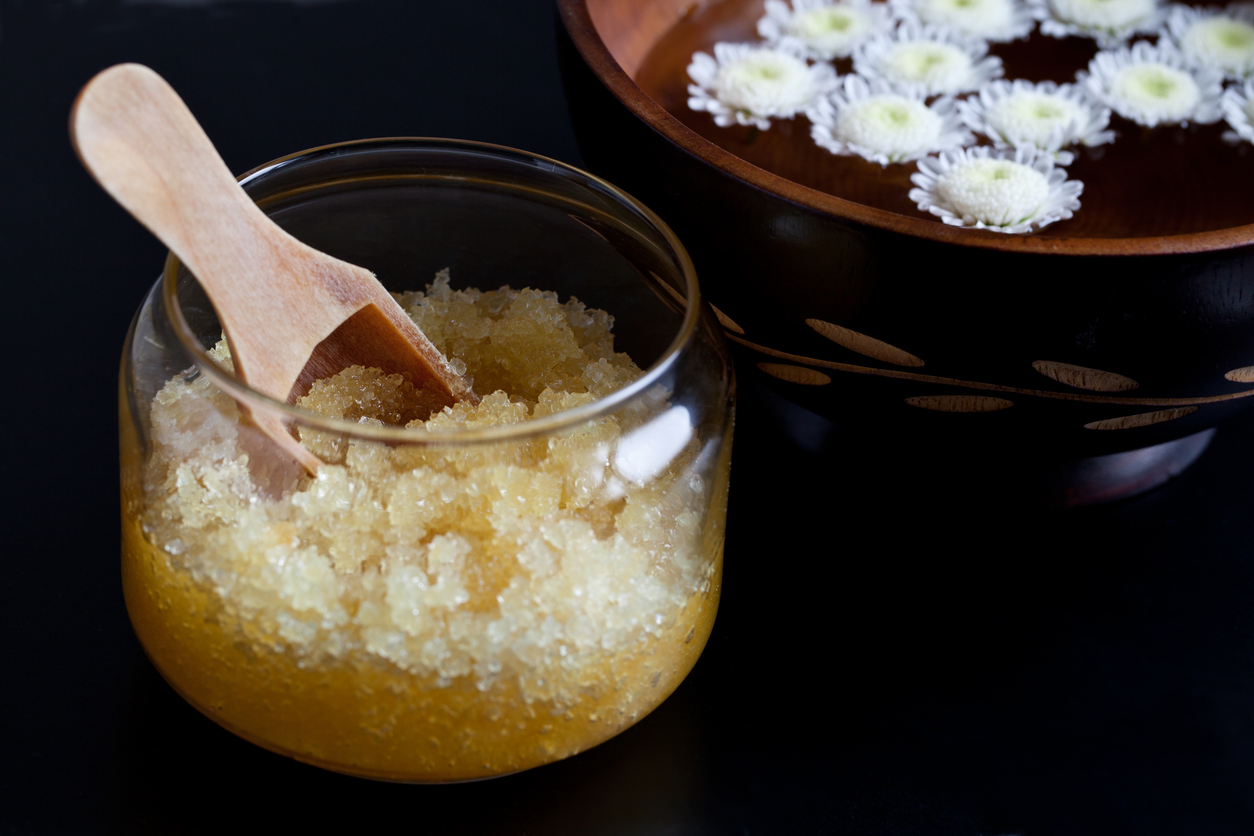 It's almost autumn, which is a good enough excuse to hop on the pumpkin train (or tractor?) and start incorporating its deliciousness into just about everything possible. What better way to start than with your beauty routine? As you await the first harvest of fresh pumpkins, you might as well whet your appetite with a body scrub that drowns your senses with wholesome aromas and the occasional (not so accidental) taste test. 
Beauty Benefits of Pumpkin Pie Body Scrub
Four ingredients are all it takes to attain clean, smooth, supple skin that emits a soft pumpkin pie scent.
Pumpkin is full of alpha hydroxy acids, which moisturize and smooths skin as well as help to prevent wrinkles. They also improve photo-damaged skin. Pumpkin is also rich in vitamin C, vitamin E, and vitamin A. These antioxidants work to rejuvenate the skin, synthesize collagen, decrease the appearance of fine wrinkles associated with natural aging, and protect against the negative effects of solar radiation.
The sugar acts as a natural exfoliant that gets rid of dead skin cells, revealing a bright and clear complexion. Meanwhile, almond oil's emollient and anti-inflammatory properties soothe and calm the skin, and cinnamon provides anti-bacterial and anti-fungal properties that protect the skin from acne. Honey adds a lightly sweet aromatic finish that happens to have antibacterial and soothing qualities.
What You'll Need
Besides the ingredients themselves, all you need is an airtight container (preferably made of glass) to store your pumpkin pie body scrub.
Pumpkin Pie Body Scrub Recipe
Two to three uses
Ingredients
1 cup coarse raw sugar
1/2 organic pumpkin puree
1 teaspoon honey
1 tablespoon sweet almond oil
1 drop of cinnamon oil or 1/4 teaspoon ground cinnamon
Directions
In a small bowl, mix together the sugar, pumpkin puree, honey, and almond oil together until well combined. Add more or less sugar and oil until you reach desired consistency. Store in an airtight container in the refrigerator between uses.
To use the scrub, rub it into wet skin, paying extra attention to elbows, knees, and feet. Cautiously use on facial skin. The sugar may be too abrasive, especially for sensitive facial skin. Rinse skin clean and pat dry. Repeat once per week for best results.
Related on EcoSalon
8 Best Organic and Natural Scrubs
Exfoliate from Head to Toe (Literally) with 4 Natural Scrubs
6 Microbead-Free Exfoliating Body Scrubs for Rough Skin