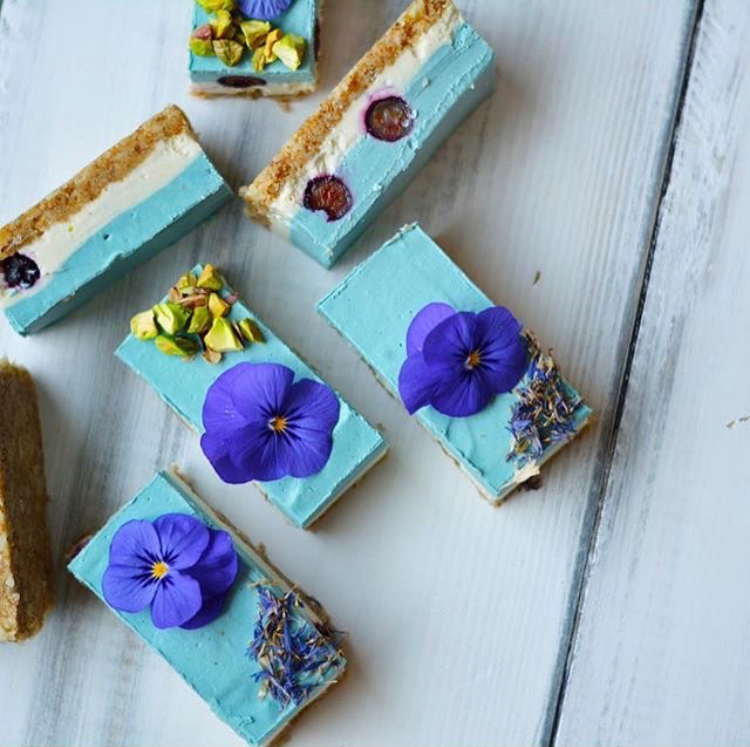 My latest culinary love affair: Blue Majik. The blue-green algae type is a lot like the spirulina we are used to, except it's tropical blue. We needed a shake up and we got it. In this cheesecake recipe, the blue variety of spirulina not only excites the senses with its baby blue color but also adds incredible nutritional benefits (that are clinically proven!).
What is Blue Majik?
Blue Majik refers to the company E3Live's branded version of the spirulina extract, but the name has stuck. It is a proprietary extract of the blue-green algae Arthrospira platensis (the green species of spirulina is called Arthrospira maxima).
Like other types of blue-green algae, Blue Majik is chock-full of nutrition. It contains protein, B vitamins including B12, phytonutrients, vitamin E, zinc, copper, manganese, iron, selenium, and gamma-linolenic acid, a type of essential omega-6 fatty acid.
Unlike standard spirulina, it contains both phycocyanin and non-phycocyanin compounds, lending to its uniqueness. According to E3Live, phycocyanin is "clinically shown to relieve physical discomfort, which means consumers feel better, can do more activity, and enjoy an overall better quality of life."
If I can get all these benefits from a cheesecake, count me in!
What You'll Need
This Blue Majik cheesecake is easy to put together. Because it is raw, you don't need to bake it. All you need is a high-speed blender and about 20 minutes of your precious time.
Besides the Blue Majik itself, there are no other evasive ingredients, just highly nutritious ones. Instead of refined sugar, white flour, eggs, butter, and cream, this cheesecake is vegan, derives sweetness from coconut sugar and maple syrup, and gets its density from macadamia nuts, almond flour, and coconut oil!
Blue Majik Cheesecake
Serves 8-10
Ingredients
For the crust
1 cup macadamia nuts
1/3 cup almond flour
1 teaspoon vanilla extract
2 tablespoons coconut palm sugar
2 tablespoons coconut oil
Pinch of sea salt
1 tablespoon nut butter
1 tablespoon maple syrup
For the filling
2 cups cashews, soaked in water overnight
1/2 cup coconut oil, melted
1/4 cup maple syrup
1/4 cup coconut palm sugar
1 tablespoon lemon juice
1 teaspoon vanilla extract
Pinch of sea salt
½ cup coconut oil
1 tablespoon E3Life Blue Majik spirulina powder
Directions
Line a rectangular or square baking tin with parchment paper.
For the crust, add all of the ingredients into a food processor and blend until the mixture beings to clump together. Transfer the mixture to the tin and press the crust evenly across the bottom. Place the tin in the refrigerator to cool while you prepare the cheesecake filling.
For the filling, melt the coconut oil, maple syrup, and coconut sugar together in a double broiler. Stir until evenly combined and fully melted. Set aside.
Drain and rinse the cashews and add them into the food processor with the remaining ingredients. Pour in the heated mixture. Blend until smooth.
Pour the blue cheesecake mixture over the cheesecake crust and use a spatula to spread the filling evenly across the surface.
Place the cheesecake into the freezer until it has lightly hardened. Remove the cheesecake, slice it, and garnish each slice with dried coconut and fresh berries!
Related on EcoSalon
How to Eat Your Way to Glowing Skin (and a Healthy Gut!)
5 Foods that Protect Against Radiation
Vegan Chocolate Orange Cheesecake with Nut Crust