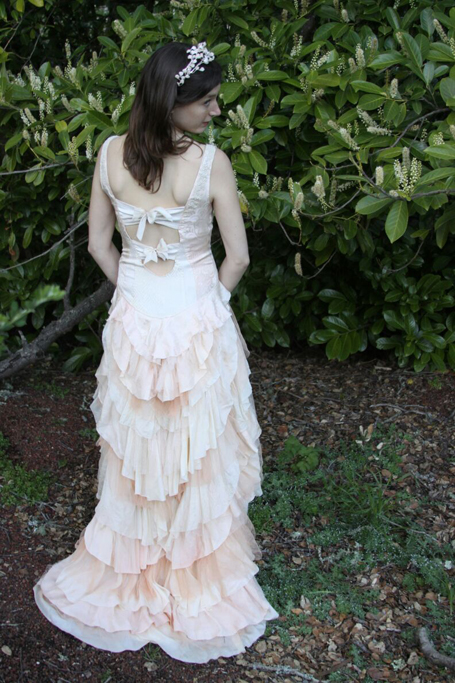 The sustainable fashion industry is catering to the growing trend for unique eco wedding dress options as brides recognize the environmental impact of the choices they make on their big day.
It's all about the dress. The wedding industry knows it's the focus of every wedding day, and the lethal dose of catnip to every pre-bridezilla.
Like the fashion industry, the bridal business is sophisticated and fast-moving, its microtrends reflect the zeitgeist and are available for every budget. But for every Great Gatsby or Downton Abbey-inspired gown you spot during this year's wedding season, there is another trend emerging – that of the sustainable bride looking to step out of the hoopla and into an all together different kind of wedding dress.
"In my generation people got married in a big old white dress that was then boxed up and stored. You hoped your daughters would wear it for their weddings. Today's brides are looking for something truly unique." says Kathy Hattori, president of natural dye company, Botanical Colors. Hattori teaches her natural dye techniques to independent eco wedding dress designers and has noticed a heightened interest over the last 5 years in her specialized color combinations. "Incorporating color is huge. They want to make a statement by using natural dyes." According to Hattori, brides are using the words 'custom' and 'bespoke' when describing the kind of dress they're looking for now. "People are hungry for a certain quality. It's the escence of being made-by-hand, they want it to be beautiful and masterfully-made in the reflection of me."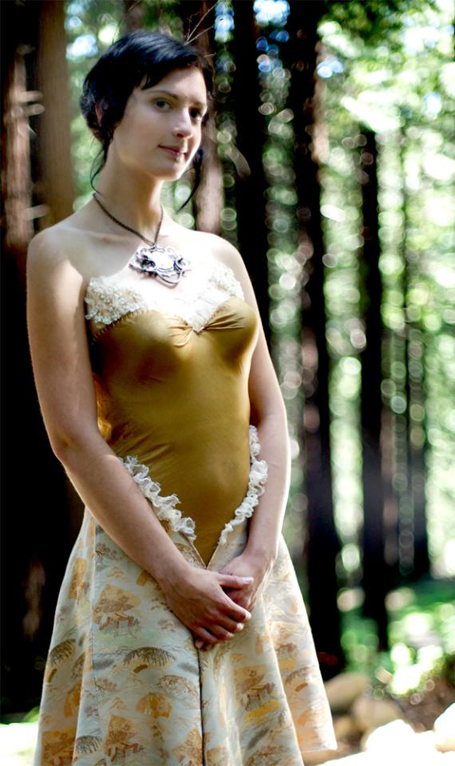 Cory Gunter Brown is one of the designers who took Hatori's class. Her Oakland-based label, The Moon  is in the process of creating a one-of-a-kind bridal line. Alongside partner Cassidy Wright, their designs focus entirely on social and environmental sustainability using natural fibers, vintage lace and buttons and natural plant dyes in partnership with the 25th Street Collective, Oakland's innovative slow fashion hub.
"We find many brides are frustrated at the thought of buying a beautiful dress they will only get to wear once," says Gunter Brown. Their custom-made eco wedding dresses are designed to be worn for a succession of special occasions. "Our gowns are simple elegant pieces in ethereal knit silk that can be returned to us to be dyed another color after the wedding. We dye all the pieces ourselves in our outdoor dye studio."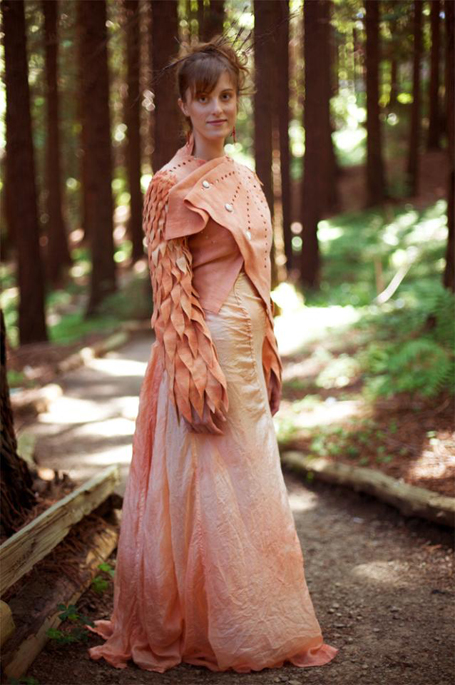 More and more brides aware of the transitory nature of the wedding day are turning to the internet to find a secondhand dress. Susan Shapiro, the owner of BravoBride, an online market for newlyweds looking to buy or sell pre-owned wedding items, thinks brides are less squeamish about wearing a pre-worn dress than they used to be. "It's been the trend lately to have different dress for the ceremony and for the reception, so in many cases these dresses have only been worn for a couple of hours."
Shapiro sees that today's slightly older bride is more motivated to keep costs down and her wedding's carbon footprint lighter. "They start looking at all the things they need and realize just how many resources and waste goes into just that one day. Buying a gently-worn wedding dress is a great way to lessen some of that impact. And we've had lots of customers who have added a belt or a sash to make the dresses their own."
With a wealth of new resources for brides looking for environmentally-friendly alternatives to traditional wedding gowns, the dress taking center stage at the end of the aisle is making more of a statement than ever before. As a longtime industry watcher, Kathy Hattori feels hopeful for what that one special day now means for all our futures, "Instead of walking into Wal-Mart, we are finally standing up for the things that matter."
 All Images: Cory Gunter Brown