Slow Art is a contemporary art movement that celebrates craft, technique, materials and the process of creating.
Since its beginnings, the Slow Movement has been spreading at an appropriately slow and steady pace across disciplines and geographical boundaries. You've probably heard of Slow Food, Slow Money and Slow Fashion, but how does this movement's principles apply to art? A recent exhibit at Stockholm's National Museum of Fine Arts was entirely dedicated to the concept of of Slow Art, celebrating this contemporary movement where technique, materials and process are considered especially important.

"Broken Shadow" – raw silk & leather dress by Helena Hörstedt, 2008

Silk & linen embroidery by Suzy Strindberg, 1999
Over 30 pieces from the museums permanent collections were included in a curated showcase of unique, handcrafted silver, textile, glass and ceramic artifacts by artists from the past three decades. The slow process is characterized by a certain respect for the audience — something often lacking in our society dominated by mass production and consumption. "Few people remain unmoved by an artwork that demonstrates superb craftsmanship. The care that goes into producing the work and the persistence of the artist are a source of fascination to many."

"Ur Anor" – steel necklace by Lotta Åström, 2010

"Red" – paper & glue bowl by Cecilia Levy, 2011
"The considerable time required to make these works has not always been a cause of frustration for artists or craftspersons," curator Cilla Robach writes in the exhibition catalog. "On the contrary, they have valued time and regarded slowness as a central element in their artistic process. Many practitioners have put special emphasis on shaping certain details, without having to fear the mental boredom or physical pain of repetition. Instead, the viewer suspects that they have found tranquility in the monotonous and slow work stages that were required to create a specific piece. Several of the practitioners have developed their own techniques to achieve the particular expression they were after. Others have chosen to use the same methods and tools as artisans and craftspersons have been using for centuries."

Paper & steel wire necklace by Janna Syvänoja, 2003

"Shadows" – machine embroidery by Malin Lager, 2004
Spending considerable amounts of time making something using time-consuming techniques and processes can often be seen as somewhat provocative. We've become so accustomed to always taking the path of least resistance that we may have forgotten that it is not always merely about the end-result.

Eggshell, 24k gold & sweet water pearl necklace by Helena Sandström, 1997

Cotton & linen embroidery by Pasi Välimaa, 2001
"The fact that a few people have nevertheless chosen to develop their artistic creativity by devoting themselves to one or more crafts could be hard for the world at large to understand, or even a bit frightening or provocative," says Robach. "For what is it these slow artists accomplish with their relentless, slow and complicated work, full of repetitive movements that frequently cause physical pain? What drives Helen Dahlman to make her monumental embroideries in thin cotton thread, despite having to wear double plasters to prevent the blood from her pricked fingertips from staining the fabric? What does Renata Francescon get out of thumbing porcelain clay into rose petals hour after hour, day after day? Why does Tore Svensson continue, year after year, to forge bowls out of cold iron, when his body can't take the immense strain for more than a couple of hours a day? What does Lotta Åström achieve by winding wire into a tight spiral that she then saws into tiny rings, which she links together to make jewellery resembling chainmail? Why does Sebastian Schildt spend several weeks on shaping a flat silver plate into a jug with a hammer, instead of using a machine to create the same object in a fraction of the time? There are no simple answers to these questions — apart from the certainty that the artists get a satisfaction from something other than profitability through rational manufacturing."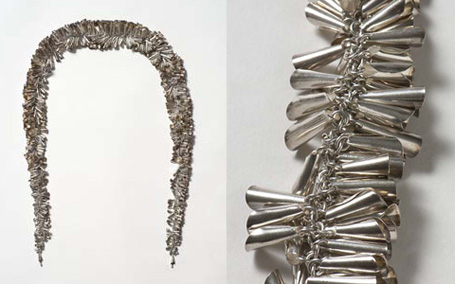 "Boa" – silver necklace by Petra Schou, 2000

"Sub Rosa" – porcelain sculpture by Renata Francescon, 2004
Common to all the artworks featured is a sense of playfulness and spontaneity. These artists have developed a deep, genuine knowledge of the materials and processes they utilize to create their art, and this enables them to experiment and organically adapt their works as they progress. This way of surrendering control and not being solely focused on a specific outcome is not possible in mass-manufacturing, and it's what gives these pieces soul and character. The slowness in production itself becomes an artistic value.

"Egypten" – titanium, 18k gold 18k & silk collar by Helena Edman, 1983
Although the National Museum's Slow Art exhibit closed at the beginning of February, you can experience it from right where you are by downloading both the exhibition app and catalog. On the app (available free for iPhone and Android) you can view pictures of all the art, read the texts and listen to exhibition curator Cilla Robach talk about each object. The exhibition catalog is available to download, also for free, and gives you an incredible overview of the Slow Art topic, as well as beautiful photographs of and statements about each artwork. Give yourself some time, because you definitely don't want to have to rush through this one.
All photos courtesy of National Museum, Stockholm