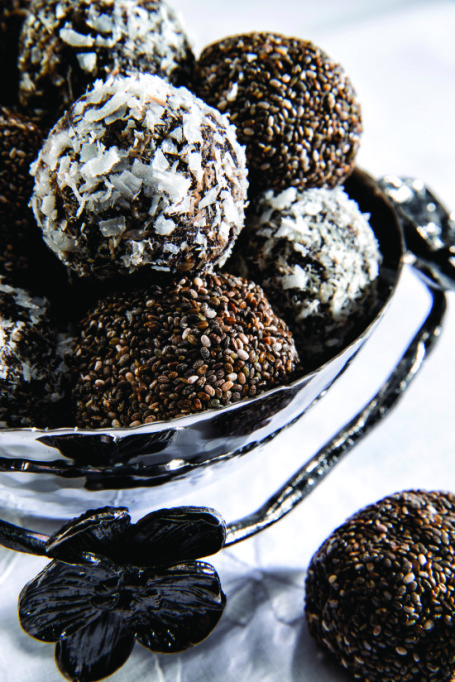 'Tis the season of sweet treats! Avoid all the toxic sugar and food coloring with this nutritious truffle recipe from Debbie Adler, author of Sweet Debbie's Organic Treats: Allergy-Free & Vegan Recipes.
If a blueberry walked into a bar and hooked up with a cosmopolitan piece of chocolate sass, their love child would be this açaí berry truffle recipe. you would get a taste of açaí. A popular berry from Brazil, açaí conveniently comes in powdered form, so you can easily add it to this truffle recipe. Unlike their store-bough counterparts, these raw truffles are filled with calcium and vitamins A, B6 and E, and are high in antioxidants.
No-Bake Açaí Berry Truffle Recipe
Yield: About 18 Truffles
Ingredients & Materials for Truffles
8 x 8-inch sheet of parchment paper
12 Medjool dates, pitted and halved
1 cup raw sunflower seeds
1 cup raw pumpkin seeds
3 tablespoons açaí powder
3 tablespoons frozen (thawed) cranberries
3 tablespoons freshly squeezed orange juice
2 teaspoons cacao powder
1/8 teaspoon fine sea salt
Topping
½ cup unsweetened shredded coconut
Instructions
1. Line an 8 x 8-inch square baking pan with parchment paper.
2. Combine the dates, sunflower seeds, pumpkin seeds, açaí powder, cranberries, orange juice, cacao powder and salt in a
food processor or blender and process until almost smooth.
3. Take about 1 tablespoon of the date mixture, and with wet hands, shape it into a ball. Place the ball on the prepared pan.
4. Repeat until you have used up all the date mixture.
5. Pour the shredded coconut into a small bowl. Roll each ball in the coconut and place it back on the prepared pan. Put the truffles in the freezer to chill for at least 1 hour.
6. Place the truffles in a sealable plastic bag and keep them frozen until ready to eat.
Nutrition Information Per Serving (1 truffle):
110 calories, 5 g total fat, 0.0 mg cholesterol,
15 g carbohydrates, 30 mg sodium, 3 g fiber,
3 g protein, 9 g sugars
Debbie Adler is the owner and biggest nosher at Sweet Debbie's Organic Cupcakes in Los Angeles. Her debut cookbook, Sweet Debbie's Organic Treats: Allergy-Free & Vegan Recipes, features 50 delicious recipes for muffins, brownies, cookies, cupcakes, bread and even energy bars that are safe for everyone to eat–every recipe in her book is gluten, dairy, soy, nut and sugar free!
Related on EcoSalon:
Easy Homemade Breakfast Bar Recipe Featuring Goji Berries
When Candy Is Good For your: The Psychology Of Sweets
Kakadu Plum: The New Superfood?
Image and recipe copyright Debbie Adler