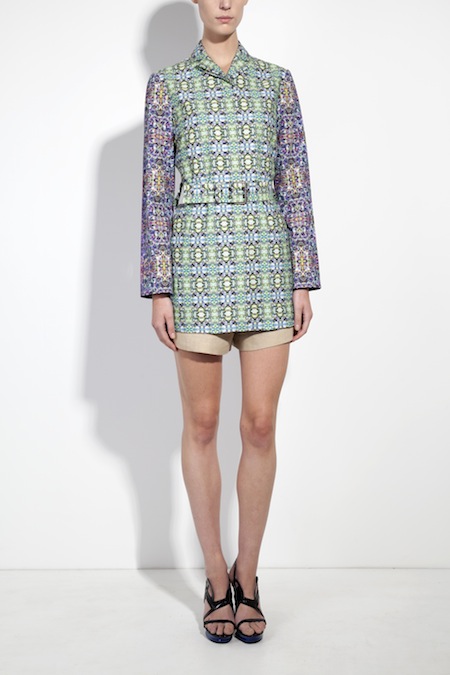 Happy birthday Honest by! The Spring/Summer 2013 Honest by Bruno Pieters collection, pictured above, presents an eclectic mix of breathtaking designs.
"Everyone deserves to dream but everyone also has the right to live those dreams. No planet, no man, no woman, no child or animal should live a nightmare in order for me to live my dream.The story behind a garment needs to be as beautiful as the design. Whether our outfit costs 100 or 100.000 Euros the story needs to be one that fits with who we truly are." – Bruno Pieters
Honest by, the world's first transparent fashion label, reached its 1 year anniversary on Wednesday the 30th of January. EcoSalon would like to recognize the Honest by team's significant efforts toward marrying beautiful designs, quality materials, respectful manufacturing methods and honest business practices to create a truly sustainable fashion brand. Their creations have been an inspiration and have set forth positive new paradigms for fashion and all that it involves.
Honest by Bruno Pieters Spring/Summer 2013
Demonstrating how the fashion process has the ability to be gracious and humane,  and how all parts of the process can work in harmony with each other has been a significant achievement on the part of founder Bruno Pieters and the team working with him. Bruno started the company with the aim of providing a story for every garment that he designs, making sure to provide all the information from materials sourcing, to carbon footprint and price calculation, so that fully informed and responsible purchasing decisions can be made.
                   Honest by Calla                                 Honest by Maison des Talons
Over the last year, Honest by has collaborated with several designers to launch gorgeous and responsive collections. New York based Calla Haynes, German designer Anne Pastré, Canadian Nicolas Andreas Taralis, and shoe design duo Maison des Talons have all created collections for Honest by, showcasing the range of materials, design aesthetics and garment types that can be made with integrity and awareness. The concept of timeless design is embraced in these collections, all of which are currently available at the Honest by online store.
Honest by Bruno Pieters Spring/Summer 2013
On October 10th, 2012 Bruno launched his S/S 2013 collection on the Honest by site, which includes an array of intriguing prints, exquisite colors and striking silhouettes, all beautifully blended with the designer's renowned tailoring skills. Bruno's inspiration from his travels in India, Japan and France are clearly evident through the kimono profiles, paneling, jewel tones and stripes. The coveted collection is currently available on a pre-order basis through the online shop, with several styles already sold out.
Honest by Bruno Pieters Spring/Summer 2013
On Honest by's 1 year anniversary, Bruno Pieters sent out a public note addressing the progress of the label, sincerely giving thanks for all the support, and asking his audience fundamental questions about our current way of being in the world. He stated his temporary leave as the Honest by spokesperson for 2013, as he will be traveling and working on another project for the year. Although Honest by Bruno Pieters will no longer be showing at fashion week, the label will continue to release new designs during the year.
Honest by Bruno Pieters Spring/Summer 2013
Images: Honest by