They're building national parks, protecting endangered species, revealing environmental injustice and making crucial decisions that will affect the future of our planet. Or, maybe they're just making it cool to be vegan. But in all their varied contributions, these 20 women – from global environmental leaders to community activists – are using their power, fame or sheer will to make the world a greener place.

Vandana Shiva
Perhaps no woman alive fights harder for the rights of female farmers than Vandana Shiva, an Indian philosopher, physicist, ecofeminist and environmental activist. Shiva is an outspoken critic of industrialized globalized agriculture and proponent of traditional, sustainable farming methods, and has written about the impacts of corporate international trade agreements in books like Water Wars: Privatization, Pollution and Profit as well as Stolen Harvest: The Hijacking of the Global Food Supply. She founded the Navdanya movement to counter corporate seed control in 1991.
Lois Gibbs
In 1978, Lois Gibbs's picture-perfect suburban life in Love Canal, New York turned into a nightmare when she realized that her neighborhood was built on top of a toxic dump, making residents sick and causing birth defects. Outraged, Gibbs organized a community effort against local, state and federal governments, leading to the evacuation of Love Canal and the creation of the EPA's Superfund program, which locates and cleans up toxic sites around the nation. Gibbs later founded the Center for Health, Environment and Justice and wrote several books about the effects of toxic waste.
Daryl Hannah
No Hollywood armchair activist, Daryl Hannah isn't afraid to get dirty – or arrested – for environmental and social causes. She was jailed for chaining herself to a walnut tree to protest the demolition of the nation's largest urban farm in South Central Los Angeles, drank biofuel to prove its safety, got arrested again for her role in a protest against mountaintop removal mining and dipped her hands in oil-contaminated water in Ecuador. Hannah, who lives on a sustainable farm in Colorado, vlogs about sustainability weekly at her website DHlovelife.com.
Simran Sethi
Simran Sethi is a familiar face in the world of environmental journalism, appearing to give green tips and discuss sustainability on programs like The Oprah Winfrey Show, the Today Show and The Ellen DeGeneres Show. She's also a contributing environmental correspondent at NBC News, co-host and writer for the Sundance Channel's The Green, creator of Sundance web series The Good Fight and co-writer of Ethical Markets: Growing the Green Economy.
Wangari Maathai
The first African woman to win the Nobel Peace Prize, Dr. Wangari Maathai founded the Green Belt Movement, a grassroots environmental organization advocating for human rights, good governance and peaceful democratic change through environmental stewardship. The Green Belt has assisted women in planting over 20 million trees on farms, school properties and church compounds and spurred a tree-planting initiative across Africa. The former Kenya Parliament member has gained much-deserved worldwide recognition for all of her hard work.
Frances Beinecke
Frances Beinecke might not be a household name, but she's more influential than you realize: she's the president of the National Resources Defense Council, and has been involved with the organization for three decades. Beinecke has helmed some of the NRDC's most ambitious and successful campaigns, fighting to protect polar bears, preserve our offshore environment and safeguard the health of children.
Majora Carter
Not so long ago, Hunt's Point Riverside Park in South Bronx was an illegal dumping ground. Now, it's a beautiful place along the Bronx River for local residents to enjoy green space and fresh air – thanks to Majora Carter, an environmental justice advocate and writer, producer and co-host of several radio and television programs. Carter founded Sustainable South Bronx (SSBx), a non-profit organization that spearheaded a number of Bronx cleanup initiatives and started a green collar job training program. She's now an environmental consultant.
Sylvia Earle
She's been called "Guardian of the Sea", and says she's happier in a wetsuit than on land. Legendary oceanographer Sylvia Earle is 74 and still actively exploring the oceans, recently getting an up-close-and-personal view of the oil spill in the Gulf of Mexico. The National Geographic Explorer-in-Residence has led more than 400 undersea research expeditions and was named Time Magazine's very first 'hero for the planet' in 1998. Author of a cornucopia of books on the sea, Earle is also executive director for a number of environmental organizations including The Conservation Fund and Ocean Conservancy.
Jane Goodall
Nobody in the world knows more about chimpanzees than Jane Goodall, who spent 45 years in the jungles of Tanzania's Gombe Stream National Park observing their lives and challenging conventional notions about their diet and behavior. Goodall pioneered the belief that chimps were capable of rational thought and emotions and has since become a global leader in the effort to protect them and their habitats.
Laurie David
A longtime trustee on the Natural Resources Defense Council, Laurie David is most renowned for producing the Academy Award-winning documentary An Inconvenient Truth, which played a big role in focusing America's attention on global warming. David also produced the HBO documentary Too Hot to Handle, and regularly plays a large role in environmental projects like the Stop Global Warming Virtual March.
Mei Ng
"What kind of world will we leave to coming generations?" That was the question that led Hong-Kong born Mei Ng to enter the world of environmental activism, a path that has led to her current position as director of Friends of the Earth. Ng's volunteer work as a housewife in the 1970s brought her into contact with victims of childhood cancer, sparking a passion to protect children from environmental toxins. Her work earned her a spot among the United Nation's Global 500 Roll of Honor in 2000.
Julia Butterfly Hill
Can you imagine caring so much about a single tree, that you'd spend two years of your life among its branches, your feet rarely touching the earth below? Julia Butterfly Hill did just that in 1998 and '99 for the love of "Luna," a 200-foot redwood tree that was in danger of being felled by loggers. She didn't come down until an agreement was reached with the logging companies to give Luna a 600-foot buffer to protect her from destruction. Hill's dedication brought nationwide attention to the problem of deforestation.
Alicia Silverstone
The lovely Alicia Silverstone – perhaps best known for her role in iconic '90s flick Clueless – is much more than just a model and actress. This animal lover, who lives in an eco-friendly solar-powered home in Los Angeles, is an avid animal rights activist and appeared in a memorable 2007 ad for PETA. But these days, Silverstone has been winning a lot of converts to the vegan lifestyle: her book, The Kind Diet, topped the New York Times bestseller list.
Marina Silva
She was the 2010 Green Party candidate for President of Brazil, gaining an impressive 19.4 percent of the votes cast. She was a colleague of renowned environmental activist Chico Mendes, who was assassinated for defending the Amazon Rainforest. But Marina Silva's work for the environment is what really makes her stand out, earning her a place among the United Nations' Champions of the Earth in 2007. Silva, a native Amazonian, fought for environmental protection of the Amazon during her time as a senator and as Brazil's Environment Minister and remains one of the country's top activists.
Carol Browner
Few people have more say in some of America's most crucial decisions about the environment than Carol Browner, current Director of the White House Office of Energy and Climate Change Policy and former head of the EPA. Her pragmatic approach to environmental issues has won both praise and criticism from environmentalists, but there's no doubt that she has and will continue to make a big impact. As EPA administrator, Browner started the Brownfields Program which cleans up contaminated land and facilities and brings them back into productive use.
Alice Waters
Crusader for organic and local foods, chef Alice Waters pioneered the fresh style of California Cuisine and has been hailed as a 'foodie hero'. Owner of Berkeley restaurant Chez Panisse, Waters successfully launched the bid to start a food garden on the White House lawn and created the Edible Schoolyard Project, a hands-on educational initiative teaching kids to raise, grow and prepare their own food using fresh ingredients. Waters is often credited as a major driving force in the current popularity of pesticide-free, fresh, healthy foods.
Habiba Sarabi
In 2005, Habiba Sarabi made history when she became Afghanistan's first female governor, appointed by President Karzai to run the province of Bamiyan. It was a bold move, but Sarabi had no intention of meekly maintaining the status quo despite her country's views on women in power. Knowing that Bamiyan is one of Afghanistan's most beautiful areas, known for the massive Buddha statues that were destroyed by the Taliban, Sarabi has campaigned to turn the natural charm of her home into a money-making tourist attraction. Her work includes the establishment of the Band-e-Amir National Park.
Lisa Jackson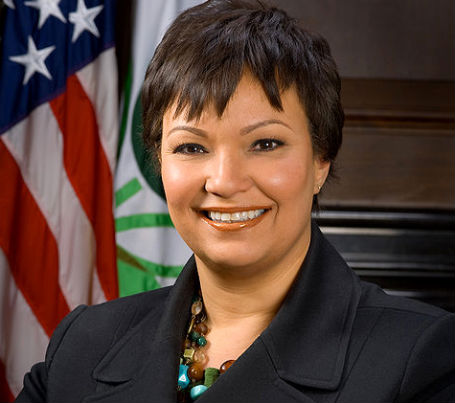 Fighting against the big businesses that pollute our air, waterways and communities is no easy task, especially when they've got billions of lobbying dollars on their side.  And whether you agree with her even-handed approach or wish she would take a bolder stance, Lisa P. Jackson, the current head of the U.S. Environmental Protection Agency, is one of our most important allies. With nearly 25 years of environmental leadership under her belt, Jackson looks for ways to compromise with corporations and is without a doubt one of the leading female influencers in our nation.
Sangduen Chailert
Known as Thailand's Elephant Queen, Sangduen 'Lek' Chailert developed a deep love for endangered Asian elephants as a child when her grandfather adopted a baby elephant named Tongkum, or 'Golden One'. So it's no surprise that she is now one of the most prominent advocates for the animals, which are threatened by poaching and habitat encroachment. Lek's conservation work has been highlighted in documentaries by National Geographic, Animal Planet and the BBC.
Images: wikimedia commons,  ohio citizen, dhlovelife.com,  simransethi.com,  center for neighborhood technology, treehugger, mospeaks,  noaa.gov,  wikimedia commons,  lauriedavid.com, women of china,  juliabutterfly.com, peta, wikimedia commons, wikimedia commons, david sifry, white house archives, wikimedia commons, mikka22