In a world of twerk, let us focus on more handsome and amiable interests. Here are five of the best heroes of the BBC, chosen for maximum swoonage.
Get out your best lace-pointe handkerchiefs and ready your impeccable posture. We are in some serious need of congenial sensibility, especially after the most unfortunate recent viewings of a certain young lady's (draw the blinds and whispers) wagging tongue. Or shall we instead focus on politics, from which it is always an easy step to silence? We shall (in this case) not.
So what's a high-spirited, independent woman of good company to do?
We shall focus on the heroic gentlemen of the BBC! Superheroes be damned. CGI-enhanced actors, go to your corners. Is there anything more amiable then a British gentlemen of a certain age smoldering from a period-piece frock coat?
Hell to the no. So sit back and enjoy five of the best heroes of the BBC, chosen for maximum frock coats and a proficiency to smolder.
1. Mr. John Thorton, as Portrayed by Richard Armitage
Evocative glances? Check. Scalding good looks? Double check. Playing a charismatic wealthy industrialist in need of learning what it means to love? [Pen explodes.] Mr. John Thorton of 2004's "North and South" is so perfect as a brooding BBC hero that he should be given the Bronzed Sideburn Lifetime Achievement Award. (Note: This award exists only in the minds of Jane Austen devotees and the owners of Prince Harry Tumblrs.)
Played by Richard Armitage, John Thorton woos independent and strong-willed Margaret Hale (Daniela Denby-Ashe). Naturally, Margaret scorns the cotton mill owner, believing him representative of all she disdains in 1855 industrial England.
Armitage can currently be seen as King of the Dwarves Thorin Oakenshield in Peter Jackson's Hobbit films. Tolkienian dwarves have never been so swoon-worthy.
2. DCI John Luther, as Portrayed by Idris Elba
John Luther is a Detective Chief Inspector working in the Serious and Serial Crime Unit in London. He's brooding, obsessive, and leaps all over the line in his investigations. Will the intense pressure of the London streets push the genius policeman into the arms of his demons? Or will he at last find peace in the arms of comely Mary Day (Sienna Guillory)?
Idris Elba won a Golden Globe in 2011 for his work in "Luther," a series which ran from 2010 through 2013. The actor is in talks for a "Luther" movie, to begin shooting next year.  The series has concluded in Britain, but will begin airing on BBC America on September 3rd.
3. Mr. Kemal Pamuk, as Portrayed by Theo James
Oh, Mr. Pamuk. You appeared on just one episode of "Downton Abbey" Season One, yet your magnetic appeal and blazing good looks left a plot point that carried off the series and Lady Mary's lost virginity for two more seasons.
But can you blame the haughty Lady Mary (Michelle Dockery) for tossing away her maiden status at the first burning glance from the visiting Turkish diplomat of high birth? As he's portrayed by full-lipped British actor Theo James, there really was no other possible outcome for the heroine of Downton.
Theo James will next be seen in the highly-anticipated "Divergent" as Four, the—you guessed it—smoldering love interest of the film's heroine.
4. Mr. Christopher Tietjens, as Portrayed by Benedict Cumberbatch
"Parade's End" is a recent BBC and HBO collaboration about Edwardian aristocrat Christopher Tietjens, who enters into a marriage with a "cruel socialite Sylvia" (Rebecca Hall). Christopher pines for the spirited young suffragette Valentine Wannop (Adelaide Clemens), but cruel Sylvia, World War I, and the rapidly fading social mores of his class get in the way.
Benedict Cumberbatch's Christopher weeps, yearns, and gets his sexy on in some unnecessary-yet-who-is-complaining-really graphic sex scenes. All the while, he carries one of the most suggestive voices on both sides of the pond.
Cumberbatch, who recently played be-muscled super human Kahn in "Star Trek: Into Darkness," will next be seen in "The Fifth Estate", "12 Years a Slave", "August: Osage County," and as the voice of Smaug in "The Hobbit: The Desolation of Smaug."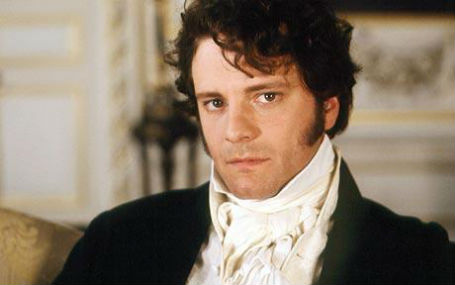 5. Mr. Fitzwilliam Darcy, as Portrayed by Colin Firth
And then there is Mr. Darcy, the wet-shirted, haughty love of Elizabeth Bennett who started it all. Or rather, it was Colin Firth's portrayal and pecs which first launched the BBC hero into the consciousness of a million women and men. Called "the pride of Austen portrayals," Firth's Darcy in the 1995 BBC miniseries "Pride and Prejudice" is held up as the standard for BBC heroes.
Author Mia March recently scribed "Finding Colin Firth," an homage to the actor. As she told USA Today, "His Darcy is what started the current Jane Austen explosion…it just continues to grow as a new generation of women discover [him]. His Mr. Darcy represents everything every woman wants. He's ageless and timeless and gorgeous forever."
Recently, a statue depicting Firth as the wet-shirted Mr. Darcy was erected in the Serpentine Lake, Hyde Park, London.
"You must allow me to tell you how ardently I admire and love you," Mr. Darcy tells Elizabeth Bennett in "Pride and Prejudice."
Only if you let us do the same, Mr. Darcy.
Photos courtesy of the BBC.
For Further Reading:
Jane Austen Responds to Royal Mania
6 Female Characters We Can Hardly Wait For This Fall