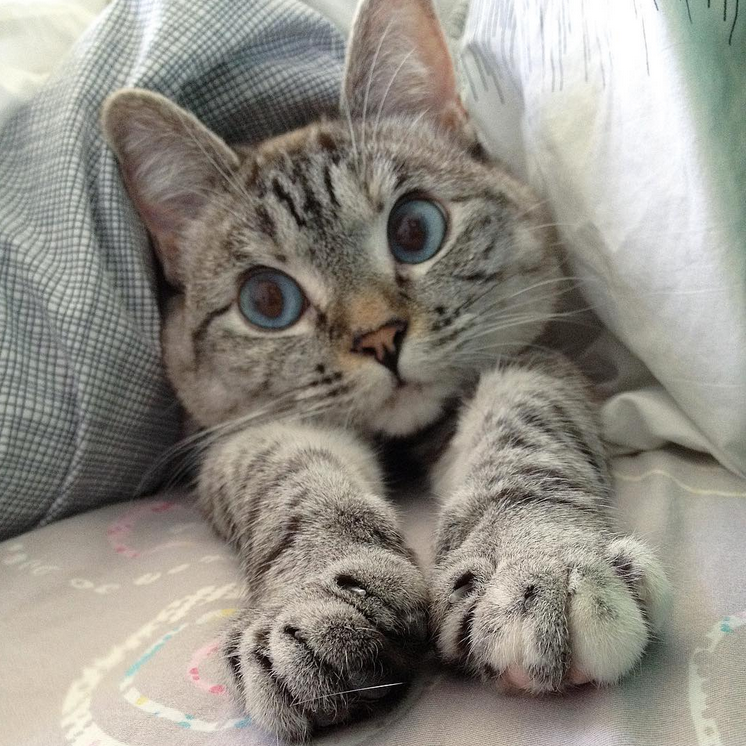 With so many things outside of our control right now (like the President's Twitter feed), most of us probably need some sort of release. For some, this might be regular yoga practice or listening to an audiobook. While for others, passing the time away looking at cute animals on Instagram is the way to go.
No matter your preference (whether you're a dog person and not a cat person and vice versa), these cute rescue animals on Instagram will be sure to bring a smile to your face and some lightness to your heart. While the focus of our list is certainly weighted towards adorably furry mammals, it also features rescue animals. And we must remember that as cute as they are, it's not just about being cute. Great photography from human the roommates is key on Instagram!
9 Instagram Rescue Animals We Love
Two pawsome cats, and their human roommate promoting pet adoption!
2. Nala Cat
Nala is a mixed Tabby and Siamese–that explains her pretty big blue eyes. She was adopted from a shelter when she was just a wee kitten.
Mr. Bagel, one chinchilla that is full of personality, promotes pet adoptions from shelters and saying, "no to fur!"
4. The Dogist
The Dogist is a photo-documentary series about the beauty of dogs. The Dogist has created the Give a Dog a Bone program to support and promote organizations that shelter dogs.
This Instagram account features Pumpkin The Raccoon, a rescued Bahamian raccoon, and her friends, named Toffee and Oreo.
6. Juniperfoxx
Juniper is a rescued tame fox and her owners are working toward a worthy goal of becoming a sanctuary for mistreated and unwanted exotic animals.
Rosenberg is a mix of Australia Sheepdog and Poodle. Both he and his human friend are campaigning for world peace.
Jill, is a furry-tailed Hurricane Isaac rescue who seems to be living a pretty cozy life these days!
If you haven't yet read Esther's amazing story, get on that book right now. In the meantime, you can follow this adorable rescue pig and her fellow sanctuary buddies on Instagram.
Related on EcoSalon
14 Too-Cute-To-Be-True Animal Instagram Accounts to Follow
Watch Cute Shelter Cats Do Yoga [Video]
Shelter Pets Are Life Savers [Video]