Feral Childe's Spring 2013 Collection, The Searchers tells the cautionary tale of a land forgotten. 
We've been scratching our heads wondering why the "slow fashion" movement is, well, slower to catch on than its widely embraced cousin, "slow food."
 One of sustainable fashions most formidable labels, Feral Childe – the print-centric and thoughtful womenswear collaboration between design team, Moriah Carlson and Alice Wu – hopes to connect the dots in its latest collection, The Searchers.
Inspired by the film classics that celebrate the American landscape in all its glory, the pair recreated the story of how the land has sustained people thru the years by evoking the great tradition of home-grown food, migration and homesteading.
"On our reading list were classics such as The Grapes of Wrath, The Good Earth, and My Antonia," Says Wu. "There is a romantic aspect to all of this but also a darker side. It is extremely difficult for farmers and anyone who makes their livelihood from the land, to grow food successfully, and we are headed for another Dust Bowl if we don't take care of our natural resources."
Their latest collection is also a celebration of a long journey taken by Feral Childe that began in 1997. Now producing two collections a year that are designed and made in New York City's Garment Center with ethically-sourced materials, the label seems to be hitting its stride. Full of the energy of their edgy prints and the comfy brilliance of their signature silhouettes, The Searchers is a strong showing with a series of irresistible outfits for spring.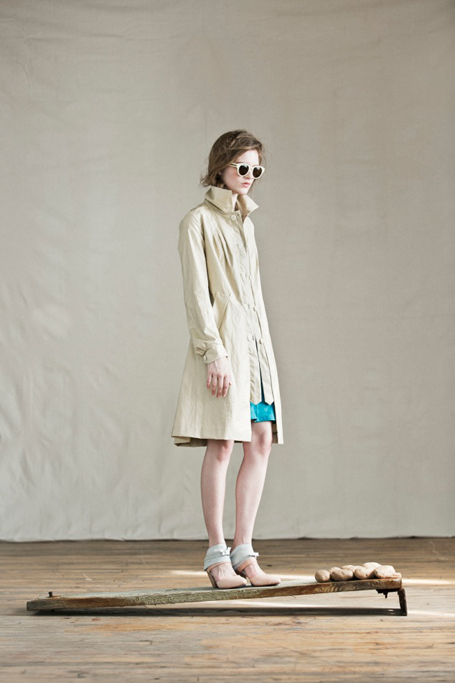 The water-resistant Trench Coat is a great outerwear pieces for the season.
We caught up with the designers recently, here's what they had to say:
Rowena Ritchie: Feral Childe has been producing clothing for more than fifteen years now. What have you learned about what women want to wear in the process?
Feral Childe: Throughout our evolution we've learned women enjoy wearing comfortable pieces that make them feel confident. We design for women who aren't afraid to stand out in a crowd, although we always make some "quieter" pieces as well.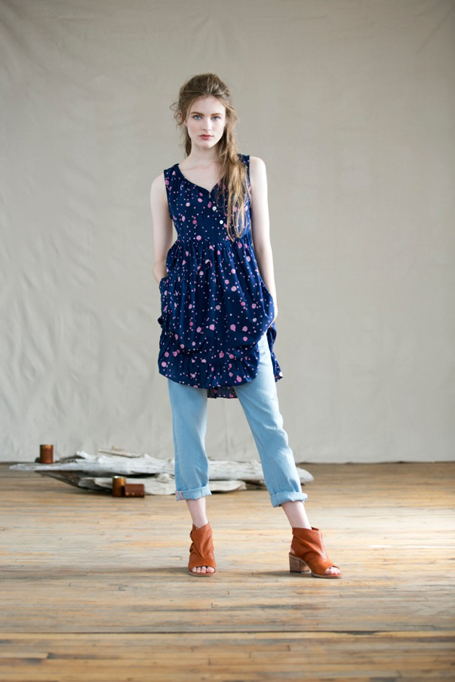 The Cabbage Dress layered over the Carrot Jean is an easy way to wear spring's more relaxed fits. 
RR: What's a fresh way for women to update their style this season?
FC: We're seeing a refreshing move away from the skinny jean so this season we created our Carrot Jean, which has a relaxed fit and yet is still very polished. The Carrot Jean goes great with any of the tops in our collection and also we show it styled with some of our dresses as well for that layered look we love so much.
The Sticks and Stones print on the Rake Dress combines an ink drawing with shapes cut out from magazines.
RR: You are known for your innovative prints. Tell us about this collection's prints and how they came about?
FC: Our prints are designed with the same conceptual rigor that we apply to our fine art practice. We have a set of criteria to make sure that our prints stand out from the rest. The image must be generated with hand-made elements – drawing, painting, or collage for instance – and digital manipulation must be used sparingly. We use the prints to tell the story of the collection. So for spring 2013, some prints reflect the landscape during various stages of planting and human occupation.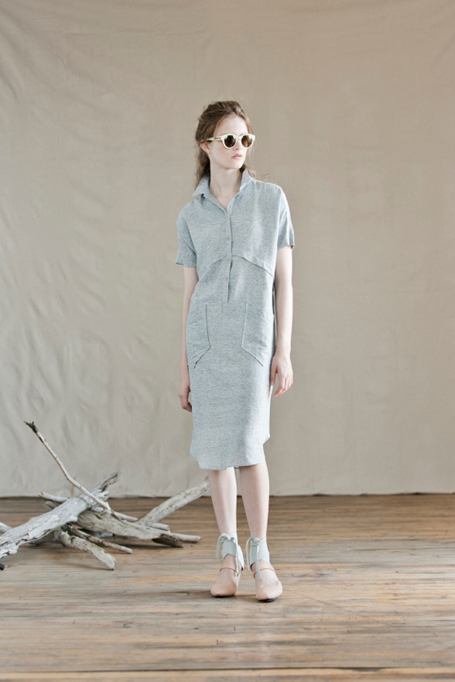 The Collard Shirtdress shown in Khadi can be worn loose or cinched at the waist and tied in front or the back. 
RR: Feral Childe have an enduring fondness for the shirtdress. Can you tell us why its such a popular silhouette for modern women's lives.
FC: We love the utility and flexibility of a shirtdress in all of its guises. We make clothes for industrious, intellectually curious women and there is something about a shirtdress that speaks to to that range. You can be tough and glamorous at the same time in a shirtdress.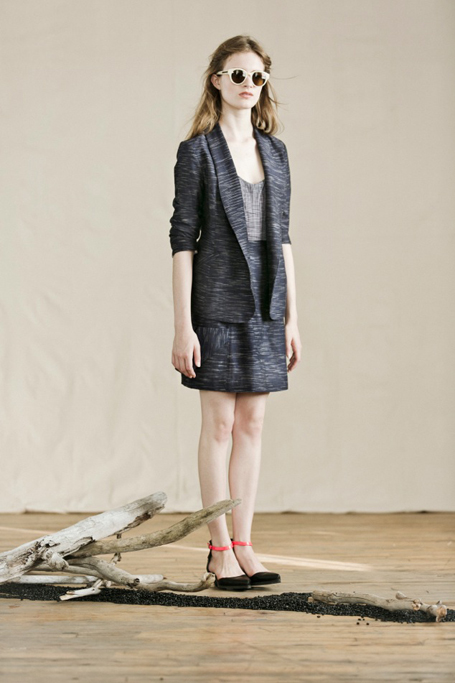 A spring must-have. Feral Childe's beautifully fitted Prairie Blazer.
RR: Where will the collection be available?
FC: We're available at independent retailers throughout the U.S. and in Canada, such as Kaight and Smith+Butler in NYC, Juno and Jove in Sarasota, Green Tree in Ottawa, Myrtle in LA and online at Beklina.com and Summerland. For a full list of retailers you can check out our website at http://www.feralchilde.com.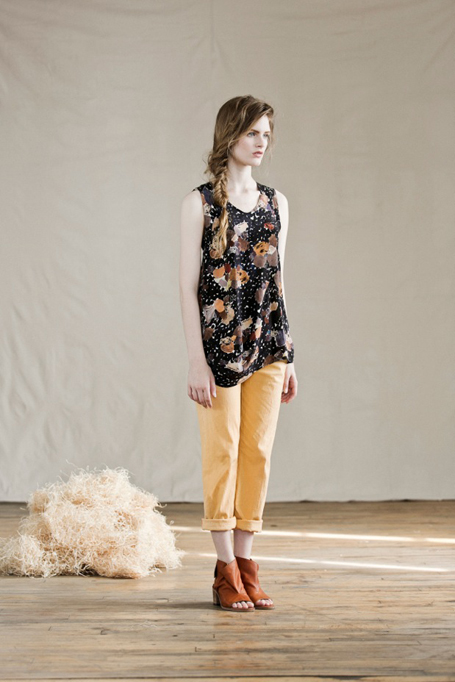 The Free Range Top (shown here with Carrot jean)  can be styled so many ways. 
RR: What's next for Feral Childe?
FC: We are always thinking of ways to improve our fit, and create our next print series. We'd love to form partnerships to have our work reach a wider audience. Right now we are a very lean operation, and we've been under the radar as we've perfected our aesthetic, but we are excited to see where this year takes us and we feel we're ready to be discovered.
All images courtesy of: Feral Childe